The New Zealand Rally Championship is this country's premier nationwide rally championship and, as such, attracts New Zealand's best drivers to compete in numerous categories for the prestigious MotorSport New Zealand-sanctioned rally championship titles.
On behalf of the NZRC organising team and as Promoters of the New Zealand Championship we look forward in 2024 to building on the success of the 2023 season.
Thanks and we look forward to seeing you on the stages.
The Team @ Rally New Zealand
The NZRC is promoted by Rally of New Zealand Ltd (RNZ). 
RNZ was formed in 1974 to promote and organise Rallying in New Zealand – successfully running the WRC for 36 years and the APRC for 32 years. RNZ is the promoter and organiser of the NZRC, and also organises several events including the International Rally of Whangarei, Goldrush Rally of Coromandel, City of Auckland Rally and Battle of Jack's Ridge.

We have a dedicated team behind the NZRC.
They will be familiar faces to many of you. Blair Bartels has been around rallying for many years and is a key volunteer and event co-ordinator, Simon Bell is a competitor and event co-ordinator, and Carl Fenn is a zero car co-ordinator.
Telling the stories of the NZRC, its competitors, the events, and engaging with rally fans is the objective for the team, and use of digital media to bring these stories to life in real time as events unfold adds a whole new element to the NZRC. The team are constantly working to promote the NZRC in new and exciting ways.
Simon Bell and Blair Bartels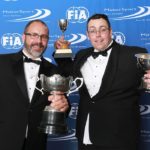 Carl Fenn