5 Minutes With Ben Hunt
Ben Hunt came in to the 2016 Brian Green Property Group New Zealand Rally Championship not only as defending champion, but also with a brand new 2016 Subaru WRX STi at his disposal. However things turned pear shaped at Rally Whangarei when he suffered the biggest crash of his career, which saw Ben break three ribs while both he and co-driver Tony Rawstorn suffered heavy bruising. We caught up with Ben to find out how the recovery and rebuild were going, and why tennis (Ben used to be a professional tennis coach) is a lot more forgiving…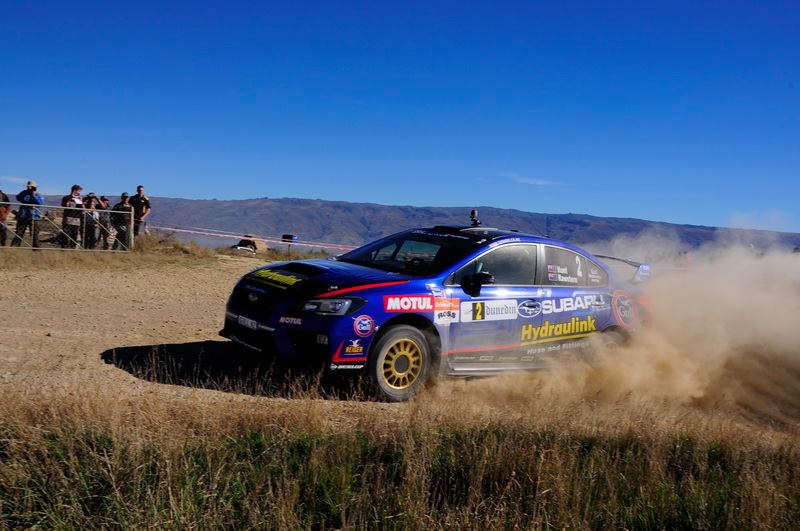 NZRC: Firstly and most importantly Ben, how is your recovery coming along?
BH: To be honest with you, all of these health and safety changes have been a blessing for me because not being allowed to go back to work due to the work I do as a heavy diesel mechanic has probably been quite good, I've had a few weeks off work and not done anything too strenuous to make sure the recovery is a bit faster. In terms of that, it's been quite good, but every time you sneeze, the ribs are still pretty tender, the back and neck are a bit stiff. Other than that, I've basically just been the parts boy, running around picking up parts for the rebuild.
NZRC: How about the car?
BH: It's perfect really, it looked quite bad in the crash and it did bend some of the running gear which has all been replaced, but the body itself wasn't as bad as what we thought, the chassis didn't get bent or anything like that. Shannon Mills and Shaun from Mills Collision Repair, they've done a fantastic job replacing all the support panels and other bits and pieces that needed replacing and tweaking it here and there. We've got it back in the shed now and working hard on getting it back together, but the boys are being a bit hard on me, they don't want me to do too much so I'm in tip top condition for Canterbury, so at the moment I'm more passing spanners around and getting bits ready to put back into the car, which is hard for me, I like doing a lot of work myself and being all hands on. From that point of view it's quite different, but it's quite cool to watch and the boys are doing an amazing job. [ed. Ben tested on Sunday and the car is looking sharp for this weekend.].
NZRC: I guess that really highlights what a team sport it is?
BH: Yeah on the Sunday morning at Whangarei when I was still lying in bed the day after the crash, there were seven or eight guys stripping the car. Emma (Ben's partner) facetimed them so we could have a chat and I could see what's going on. Seeing how much they all put into it and are part of the team was sensational.
NZRC: You've obviously now had a few weeks to replay the crash in your head a few times and review the incar. What went wrong?
BH: Obviously we went wide on the corner, but where I placed the car if you compare it to the year before where we set the stage record, we didn't do anything different, we were in fifth gear, set it up and turned it in and that all went well. Probably the biggest mistake I made was not going from fifth gear to fourth gear and revving it out, because we had no turbo boost (from an earlier problem) so I was driving effectively a naturally aspirated Subaru and for that engine to work, I had to be driving it between 5-7000rpm so it didn't bog down. Being used to taking corners like that in fifth gear upwards, it's just the normal now, and it was just a slight slip on concentration forgetting to go back into fourth gear and keeping it in the power range we were working with at that point in time. From that point, I stood on it in fifth and there was nothing, momentum took over whereas normally you'd have the power down low to pull you out of it. We were trying hard to minimise time loss with the turbo issue and it was just an unforced error. You can make a lot more unforced errors in tennis and not have the same result!
NZRC: Rallying is a big mental game as well and you've never really had a crash, certainly nothing of that magnitude before. Do you think it will play on your mind when you get to Canterbury?
BH: I don't know, I'm sure a lot of people will be thinking it might be, growing up riding motorbikes we were taught to just get back on it and I've had some big motorbike crashes in my time and I don't think it's affected me that much, but I guess we'll find out and see. Mentally I'm feeling just as good as before, I know we didn't have the car 100% and there were things not in our favour. It would probably be a bit different if I made a big mistake or something like that.
NZRC: Championship wise, you've slipped to effectively third, but Dave Holder has a big break. Do you think you can catch him?
BH: Obviously we've got to have three good rounds from now on and it's a bit harder now that the season's a bit shorter, but that could work in our favour not having a sixth round. We never came out here only to win the championship this year, it would've been nice to, but we're dealing with a new car and set up and all that. The car's got it, we just have to fine tune it and we'll be away, it really is a fantastic base car and we just need to further develop it for 2017. Dave also has to hold on to the championship, it's his to lose, I've been in that situation before. In 2013, my first year in a four-wheel drive car, and we couldn't do it, but we managed to get there last year. It is a big thing to win your first championship. We'll try our best to get there though.
NZRC: Does this now change the way you approach each round? As you say, you need three solid points hauls, but really, you need to be winning as well….
BH: We'll just go there and do our thing. Tony and I know we've got the speed to win rallies, so we'll just got there and take things as they come and there's no reason why we can't be at the pointy end of the field.
Thanks Ben.. all the best at Canterbury.