Balance of power debate to be settled at Hawke's Bay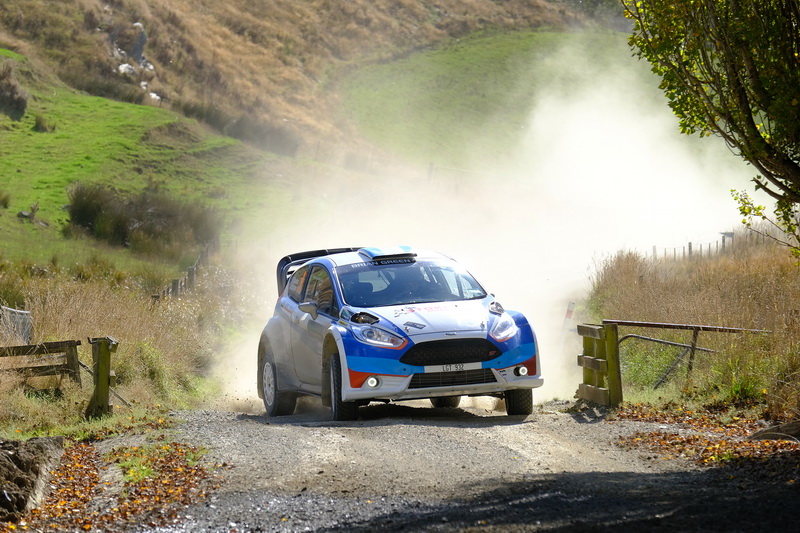 Some of the debate surrounding the balance of power at the front of the Brian Green Property Group New Zealand Rally Championship field will be settled at this weekend's fourth round in Hawke's Bay.
The addition of Supercars star Shane van Gisbergen at Kennedy Park Resort Rally Hawke's Bay has thrown a cat among the pigeons and got the rally community talking, trying to work out where the uber-talented racer fits into the pecking order.
After impressing at the City of Auckland Rally in late 2020 and following that up by winning the Battle of Jacks Ridge, Van Gisbergen showed it was no fluke by taking a comfy win at the Far North Rally three weeks ago.
However, championship regulars Ben Hunt and Raana Horan both had minor dramas that dropped them out of contention, so it has been the hot topic of debate among rally fans the past few weeks as to where Van Gisbergen sits on paper.
Hunt will be the first car on the road in his Skoda New Zealand Fabia R5 but will have his mind on the championship, where he stands to make significant ground to WRC star Hayden Paddon, who misses this event while competing in Europe.
The super-fast Robbie Stokes will look to put a troubled season behind him and will not have to worry about championship ramifications in his Team Hutchinson Ford AP4.
Horan should feature prominently in the battle at the front in his Generator Rental Services Skoda Fabia R5 while Van Gisbergen starts fourth in his Super Cheap Auto Skoda Fabia R5.
The chasing pack cannot be discounted either – Matt Summerfield showed renewed speed at last month's Rally South Canterbury in his Impact Mitsubishi Mirage AP4. Add to that the natural talent of Ari Pettigrew (Manukau Auto Centre Holden Barina AP4), Todd Bawden (Online Contractors Ford Fiesta R5), Phil Campbell (Roofing Store Ford Fiesta AP4), Jack Hawkeswood (Total Toyota Yaris AP4), Andy Martin (Carbonworks Volkswagen Polo R5). Matt Jensen (Panasonic Mazda AP4) and Duncan McCrostie (Force Motorsport Mazda AP4).
Haydn Mackenzie will debut his Albany Toyota Yaris AP4 at the event while Hawke's Bay local Grant Blackberry will be a popular addition in his Mitsubishi EVO X and could be a dark horse on roads he knows well and will suit the older generation car.
Jordan Grant (Suzuki) and Dylan Thomson (Ford) continue their battle in the NZRC 2WD class while Bryn Jones will keep them honest.
Brent Taylor (Toyota FT86) returns to spark the Open 2WD battle where Dan Haines (Ford Escort) and Dave Strong (Honda Jazz) will continue their season-long battle.
Anthony Jones and Shane Murland (both in Ford Escorts) will need big points in the Historic 2WD class with current leader John Silcock skipping the round.
The likes of Dave Sievers (Subaru), Matt Adams (Mitsubishi) and Bryn Smith (Mitsubishi) will look to upstage the impressive Jeff Ward (Subaru) in the Rally Challenge 4WD class while Daniel Alexander (Toyota Starlet) and David Taylor (Honda Civic) return to boost a 2WD class that also includes Jono Shapley (Toyota Vitz), Sam Byrne (Mitsubishi Lancer), Zeal Jones (Subaru) and Jeff Torkington (Toyota MR2).
Other than COVID having an impact on entries, one thing to keep an eye on will be the weather and the impact big swells in the Cook Straight could have on ferry crossings for South Island based competitors.
The Kennedy Park Resort Rally Hawke's Bay starts with a ceremonial opening at the Sound Shell in downtown Napier on Friday night before a day of action south of the city on Saturday.