Five minutes with Amy Hudson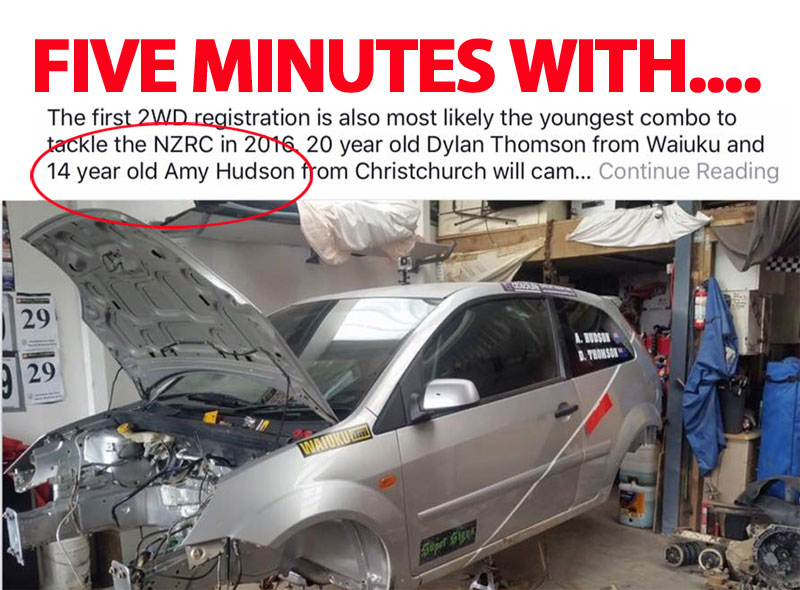 Next Up… Amy Hudson. We think it is exciting to have Amy in the championship this year. It is the second generation of the family "Rockstar" to be part of the NZRC and the one question that remains unanswered, what will her nickname will be?
So take it away Amy…
Obviously you had to start somewhere, so what was your first event and how did it go?  My first event was the 2014 Catlins Coast Rally, with Les Summerfield in a Toyota Starlet. We got 3rd in class. It was really fun and I knew I was hooked.
Being such a rally focused family, how helpful has it been being daughter of the famous in New Zealand "Rockstar"?  I think it has helped a lot, in terms of knowing people. It would defiantly be a lot harder to get started for someone new to the sport. And with the experience that both Mum (Lisa) and Dad have, in terms of Co-driving, has defiantly helped a lot too. All three of us are competing at Otago and Whanagrei, at this stage.
For the 2016 NZRC, you are sitting with Dylan in the mighty Fiesta, how did that come about, what's the teams and your goals for 2016?  Dylan had messaged Mum asking if she could sit with him, but due to already having committed to other teams, she couldn't. So after a family discussion it was agreed that I could sit with Dylan.
Have you had a chance to sit in the Fiesta yet or will the first time be at Otago?  No, I haven't had a chance to sit in the Fiesta yet, but we are trying to get something organised before Otago, although it may end up that Otago is the first time.
You had a run on tarmac recently [last weekend] in Leigh Marston's fantastic Subaru WRC car… how was that?  That was awesome. The car is very fast and really fun to sit in. I was lucky enough to sit with Leigh in the same car at Race to the Sky last year. The Tarmac was very different though, you don't slide around corners the same. It was my 1st Tarmac rally, my 1st class win and my 1st rally in a 4WD car.
We are all in this sport for fun… but some more so serious that others. So what are your long term goals for Motorsport, are you aiming to drive at some stage or a career in co-driving?  One of my goals is to be one of the top Co-drivers in New Zealand. I would really like to drive one Day, but I'm going to stick to codriving at the moment (Dad said it's cheaper).
Rallying is one big family, and it also requires a family of helpers and sponsors, so who are your main sponsors for NZRC 2016?  I have been fortunate enough to have personal support from Magnum Compliance Services Ltd, Janda Renovations, Stadium Finance, Stubaru Service Centre, BSelect Birmingham and some individuals. The main Sponsor for the team this year is Total Lubricants.
Do you take part in any other sports or is rallying it?  Most of my time is taken up with school. Rallying is my main interest but I have done quite a few different sports, but I can't find anything that I enjoy long term.
So, what's your biggest moment in rallying so far, good or bad.  I can't pick just one, but I am really looking forward to the challenge of the NZRC. There were a couple of days in between the idea of me sitting with Dylan and it being definite and that was hard because all I wanted to do was tell everyone but I couldn't until it was confirmed.
Any last words… throw out a thanks or some words of wisdom?
 I really want to thank Steve Cattermole for the opportunities and experience he gave me last year. And I am also really grateful to everyone else that has helped guide along the way. I have already been fortunate enough to have rides with Derek Ayson, Deborah Kibble, Regan Ross, Richard Baddock, Jeff Judd, Grove McCullum and Darren Galbraith, just to name a few. I am really looking forward to this season with Dylan and the challenge of doing a national championship.
Thanks Amy, we wish you all best this year and it's great to have you as part of the wider NZRC family.