From the Service Park… Hyundai NZ Goldrush Rally of Coromandel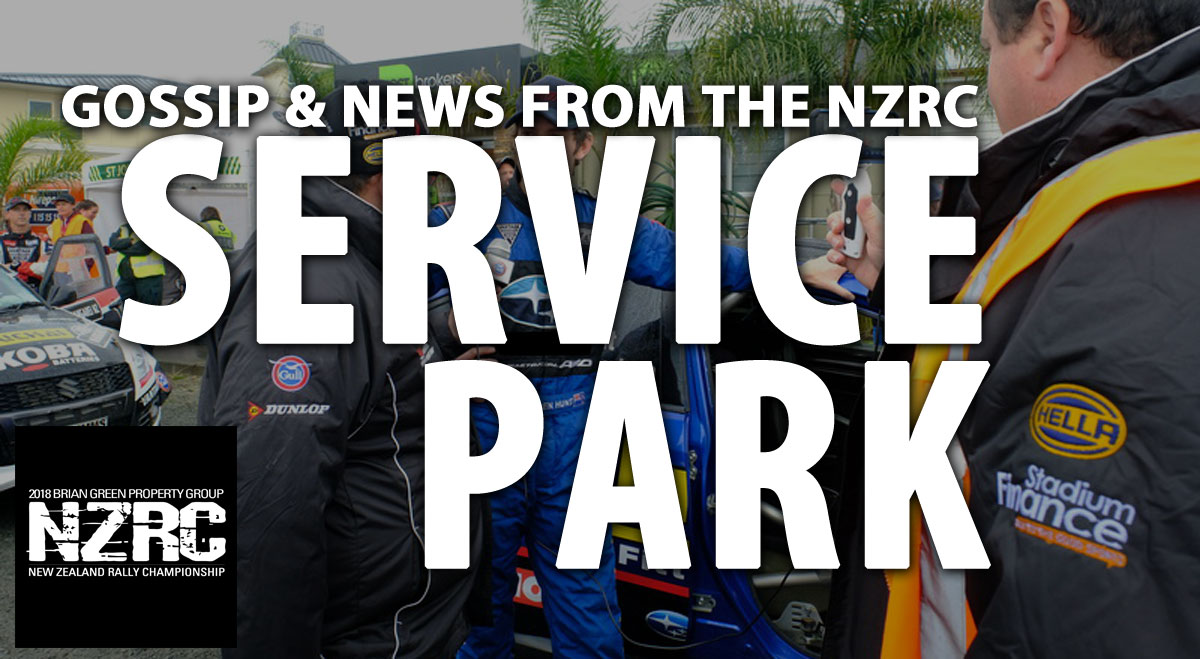 The NZRC team were out and about during and after Hyundai New Zealand Goldrush Rally of Coromandel. It appears there was nearly as much action taking place during the after party than there was during the eight high-speed special stages.
This is what our hard-working team found out from their investigations.
Manufacturers battle crazy tight
A phenomenal nine different manufacturers featured in the top 10 at Hyundai NZ Goldrush Rally of Coromandel.
The event started with 10 different manufacturers starting inside the top 10 and it finished in a similar vein.
Just 15 championship points separates the top six manufacturers in the standings heading into the final round at Raglan – Subaru, Hyundai, Mitsubishi, Holden, Ford and Suzuki.
Another Skoda R5 for Raglan
Raana Horan made a solid debut of his new Skoda Fabia R5 at Hyundai NZ Goldrush Rally of Coromandel but the sister car is likely to join him at Raglan in October.
I'm told the deposit has been paid and the car will be making its way to New Zealand shortly with a friend of the championship likely to run it at Hyundai NZ Raglan Rally of the Coast.
Haircut for Hunt
Current championship runner-up Ben Hunt got engaged recently to long-time partner Emma after a trip to Queenstown.
We're not sure if that played a part in Ben's recent haircut but we can only assume as much.
A big congratulations to the pair from the NZRC team.
Chambers gets another Toyota
Shannon Chambers has reportedly purchased the ex-Carl Davies Toyota AP4 car and is hoping to unleash it at the Rally of the North.
Chambers has been building his own Toyota AP4 car but it still has a little bit of work to do before completion so he took the opportunity to get the ready-to-drive one from Davies.
There is a chance it could run at Raglan in October.
Quinn a chance for Raglan
Aussie champ Nathan Quinn has run in four consecutive Brian Green Property Group New Zealand Rally Championship events in four different cars – underlining his clear talent behind the wheel.
He struggled with his Peugeot 208 Proto's brakes on Saturday and was a dejected figure after the event. But he refused to rule out an appearance at the season-ending rally at Raglan in October.
How do you spell that?
Hayden Paddon's driving ability is next level – proven by his stunning win at Hyundai NZ Goldrush Rally of Coromandel and the wrapping up of the Brian Green Property Group New Zealand Rally Championship with a round to spare despite missing a rally due to his WRC commitments.
But Paddon's spelling could use a bit of work. The Hyundai driver incorrectly spelt co-driver Malcolm Peden's name on the side of his car at Coromandel. And didn't everyone enjoy pointing out the error?
Is there nothing he can't do?
Lead car co-driver Carl Fenn came to the rescue of the NZRC Livestream team at Hyundai NZ Goldrush Rally of Coromandel.
Simon Bell found out as he began the live stream from SS1 that he had forgotten his phone charger – an absolute must to provide live coverage through the day. Thankfully Fenn not only was able to drop off the cable but he had a spare one on him so that no streaming was missed.
It earned Fenn the Hella Moment of the Rally award.
Fashion help needed
Speaking of the live stream team – what on earth was going on with Blair Bartels' get-up over the weekend?
Firstly he wore some horrid bright green, yellow and pink shoes that looked like left-overs from a bad 1970s Californian acid trip during the day's action. But he backed it up by wearing a white and black striped shirt to the after party that may well have seen a couple of zebra sacrificed in its construction. Perhaps that was why he was so quick to take it off for a post-midnight dip in the pool.
Following in Holder's footsteps?
Who is the current Brian Green Property New Zealand Rally Championship front-runner who is considering a move to Europe next year?
The talent is clearly there but things just haven't fallen for them in recent times and a move overseas could be on the cards. Watch this space.
No luck of the Irish
You have to feel for former Supercars star Greg Murphy. While he might have an Irish last name, Murph certainly hasn't enjoyed the luck of the Irish.
He suffered a mechanical failure on the opening stage of Hyundai NZ Goldrush Rally of Coromandel to continue his terrible run of bad luck.
When his Holden Barina has been firing on all cylinders Murphy has demonstrated some real progress with his driving and is more than mixing it with the best at the front of the field.
No luck of the Irish part 2
You could say the same thing for Australian-based Irishman Richie Dalton.
The likeable Dalton suffered a brake failure on SS1 at Coromandel and slid off the road and into a power pole. He lost a huge chunk of time getting back going again, continuing his poor luck as well.
Surprise move to Audi?
Which leading Brian Green Property Group New Zealand Rally Championship driver found himself behind the wheel of Dylan Turner's Audi late on Saturday night?
Rumour has it the spectacular looking Audi S1 AP4 car was parked outside Turner's motel. Turner wasn't aware of the incident but there is some photographic evidence doing the rounds.
Time for a step up?
Who is planning on stepping up from the Stadium Finance Group A Challenge next year?
The car has already been sorted and we could possibly see it in action at the Hyundai NZ Raglan Rally of the Coast in October. Watch this space.
One-up on Dad
Robbie Stokes has found some good form in the past two events. He finished a credible 22nd overall and second in the class 2 2WD category at Hyundai NZ Goldrush Rally of Coromandel.
That meant the younger Stokes out-drove Dad Brian, who finished three places behind his son.
Growth for Group A Challenge
There are reports of a number of new entries on the way for the Stadium Finance Group A Challenge heading into the season finale at Raglan and into 2019.
The category has proven a hit with some spectacular cars from pre-1995 taking part. Regulations are likely to allow cars that are pre-1996 to take part next year.
The 2018 New Zealand Rally Championship is proudly supported by Brian Green Property Group, Gull New Zealand, Dunlop New Zealand, Hella New Zealand, Hyundai New Zealand and Stadium Finance