From the Service Park – Rally Coromandel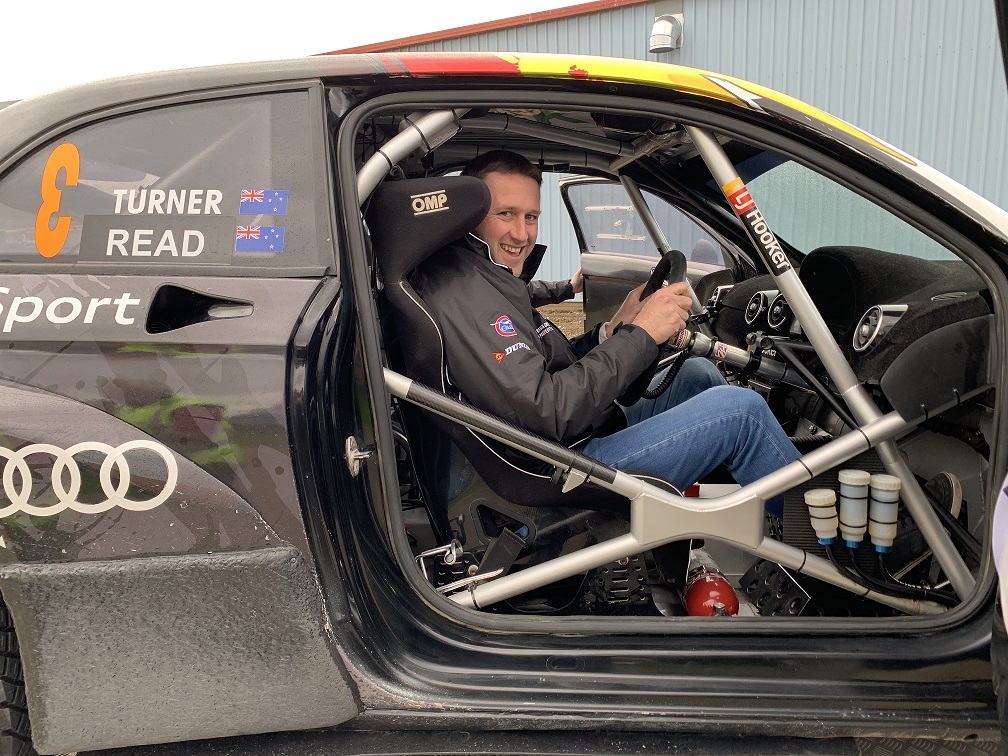 The NZRC team was out in full force over the weekend finding some tasty morsels to keep your rallying taste buds happy.
Here's what they've come up with.
Hunt sets another blistering time
Ben Hunt continued to prove how fast he is well into the evening on Saturday night.
Having wrapped up a second career Brian Green Property Group New Zealand Rally Championship and fifth-straight rally win earlier in the day, Hunt managed to enter the pub to celebrate and be subsequently removed from the premises 30 seconds later in what has to be some kind of record even in Whitianga.
The incident was quickly remedied when it was explained that Hunt had won the rally and that any celebratory champagne needed to be purchased at said pub. He returned to action and put on a Paddon-like performance for the rest of the evening.
Driver switch on the cards?
The NZRC team were all pretty keen to get behind the wheel of Dylan Turner's Audi at scrutineering on Friday.
His father Bill towed the car down from Pukekohe and needed someone a little smaller to back it off the trailer.
Bartels and Budge both pretended they could fit into the pixie-sized seat but Darren Galbraith naturally won out. It is fair to say there was some concern when the above photo popped up on Turner's phone and when the car disappeared off around the block.
All mixed up
Did you notice the number 3 on Turner's Audi was backwards?
Maybe it was due to the fact that Turner recorded his favoured rallies in reverse order during the recent competitor's survey!
Stokes tipped for cat 1 debut
We told you the less than surprising news that impressive youngster Robbie Stokes will be making the move to cat 1 next season but rumours of him bringing out father Brian's Ford Fiesta AP4 before the end of the season continued to do the rounds over the weekend.
I can confirm a late night discussion with the younger Stokes added more intrigue to the situation with the Cantabrian insisting that wasn't going to be the case.
Time will tell.
Spotted 1
Raana Horan loading his Skoda Fabia R5 with fish and chips as he left the ceremonial opening in the main street of Whitianga on Friday night.
There were a lot of packs too just quietly.
It was great to see so many family members out on stage supporting Raana and co-driver Michael Connor throughout the event.
Co-driver Idol is back
Talented co-driver Amy Hudson is preparing to begin her own career behind the wheel and discussion is underway as to who will sit alongside her.
With a family of co-drivers at her disposal plus boyfriend Dylan Thomson in the mix there should be numerous options but this column understands there is some apprehension among the candidates.
Smart money is on father Rocky stepping up to the plate, particularly after he whipped out some notes and called them for 15km for the NZRC Livestream team as they drove into SS1 on Saturday morning.
Making waves
Speaking of co-driver questions – why is Waverley Jones not sitting with husband Kingsley at Rally of the North?
Did she jump or was she pushed?
All of this after the pair recorded their best finish of the season at Dayle ITM Goldrush Rally of Coromandel.
New livery?
While we're talking the Skoda Fabia R5 outfit did you notice the sparkling new jackets the Joneses were sporting at Coromandel?
The green and white colours reflect Skoda's branding and there are whispers the car will run a new livery in the coming months.
If the jackets are anything to go by these guys could be a dark horse for the best looking car in 2020.
Big praise for Dunlop
Which 4WD class one competitor is madly in love with the new Dunlop pattern tyres?
Running them for the first time at Coromandel the driver quipped: "They are so much better that the previous ones – they are the best I've ever had," in a glowing endorsement.
New car on the way
Which top driver is believed to be building a new car for a serious assault on the 2020 championship?
The driver in question didn't compete at Coromandel but has the driving ability to take it to Ben Hunt and co next season – if only they can secure a quality car.
Watch this space.
Spotted 2
There were a few interesting spectators at Coromandel over the weekend.
With only limited places where spectators can access roads it was easy to spot some well-known drivers having a sneak peek.
This columnist noted five leading drivers that have been involved in cat 1 over the past couple of seasons that weren't competing at Coromandel out for a look-see.
Klinky struck down
You have to feel for poor old Marcus van Klink. The popular 2WD competitor has dominated the championship this season but he was struck down with illness in the days leading into Rally Coromandel.
Klinky suffered an appendicitis and was forced to miss the event, opening the door for rival Anthony Jones to take maximum points and set up a thrilling championship finale at Rally Waitomo.
Superb debut from Gray
With neither Regan Ross or Hayden Paddon in action at Coromandel co-driver Samantha Gray was left without a seat.
As a result she debuted with the NZRC livestream over the weekend and did a stellar job on the camera while also adding to the quality of analysis in commentary.
She impressed championship coordinator Simon Bell so much that he is now looking at having her licence suspended so she can be available to join the livestream at Waitomo.
Spotted 3
Did anyone else notice her new Citroen WRC beanie however?
The 2019 New Zealand Rally Championship is proudly supported by Brian Green Property Group, Gull New Zealand, Dunlop New Zealand, HELLA New Zealand, Stadium Finance, Omega Rental Cars and Suzuki New Zealand.