From the Service Park… Stadium Finance Rally South Canterbury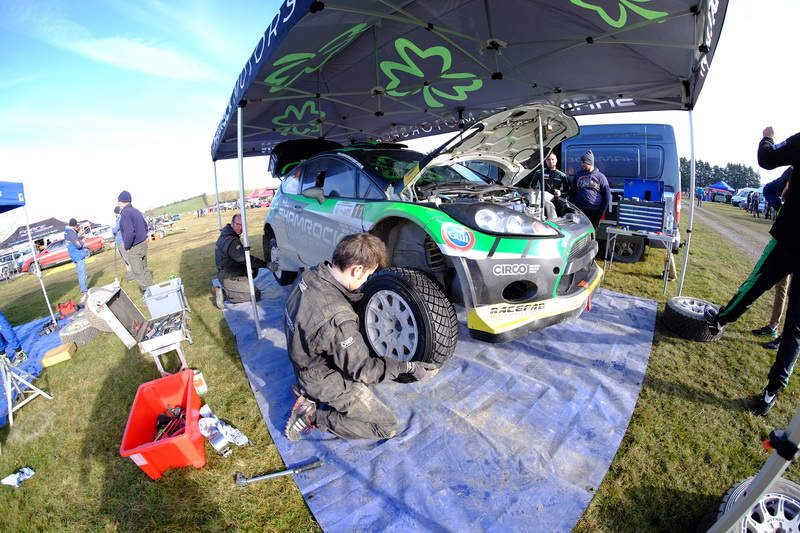 Our reporters were out in force over the weekend picking up all the tasty tidbits of information and snooping around the service to get the latest rumours from the Brian Green Property Group New Zealand Rally Championship.
Massive shunt for Alexander
Daniel Alexander and co-driver Chris Gracie suffered a massive crash in their Subaru Impreza on Saturday but escaped relatively unscathed from huge impact with a tree.
Gracie's side of the car took the majority of the impact but thankfully he walked away while Alexander suffered a broken collarbone and spent the night in Timaru hospital.
With any luck both will be back for Goldrush Rally Coromandel.
Quinn goes all-out for Coromandel
Aussie star Nathan Quinn's third consecutive point-scoring finish and lofty position in the Brian Green Property Group New Zealand Rally Championship has him working hard to get to the two remaining rounds.
Quinn is in the heat of a fierce battle for second in the championship standings at present.
The likeable Aussie was telling everyone at a Timaru pub he was going "balls out" to get back later in the year.
Another Aussie on the way?
Speaking of Australians expect Subaru star Molly Taylor to make an appearance in the Brian Green Property Group New Zealand Rally Championship later this year.
Taylor, whose co-driver is Kiwi Malcolm Read, was a keen spectator at Stadium Finance Rally South Canterbury and is working on a deal to get back to actually compete before the year is out.
Watch this space.
Jealous driver
Which NZRC star driver was forced to miss Stadium Finance Rally South Canterbury but spent all of Saturday watching the live stream and wishing he was present?
He couldn't make the trip due to work commitments but word has it not much got done with the focus on Rally Live Stream and Chrissport.
Hint – his partner has been on television recently.
Good result for Dalton
One man relieved just to get to the end of the rally on Saturday was Australian-based Irishman Richie Dalton.
The Shamrock Ford Fiesta driver hadn't finished an event in his Proto before Stadium Finance Rally South Canterbury and broke his ribs in a heavy shunt at Whangarei in May.
Dalton drove an incident-free rally and banked a solid seventh place finish and should be a contender at Coromandel having built up a bit of confidence.
Real life Monopoly
Timaru isn't the biggest centre used as a rally base on the Brian Green Property Group New Zealand Rally Championship and there had been some concerns about everyone finding a motel bed for the night. That didn't come to fruition – especially for Dalton. The Irishman somehow managed to book three separate houses to accommodate his team while he was heavily medicated in the wake of his broken ribs. Having checked into his first house, he quickly received messages asking when he was arriving at the other two. Needless to say property mogul Brian Green is starting to look over his shoulder.
Even the best make mistakes
Veteran driver Dave Strong and co-driver Bruce McKenzie were one of many crews that were tricked by the Stadium Finance Rally South Canterbury roads.
Their error wasn't due to the ice, incorrect pace-notes or even basic driver error. Their problem came on a road section when McKenzie sent Strong the wrong way to one of the stages. Thankfully it didn't have too much of an impact but shows even those with 40+ years of experience can make the odd simple mistake.
Skoda or Ford?
One NZRC driver is almost certain to be in an R5 next season – the question is what variety?
The unnamed driver is weighing up which way to go – a Ford Fiesta R5 or Skoda Fabia R5.
They won't have too long to decide if they want the car in New Zealand and well tested before the 2019 season starts.
Calls for tarmac rally
Treacherous icy conditions tested the country's best rally drivers at Stadium Finance Rally South Canterbury – a unique experience for most drivers with conditions more like what you'd get in Scandinavia. Even WRC star Hayden Paddon found life difficult.
That has prompted calls for a tarmac rally to be added to the Brian Green Property Group New Zealand Rally Championship to further test drivers' all-round ability.
Softest roll ever
Suzuki Swift driver Amy Keighley might have endured the softest roll in the history of the Brian Green Property Group New Zealand Rally Championship.
Keighley was another to feel the bite of the South Canterbury roads on Saturday but went over in some long grass that protected the roof of her car.
She needed to show photos to people in the service park to prove the car actually went over.
The 2018 New Zealand Rally Championship is proudly supported by Brian Green Property Group, Gull New Zealand, Dunlop New Zealand, Hella New Zealand and Stadium Finance