From the Service Park Whangarei
The NZRC live team have been out and about digging the dirt and uncovering tidbits of info over the weekend.
Big Manufacturer poised for NZRC tilt?
Which major manufacturer is rumoured to be considering an assault on the Brian Green Property Group New Zealand Rally Championship as soon as next year?
They don't do things by half measures and a decision to enter could have massive ramifications on the sport. Watch this space.
Never trust a leprechaun
Irishman Frank Kelly enjoyed a three-week road trip from Otago as he and his family made their way up to Whangarei.
He did the usual tourist stops along the way, including a trip to Hot Water Beach, but in the biggest sign yet that he hopes to contest more events in New Zealand this year, he claimed co-driving daughter Lauren was 14 to get away without paying adult entrance fees wherever they went.
Lauren happens to be 23 so he would have saved a few $$.
Kelly keen for more?
Rumours floated around the Whangarei service park that Kelly was actually looking to keep his Baby Blue Escort in New Zealand and contest another round of the championship.
He clearly saw a bit of what Coromandel has to offer and spoke to organisers about the Waitomo event. A deal seems imminent.
New twist in Paddon's co-driver idol
Co-driver Idol became 50 Shades of Gray in Whangarei but it doesn't appear to be a long-running show this season after the experiment of having Samantha Gray as co-driver got off to a rocky start.
Gray's first duty as part of the Hyundai set-up was to pick Paddon's regular co-driver John Kennard up before heading north. My spies tell me the pair spent plenty of quality time together after the A-Team, featuring two of the best navigators in the sport, got lost.
Thankfully Gray performed superbly on event – helping Paddon to back-to-back overall wins.
Spotted 1
Tony Gosling's red Escort in the Burger King Whangarei drive-thru on Sunday night after the event.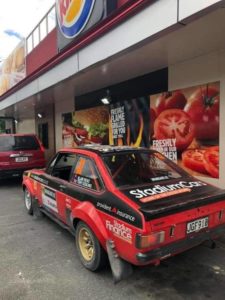 WRC star to enter Group A?
Yup you heard it here first – a WRC star is in talks to enter the Stadium Finance Group A Challenge this year.
They'd be a welcome addition to the field.
Spotted 2
Driver of the 000 car Simon Bell finally making his way out of Helena Bay.  Bell, in his first attempt at driving a 000 car, was so slow that he was passed not only by the 00 and 0 cars but was rumoured to have been passed by some competitors as well.
When quizzed about the issue, Bell indicated that he didn't realise the car was a manual having spent time driving the NZRC-issued automatic Suzuki Vitara at Rally Otago.
International star forced out of Canterbury
In our last edition we told you about an international star putting together a deal to drive at Rally Canterbury this year.
Unfortunately that won't be possible now but the driver remains super keen to compete in the NZRC as are teams in New Zealand and it appears only a matter of time before the plan becomes a reality.
Watch this space.
Shssh
Which very promising NZRC co-driver has been known to play Candy Crush on touring stages?
When it rains it pours
You have to feel for Emma Gilmour, who's car keeps over-heating. They've worked hard trying to resolve the problem but to no avail and the talented Gilmour has been forced to watch from the side lines – even joining the NZRC live stream crew for a guest commentary stint on Sunday.
To top things off however, the truck carrying her Suzuki Swift on the big drive south broke down an hour out of Whangarei last night.
Spotted 3
A 2WD competitor at the Distinction Hotel bar until the wee small hours on Sunday morning watching the end of the Supercars round in Perth.
While a number of NZRC personnel took part in Mark Skaife Bingo (see below) earlier in the evening they all slowly drifted off to bed so as to be ready for Sunday's action.
But one driver, who didn't need to take part Sunday, committed to the long haul. Well played that man.
Mark Skaife Bingo
Basically it is a drinking game in which participants take a drink every time Skaife says the following in commentary. "That's wild." "The fastest corner in Australian Motorsport." "The young New Zealander." "They need to watch for the undercut here." "That was awkward." "That is a championship-defining moment." And this columnist's personal favourite – "They're off; they're all off."
Hawkeswood ponders future
While son Jack Hawkeswood is locked in for a full NZRC campaign this year father Andrew was only planning on competing in the first two rounds.
But his lofty championship position after two rounds has made him have a re-think and he now rates his chances of being at Rally Canterbury in a month as 50-50.
Putting my hand up
This columnist is pretty ruthless in pointing out blunders from others so it is only fair that I put my hand up for my own mistake over the weekend.
Phil Macquarie's Subaru pulled up to the control tent at the end of a stage on Saturday with smoke coming from under the car. As I looked to see if it was just brakes or something more sinister I opened the door and started my opening question by addressing Macquarie by name only to get a fright when I looked up and saw it wasn't Phil. By the end of the question it dawned on me the car was left hand drive and I was speaking to co-driver Noel Moloney!
Emojis
I spent some time over the weekend working on personalised emojis for NZRC personalities. The full list will be revealed in the next day or so. I'm stuck on one however – why is there no Tom Cruise emoji? I need one for Dylan Tuner.
The 2019 New Zealand Rally Championship is proudly supported by Brian Green Property Group, Gull New Zealand, Dunlop New Zealand, HELLA New Zealand, Stadium Finance, Omega Rental Cars and Suzuki New Zealand.