Local roads no advantage for Jones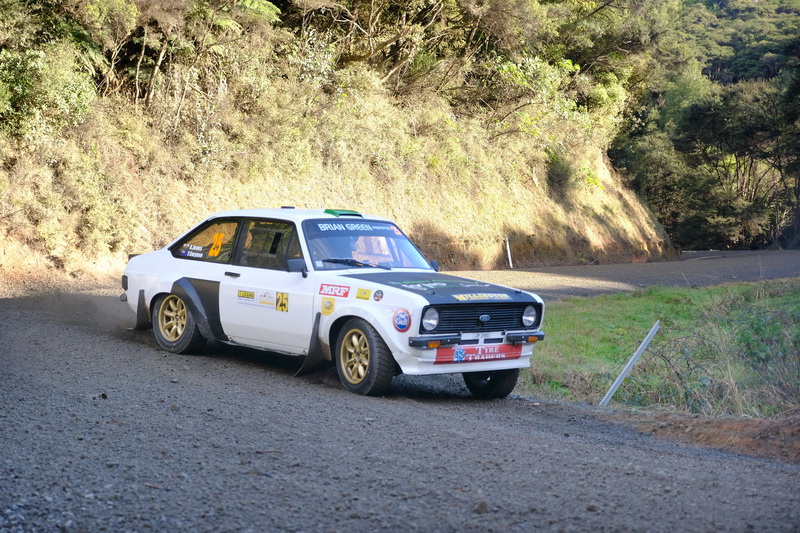 An ill-timed bout of appendicitis has thrown the overall 2WD and open 2WD championships wide open as the Brian Green Property Group New Zealand Rally Championship heads to the season finale at Waitomo next month.
Mazda RX8 driver Marcus van Klink looked to have both championships all but sewn up prior to the penultimate round at Coromandel before he suffered the health issue that forced him to skip the event while spending the weekend in hospital.
The Canterbury-based Van Klink is back to full health and will head north next month looking to win back the title that he has had one hand on all season.
Major rival Anthony Jones took full advantage of Van Klink's absence at Coromandel with a dominant performance in his Ford Escort. The Welshman took maximum points to draw level with Van Klink in the overall 2WD standings while he managed to open up a five-point lead in the open 2WD category.
The Waikato-based Jones might appear to have home field advantage in the finale but closer inspection suggests the opposite.
"Actually he might have a bit of an advantage over me on that because he did the whole rally two years ago where I only did a couple of stages after a massive crash," Jones explained.
"Some of those roads, while we are close to home, they are not roads I know that well.
"I hear it is the same stages as two years ago so I only know the first stage and the bad bit of stage two."
Winning the title would be a huge triumph for Jones but he concedes that it is a little frustrating to have benefitted from Van Klink's misfortune.
"We always want to be the quickest 2WD but it was a bit of a shame Klinky missed Coromandel because he had been the pace setter all year," Jones said.
"It is better to win it fair and square – it is a bit of a shame. There is one thing turning up to a rally and having an off or a mechanical failure or something but when it is a medical thing it is not so good."
That kind of sportsmanship typifies the spirit in which the extremely hard-fought 2WD championship has been contested this season.
A stack of drivers have demonstrated strong pace at various stages and each rally has featured tight battles.
"It has been brilliant," Jones said. "Otago and Whangarei – Bruce Herbert and I were on the same second coming out of it.
"Klinky has been on another planet this year however."
Irrespective of whether he's crowned champion or not, Jones hasn't thought too far ahead of the challenge in waiting and will make a decision about his 2020 plans over the coming months.
"No plans at all at this stage," he said. "We haven't even thought about what we'll do beyond Waitomo to be honest.
"We will just see what happens over summer, see what the other boys are up to and go from there."
The 2019 New Zealand Rally Championship is proudly supported by Brian Green Property Group, Gull New Zealand, Dunlop New Zealand, HELLA New Zealand, Stadium Finance, Omega Rental Cars and Suzuki New Zealand.