Meet the Toyota Yaris AP4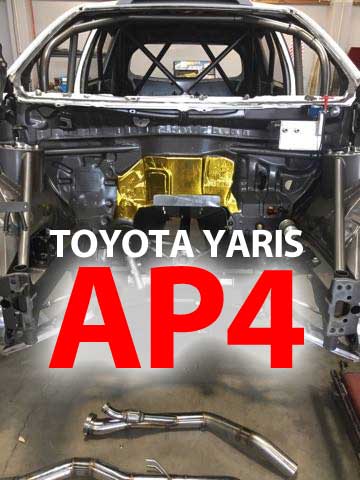 The NZRC team caught up with Carl Davies and asked the hard questions… to find out a bit more about the new Toyota Yaris AP4. Sadly no photos yet, as the car will be launched soon, but here is a quick run down from the team.
Last year you campaigned the ex-Ben Hunt WRX, so where has the Subaru gone to?
The Subaru is sitting in my workshop at the moment…
What made you decide to build an AP4 for 2017?
We didn't set out to build an AP4 really, but we got a ph call from Shannon last year asking if we'd be keen to do one, and share a few costs on parts, body kit etc. So we thought why not do something exciting for the last couple years of our rallying [ED. umm Carl, you aren't 65…]
Had you driven an AP4 car before you made this choice?
No, we haven't driven any of the other AP4 cars before making the choice, and still haven't, so its going to be a steep learning curve, but really exciting too. Plus I am still to drive with a sequential too.
Why a Toyota? Was there a reason for the choice of brand?
We are a Toyota family, as Tracey works for Tony Richards Toyota in Paeroa, we have Toyota utes for our contracting business and various other Toyota scattered around… so it kinda made sense.
What engine is it running and why?
The engine were using is a 2zr out of the late model corollas etc. Obviously it's been stroked differently to make it 1600cc with a few new bits bolted on here and there to make it go a little better than your average Yaris!
What suspension are you using?
Suspension were using is EXT racing shox which is supplied by and brought in by Hayden Paddon.
What have been the biggest hurdles in the build so far with the build?
Biggest hurdles so far… definitely the waiting! Its been a long time since Rally Coromandel. Its been a great build and we haven't really had any majors yet [ED. touch wood there Carl]
What is your expectation for Otago?
Hopefully finish it! Had a problem filled rally last year. The car hasn't been started yet so won't have much seat time before Otago,but we'll just get there and drive it!!
Who do you want to give a shout out to for the build?
We have been lucky to be surrounded by great people with the build.
Andrew Hawkswood at Force Motorsport and his team were amazing with the car out of his workshop in 3 weeks ,with suspension points done ,tunnel and fuel tank and caged.
Then Dave at PF Automotive have taken over the finishing part of the project.
Huge thanks to Dave, Linda, Swipe right Grant,Tim and Paul for their commitment and hours they've all put in.
Thanks Carl… we cant wait to see the finished product… not long till Dunedin now!