Merry Christmas From The Service Park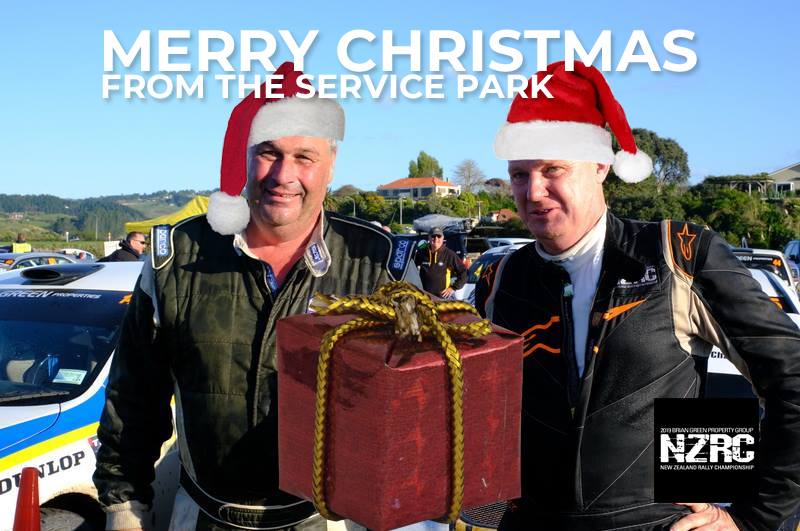 Merry Christmas from NZRC team. This is the last "From the Service Park" feature, so we have made it our 2018 Christmas special.
:: Global star to appear at Otago ::
Which rallying superstar will have a guest role at the 2019 Otago Rally? Hint – he won't be competing but will instead join the live stream team out and about on stages. It will be compelling listening.
:: International element to Otago ::
Sticking with Otago Rally – the 2019 edition will double as a round of the Asia Pacific Rally Championship in a re-jigged format. WRC star Mads Ostberg has confirmed he will return to contest the classic rally as well.
:: Changes for Gilmour ::
Emma Gilmour is the latest driver to take her car to Choice Motorsport in Pukekohe. Emma's Suzuki Swift Maxi will be prepped by Choice and his team and she hopes it will help get the best out of one of the older new generation cars.
:: Whoops! ::
Which former NZRC champion had a massive tank slapper moment in Phil Campbell's Ford Fiesta recently while testing? It was described as a VERY big moment but thankfully only minimal damage was done to the car.
:: Rallying future? ::
Which Kiwi motorsport star was behind the wheel of a new generation rally car at Maramarua Forest recently? He's an absolute gun in his chosen field and is a household name but hasn't officially competed in rallying as yet. Whisper is he has the itch though. Watch this space.
:: Will Reeves compete full time? ::
Australian star Brendan Reeves is exploring the idea of running a Mitsubishi Mirage AP4 car prepared by Choice Motorsport in 2019. There is a bit of water to go under the bridge yet but Reeves is super keen to contest the Brian Green Property Group NZRC fulltime.
:: Group A growth ::
There will be more Group A cars competing in the Stadium Finance Group A Challenge in 2019. A couple of names have got themselves cars already. Up until now, Austin Jones has been talking about it but is yet to confirm an entry despite the weight restrictions changing to allow him to compete.
:: Show me the money! ::
Tony Rawstorn joked during the week that he is still off-contract and is yet to put pen to paper to partner Ben Hunt next season. Rawstorn is the reigning co-drivers' champion and is obviously looking for a salary to match!
:: Deal in the works? ::
Speaking of co-drivers – the NZRC is holding its breath in anticipation of whether John Kennard will co-drive for Dylan Turner next season. The duo created all sorts of musical chairs at Raglan a couple of months ago to trial the partnership but all has been quiet since.
:: Big guns leaning towards Open 2WD ::
There is renewed interest in the Open 2WD class for 2019 with a number of drivers set to enter or return to the championship. An announcement of one or two big names is likely to push others to join for 2019.
:: Galbraith after revenge at Rally Otago ::
Darren Galbraith is likely to make a one-off competitive return at Otago Rally in 2019. The talented South Islander crashed spectacularly on the famous Kuri Bush stage in 2018 and is out to get revenge on the iconic test.
:: Big name to drive Fiesta R5? ::
Which big name that has been out of the sport for a few seasons is considering a comeback and has been linked to Neil Allport's Ford Fiesta R5? If a deal is done it could prove to be a combination capable of winning the 2019 championship.
#NZRC #Rockstars #BrianGreenPropertyGroup #FuelYourMission#GullSports #GullNewZealand #DrivenByDunlop #Dunlop #Hella#SafetyDayLights #HellaMoments #StadiumFinance #TheGoodSports#Rally #Rallying