News between the rounds
With only a 3 week gap between the opening two rounds of the 2015 NZRC, its been a busy period for teams. Catch a recap of the latest news below (Photos courtesy Geoff Ridder):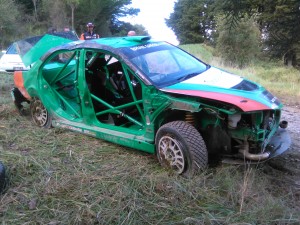 Casualties from Whangarei: Three crews are set to miss the second round of the championship following issues at the opening round. David Holders team are racing to rebuild the Evo 8 damaged in the penultimate stage at Whangarei, while Clinton Cunningham (Lancer Evo) and Anthony Jones (Ford Escort) will both miss Otago following engine dramas.  Joining the series in the South are reigning Gull Rally Challenge title holder Darren Galbraith (Evo 6), Hugh Spence (Subaru Impreza) and John Giltrap (Subaru Impreza – Rally Challenge 4WD), Deane Buist (Ford Escort – Rally Challenge 2WD) and Tony Gosling (Ford Escort – BNT Classics)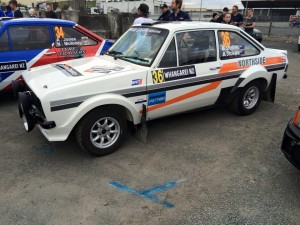 Missing champion: With current NZRC Champion Richard Mason not on the entry list, the honour of being the only previous outright NZ Rally Champion in the field falls to Brian Stokes, who is driving a Ford Escort RS1800. To the best of our knowledge, this is the first time that no former national rally champion has entered an NZRC event in a four-wheel drive car since the first time the technology won the championship in 1987. Look for the young chargers (Hunt, Summerfield, Campbell, Kelsey, etc….) to take full advantage as we are likely to see a first time winner at Rally Otago. Meanwhile service park rumours at Whangarei indicate defending champion Mason and also 2004 champion Chris West may still be seen later in the season, watch this space.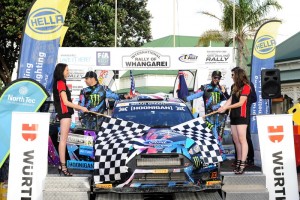 Offshore spoils: Ken Block's victory at Whangarei was only the second NZRC victory by a foreign driver, with Alister McRae taking victory at Rally NZ in 2007. Both drivers will go head to head at Rally Otago, although McRae will be hard pressed to keep up with Block's Ford Fiesta HFHV in his two-wheel drive Ford Escort RS1800, and will more likely have an eye on New Zealand's WRC driver Hayden Paddon, who will drive the Tony Gosling owned BDA.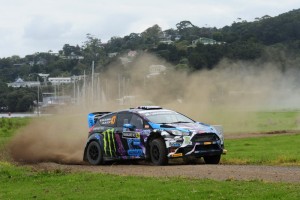 Mixing it up: Block's Whangarei victory in his Ford Fiesta HFHV was also the first NZRC round victory in 15 years by a manufacturer other than Subaru or Mitsubishi. Our NZRC results guru Chris Grant confirms the last non Subaru/Mitsubishi round win being Brian Green/Jim Robb in the Ford Escort WRC at the 2000 Canterbury Rally. The two Japanese makes have dominated the local rally scene in recent years, but with 7 different manufacturers now running in the overall 4WD category they may have to get use to sharing it around.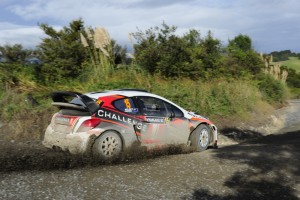 Kelsey running hot!: Alex Kelsey's speed was the talk of Saturday morning at Whangarei, but his clutch problems and broken suspension that halted the charge can all be traced to an overheating gearbox that was filling the cabin with smoke. While the MC2's gearbox should normally run at 80 degrees, Kelsey told us the sensor stopped working at 140 over the opening round. Followers of his work will not be shocked to hear that the MC2 now sports three radiators exclusively for the gearbox as well as venting in the underbody to keep temperatures under control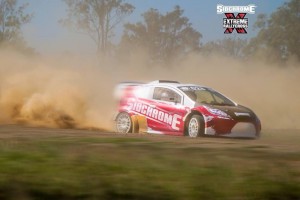 Championship leader keeping busy: Championship leader Ben Hunt is keeping himself busy between events, attending a test day for the new Australian Extreme Rallycross series this week. It is not Ben's first run in a rallycross car having tested in America last season also. Rangiora's Matt Summerfield, currently second in the championship is also attending the test in Sydney for his first taste of rallycross.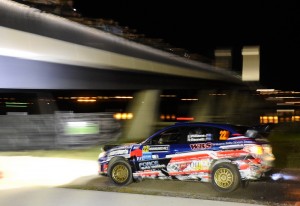 Night stages and Ashley Forest: Organisers of round 3 of the NZRC, the Lone Star Rally of Canterbury have announced a challenging 172km route for their event over the weekend of 30/31 May. The Canterbury event will retain the same format as last year starting on Saturday afternoon from the Lone Star in Christchurch before two night time forest stages. Recommencing early Sunday morning, a further eight stages are ahead of crews in the Ashley and Okuku Forests. Last year's night stages witnessed some of the most difficult conditions of the entire season with freezing temperatures and ice providing a real challenge to competitors.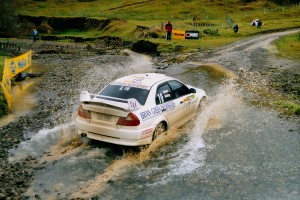 And finally The Motu returns: Looking further ahead to round 4 (Rally Gisborne 27 June) announcement this week that the infamous Motu Road stage will return in its full 47km glory. Read full story here
Photos: Geoff Ridder Photography