NZRC's Greatest – the top 25 drivers in history
We count down the 25 greatest drivers in the history of the New Zealand Rally Championship as decided by the Grey Roots group.
NZRC's greatest – number 25 – Matt Summerfield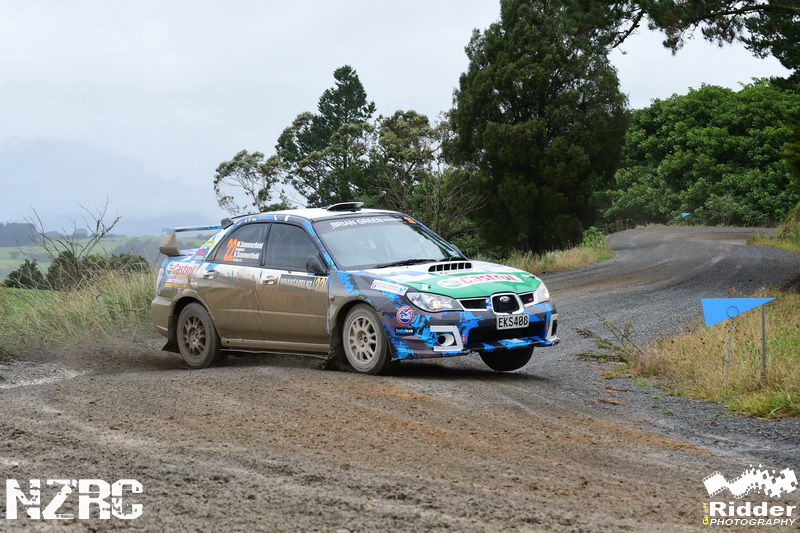 One of our current NZRC stars – Matt Summerfield has the potential to make his way further up this list over the next decade or more.
The talented young Cantabrian has quietly collected three NZRC rally victories through the early stages of his career – impressively all in older model cars. He will move to a new generation car when the 2020 season gets underway.
Summerfield gained a break-through NZRC victory at the Daybreaker Rally Wairarapa in 2015 and back that up by winning at Whangarei and his home event Rally Canterbury in 2017.
Alongside sister Nicole, Summerfield went agonisingly close to winning the 2017 championship before being pipped by veteran Andrew Hawkeswood.
One would think he will get more chances at winning a title in the coming years.
Grey Roots comment: Looks like a schoolboy but you'll find that's a Mirage.
NZRC's greatest – number 24 – Brian Green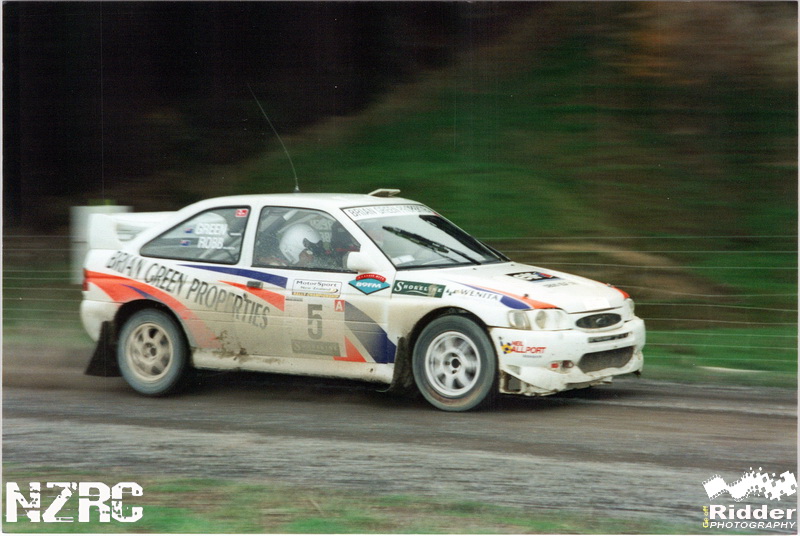 Brian Green is an icon of New Zealand rallying and the man that has helped ensure the sport has survived over the past decade with his ongoing title sponsorship of the national championship through his Brian Green Property Group.
Palmerston North-based Green's rallying career started way back in the 1970s and he has been a regular fixture in New Zealand championships ever since.
The now 72-year-old collected three NZRC rally wins during that time – the most recent in 2012 at Rally Gisborne.
Renowned for entering just about every event possible, Green has enjoyed success internationally during his career as well. He won Rally Thailand in 2011 and has made numerous starts in Asia Pacific events over the years.
While his days fighting out rally wins in the NZRC are now behind him, he still competes at the highest level of the sport and can show up drivers that are young enough to be his grandkids.
Grey Roots comment: Has been rallying in New Zealand since before there was rallying.
NZRC's greatest – number 23 – Inky Tulloch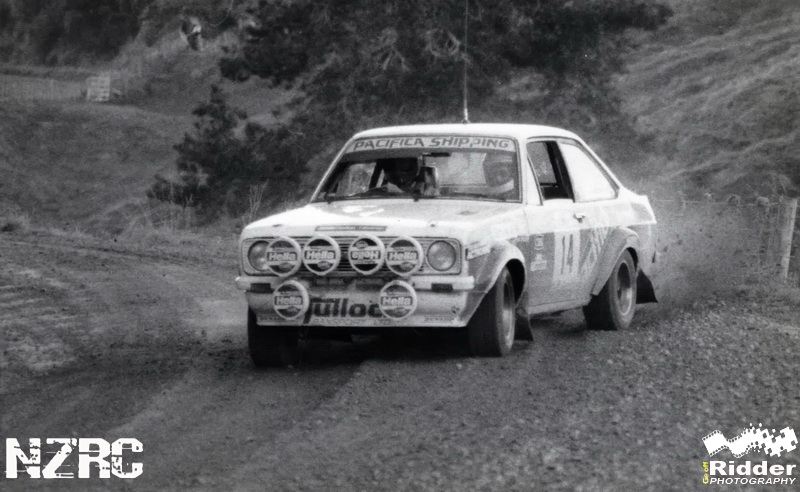 Ian Tulloch, more commonly known as Inky, turned out to be a master of multiple disciplines across motorsport.
His circuit racing exploits netted four New Zealand Super Truck titles between 1997-2003, the New Zealand Production Saloon championship in 1977 and both Land Speed Records and a national championship in Endurance racing.
It was however his exploits behind the wheel of a Ford Escort RS1800 that has earned Tulloch his spot in the NZRC's Greatest 25. Having entered the scene and made a name for himself in a Datsun 160J in 1982, Tulloch got his hands on the ex-Masport Mk2 Escort IF780. It immediately paid dividends, recording a second place at the Auckland-based Hella Lights Rally late in the 1983 season.
The 1984 and 1985 seasons were exceptional for Tulloch, despite the introduction of Group B and technology like four-wheel drive that should have rendered the Escort as obsolete. '84 saw victories at Southland and Canterbury rallies, while the final national round in South Canterbury until it's reintroduction in 2018 saw Tulloch come home in seventh. The only blot in the copy book was an accident on Rally New Zealand, but he was able to secure fifth in the championship.
1985 saw further strong results, a repeat victory on the Canterbury Rally and a standout seventh at Rally New Zealand, third New Zealander behind the Group B cars of Malcolm Stewart and Reg Cook. All this was achieved while holding down the position of Mayor of Mataura.
Tulloch continued to be active in Motorsport until suffering a serious accident testing at Teretonga race track saw him hospitalised with serious injuries. He has not raced since.
Grey Roots comment: More a stallion than a mare (mayor).
NZRC's greatest – number 22 – Reg Cook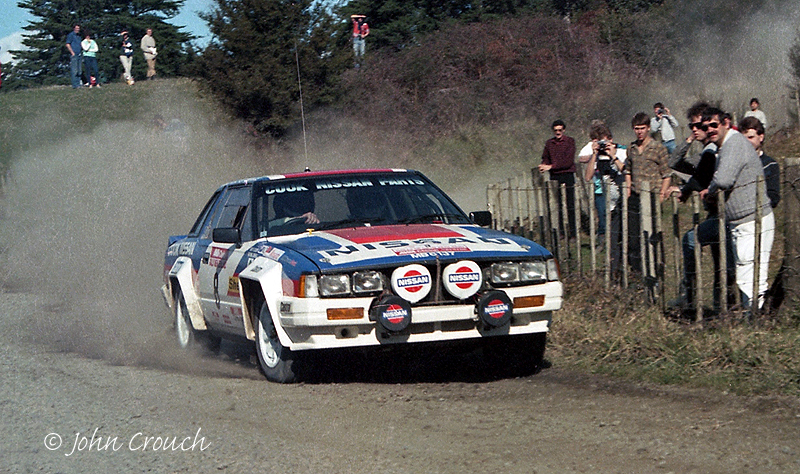 By the time Reg Cook made his way to rallying, he was already well-known in New Zealand Motorsport circles.
Cook started out saloon car racing with Mini's, before starting a hugely successful partnership with Datsun/Nissan. He had also dabbled in the brutal Formula 5000 single seaters, taking second in the 1973/74 season.
Having run his Shellsport circuit car at sprint events, most notably the Ashley Forest Rallysprint, Cook turned to the gravel properly with a Datsun 160J then a Bluebird Turbo with the support of Nissan NZ. However his true success came with Nissan's Group B challenger, the 240RS.
A breakthrough NZRC round win came in the 1983 Hawkes Bay Rally, but the following season would bear more fruit. Cook won the South Canterbury Rally en route to second in the championship, his best championship result, while an added bonus was first Kiwi home at New Zealand's round of the World Championship with sixth overall.
Cook would take one more national round win, the 1985 Andas Apple Rally in Taupo but his career at a national level would go on pause in 1986 with the demise of Group B. He would come out of retirement with a front-wheel drive Nissan Pulsar in the 'Kiwi 2' class in the mid 2000's, then moving to a Nissan Micra and eventually winning that title in 2009.
After retiring again from rallying, Cook returned to the F5000 classic series for a while and now competes annually at the Bonneville Speedweek, having multiple records to his name.
Grey Roots comment: More dangerous with a microphone than a room full of tone-deaf karaoke devotees.
NZRC's greatest – number 21 – Barry Robinson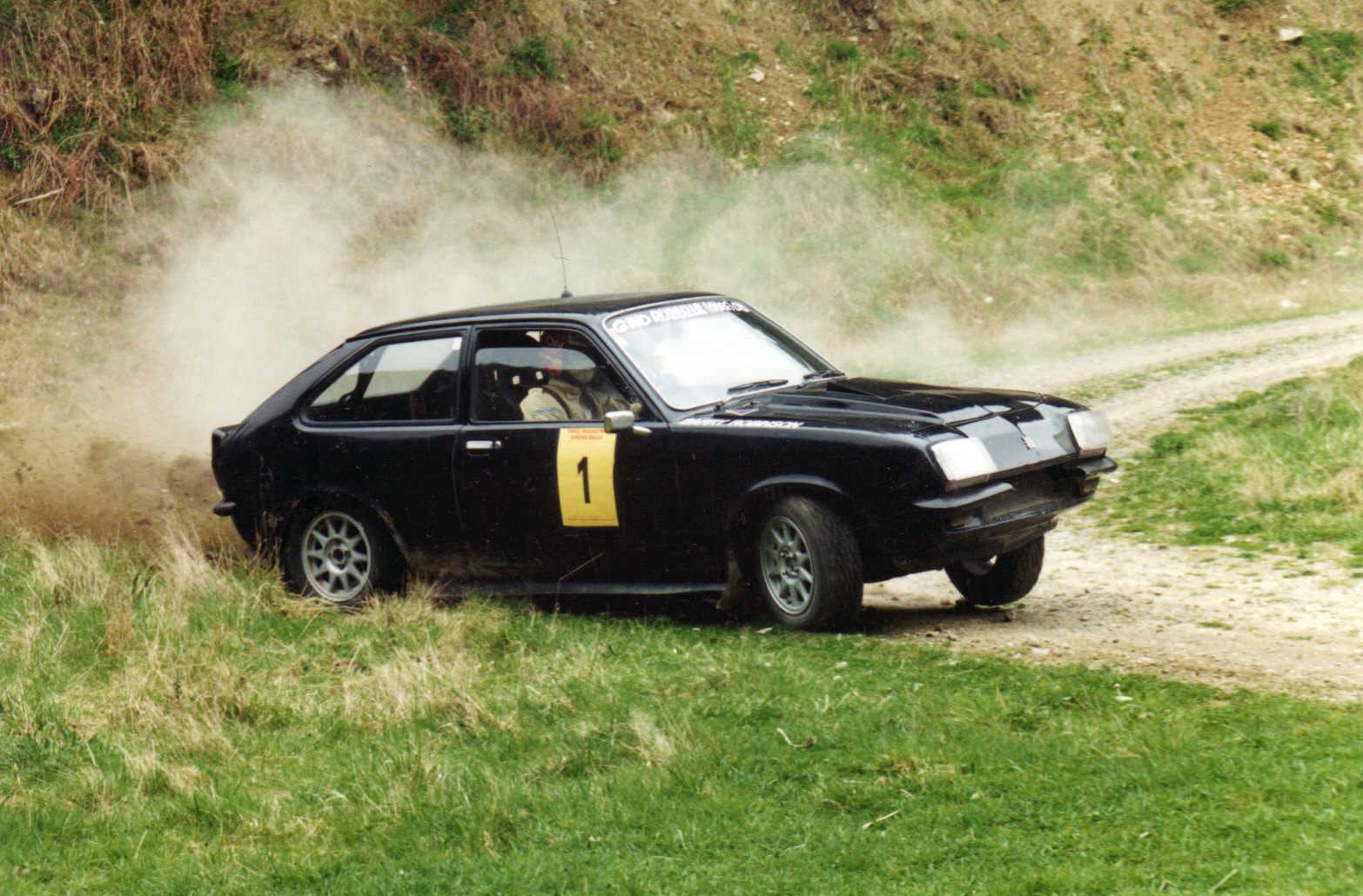 The farmer from Wyndham, Barry Robinson's Black Vauxhall Chevette is something of legend in New Zealand Rallying.
A car that would eventually sprout some rather interesting wings and a co-driver seated back behind the B-Pillar to help with the notoriously nose-heavy balance of the car, it started off built to the more traditional rallying regulations.
Robinson's first win came just up the road at the Otago Rally in 1983 and a podium finish at the Marlborough Rally, backed up by a close-fought victory over Neil Allport on home turf at Rally Southland meant Robinson was well in contention for the title of New Zealand Rally Champion come the end of the season.
Having made the haul to the final round, the Hella Lights Rally in Auckland, Robinson was up against Malcolm Stewart. As it would happen, Stewart won the Rally, Robinson retired with engine failure and the title went Stewart's way.
Robinson would win again, this time in the 1985 Southland Rally, an impressive result up against the Group B cars of the day.
The Chevette then became a sprint special with earlier mentioned wings, while Robinson moved to a Nissan Pulsar GTi-R, but his days at the front end of the NZRC went with the Chevette.
Grey Roots comment: Like Henry Ford and the Rolling Stones, Barry prefers to Paint it Black.
NZRC's greatest – number 20 – Andrew Hawkeswood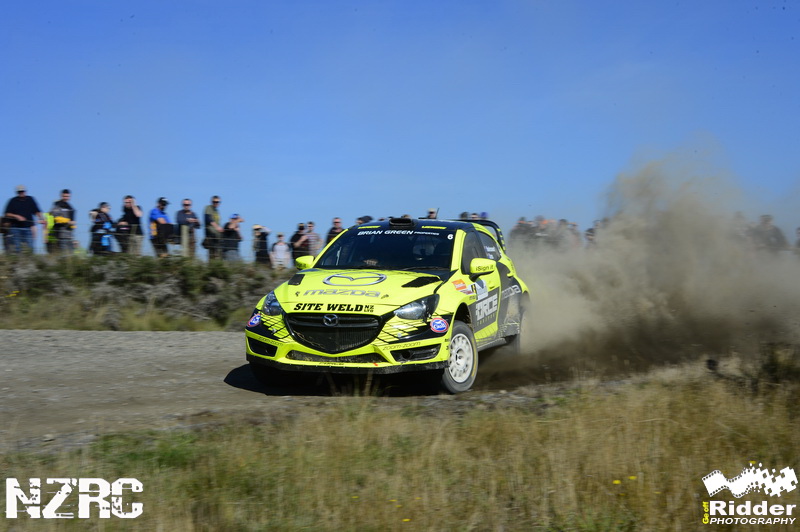 The popular Andrew Hawkeswood has been a major player on the domestic scene for the past couple of decades.
Exceptionally fast and a spectacular peddler when at his best, Hawkeswood finally gained a break-through Championship victory in 2017 while driving one of the Mazda 2 AP4 cars that he has designed and built.
Hawkeswood's rallying career has been noted for his all-out commitment that has often produced good results or complete disaster.
Despite his undoubted speed, Hawkeswood has just two NZRC victories to his name although he would feature high up a list of career podiums.
Force Motorsport, owned and run by Hawkeswood, helped change the face of rallying in New Zealand with the introduction of the AP4-spec car. He debuted three cars in the 2016 championship before winning the ultimate prize a year later. Force Motorsport have built in excess of 15 cars that are competing in New Zealand or overseas.
Grey Roots comment: No spectator ever left a stage before Andrew Hawkeswood came through.
NZRC's greatest – number 19 – Dean Sumner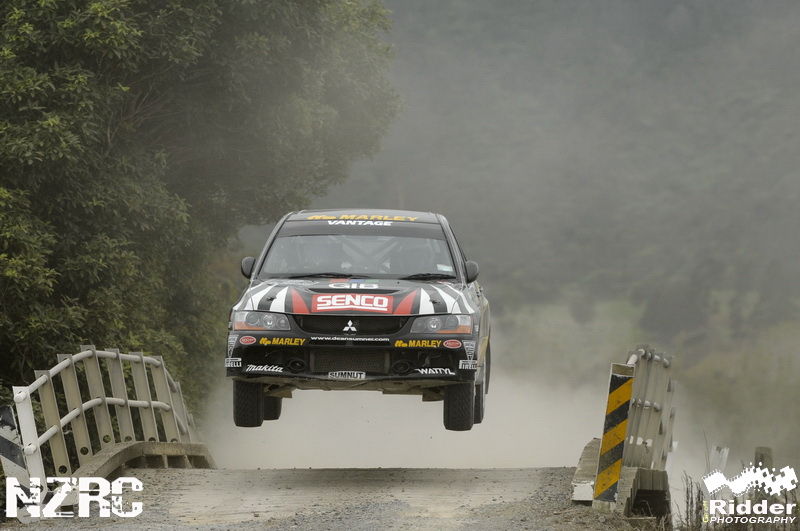 While a lot of competitors will build their way up to the premier level of rallying in New Zealand, Sumner and his team jumped in the deep end with a Group N Mitsubishi Evo 6 in 2003 and with a season under his belt, was a regular top 10 finisher across the 2004 season.
2005 would see the landscape of the sport changed, with Group N now the only option for four-wheel drive cars in the NZRC. Sumner built a new car, a Mitsubishi Evo 8, and although the debut was tough, rolling off the road at Rally New Zealand, by the end of the season he had recorded a first podium finish at Rally Nelson and a debut win at the same event 12 months later.
A Mitsubishi Evo 9 for the 2007 season saw Sumner step up in pace again and despite an inconsistent season that saw three DNF's, his finishes were two second places and a win in Hawke's Bay.
The 2008 season saw another new Evo 9, but issues with the car all season saw Sumner contest only a part season the following year. Refreshed, the 2010 season would be a breakthrough.
A win on the road (although the points system meant he was classified second for the round) at the opening round, Rally Otago, plus consistent finishes of third and fourth among carnage at Rally New Zealand and Whangarei meant Sumner was in a tight battle with Emma Gilmour heading to the penultimate round, Rally Nelson. A new tyre development from Dunlop saw Sumner untouchable, taking victory and leaving him only requiring a top-five finish at the season finale, where he claimed second and was crowned the 2010 New Zealand Rally Champion.
A switch in the off season from Dunlop to Hankook tyres saw Sumner struggle in his title defence, two second places the highlight of what would be his final season in the NZRC.
Grey Roots comment: Quiet assassin.
NZRC's greatest – number 18 – David Holder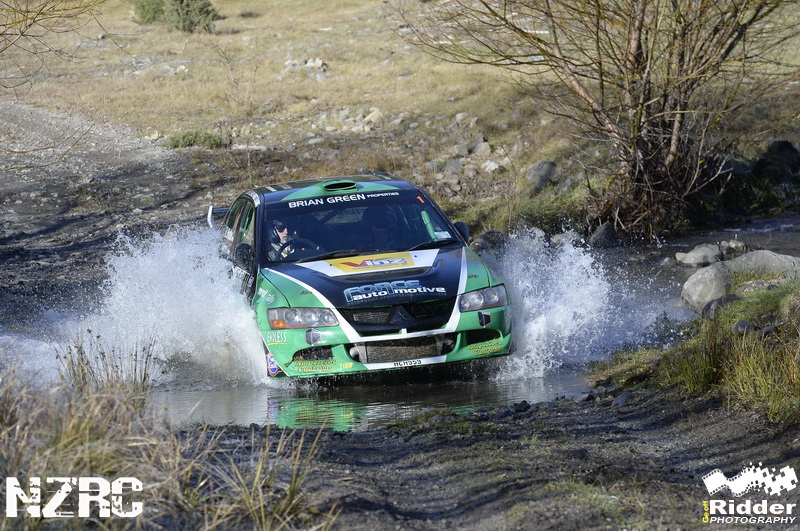 David Holder began his rallying on a national level in 2012 and he earned rookie of the year honours.
He added a junior championship before winning his maiden New Zealand Rally Championship in 2016 in somewhat surprising but dominant fashion. The tall and lanky star secured the gold star with a round to spare by winning Rally Gisborne in a Mitsubishi.
That result spring-boarded him into the elite echelon of the sport. He gained opportunities to drive new generation rally cars through pure talent even when budget was always a challenge – firstly with Hayden Paddon's Hyundai team and then in a lease agreement with Greg Murphy's Holden Barina.
Holder headed to Europe in 2018 to compete in the Junior WRC as he aimed to follow in the footsteps of close friend Paddon, who had graduated to the full WRC from the same career path.
While Europe ultimately proved too big a financial commitment, Holder's talent has never been questioned.
He has three NZRC rally wins to his name and is expected to add to that tally in the coming years despite becoming a father over the last year.
Grey Roots comment: OMG, he's fast.
NZRC's greatest – number 17 – Todd Bawden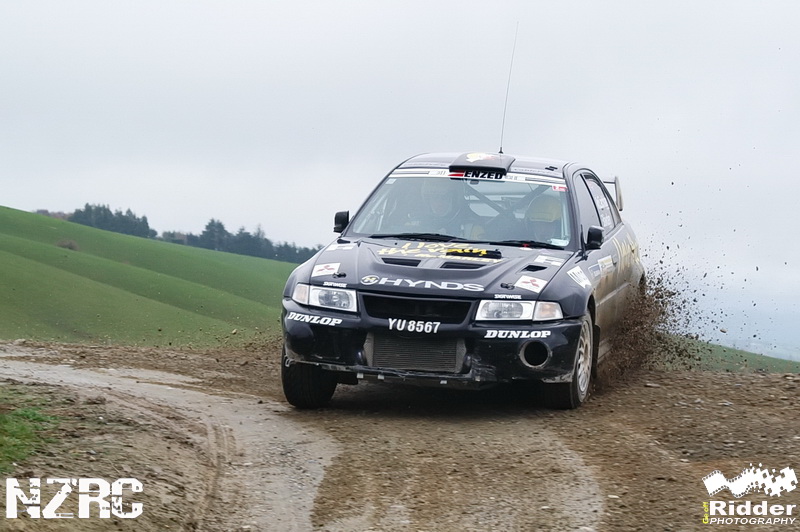 Having spent time rallying a Mitsubishi Eclipse in the USA and a brief stint in a Group A Evo 3, Bawden's serious attempts at the NZRC began with a then brand new Mitsubishi Evo 4, built to Group N specs for the 1997 season.
That car would give Bawden success, including class wins and a first round win at the Division 2 Powderhorn Chateau rally in Ohakune. But Bawden is best remembered for and became a championship contender when he moved to Group A aboard a Mitsubishi Evo 6.
In the early 2000's, spectators were treated to a combination of Bawden and Andrew Hawkeswood, whose style could best be described as 'win it or bin it'. Bawden would eventually go on to win six rounds of the NZRC, but was also deprived of multiple other victories, not always due to accidents. The 2004 season opener at Otago saw Bawden all but victorious, only to have a rear differential failure on the final day.
The fact Bawden is the highest-placed driver never to win the championship on this list reflects the raw speed and ability. With six rally wins, more than seven national champions have achieved, had Bawden been able to string together a few more finishes, chances are a championship would have come his way and far higher ranking would be in order.
Bawden still competes sporadically in the same Evo 6 and true to form still records top stage times among inconsistent results.
Grey Roots comment: Confidence has never been an issue – until you're parked on the side of the road in a smoking wreck.
NZRC's greatest – number 16 – Reece Jones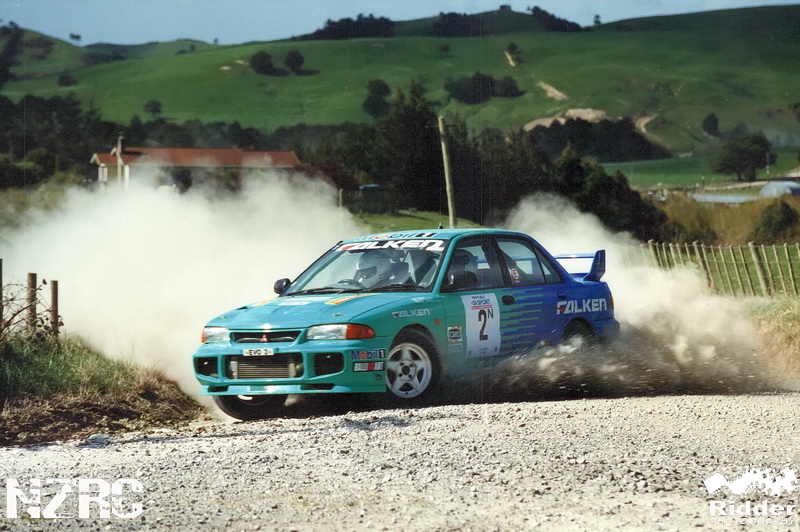 Possibly someone who didn't get the credit for what was achieved overseas, Reece Jones was the first driver to take the outright New Zealand Rally Championship title in a Group N car against the Group A cars, something only replicated by Chris West in 2004.
After success at a regional level through a series of Mazdas, Jones moved to Mitsubishi for the 1994 season with an Evo 2, then moved into an Evo 3 in the iconic Falken tyres livery for the 1995 season. A season-long battle saw Jones one of three contenders heading to the final round, based on tarmac in the morning then through the infamous Raglan stages in the afternoon. Despite a performance disadvantage to the Group A car of Geof Argyle, Jones stuck to his guns and when Argyle suffered a driveline failure, Jones was able to pounce and took the closest of victories, his 115 points edging out Greg Graham on 114 and Argyle on 112.
1997 would see aanother new car, this time the Ralliart Mitsubishi Evo 4, again in Group N trim. Having missed the Division 2 Gisborne Rally, Jones debuted the car at the opening round, Rally Otago. A steady start through the opening two rounds left Jones a little on the back foot in a battle with Marty Roestenburg, the two Group N cars right on the pace of the big Group A cars of the time. When Roestenburg suffered a spectacular rollover at Rally New Zealand, Jones would go on to be third Kiwi home and first of the championship cars.
With a round win under his belt, Jones was unstoppable and would win the remaining two rounds also, to take a comfortable championship win.
From there, Jones focused his attentions off shore, three times contesting the Production World Rally Championship and also contesting the Asia-Pacific Rally Championship, before moving into team management with multiple drivers in the APRC.
Grey Roots comment: Set the benchmark for Group N in New Zealand.
NZRC's greatest – number 15 – Possum Bourne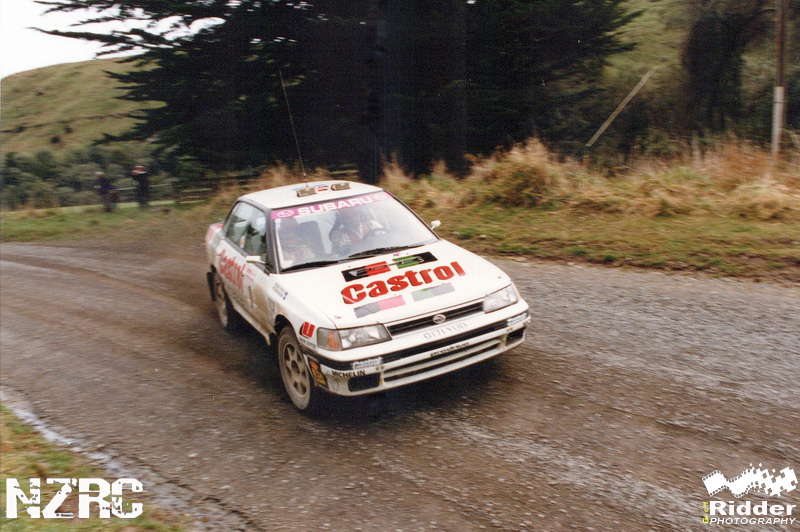 The late great Peter "Possum" Bourne features lower on this list than you might imagine given the incredible amount of success he enjoyed throughout his storied career.
So successful he was, Bourne achieved more on the international scene than he did domestically. Despite dominating the Australian championship through the 1990s and early 2000s, Bourne still managed to claim five NZRC rally victories.
He won his lone New Zealand championship in 1991 but focused on international competitions from that point on.
His combination with manufacturer Subaru became almost as famous as he was, and the two parties built a brand together that dominated the New Zealand rallying scene for the best part of 30 years.
A generation of Kiwi fans were used to waiting for Possum – often the first of the non WRC cars on the road in Rally New Zealand before setting off to the next stage.
Bourne died tragically in 2003 after a non-competition accident while he was competing in the Race to the Sky event near Queenstown.
A statue of Bourne is displayed in his hometown of Pukekohe.
Grey Roots comment: You know you're successful when Australia claims you as their own.
NZRC's greatest – number 14 – Malcolm Stewart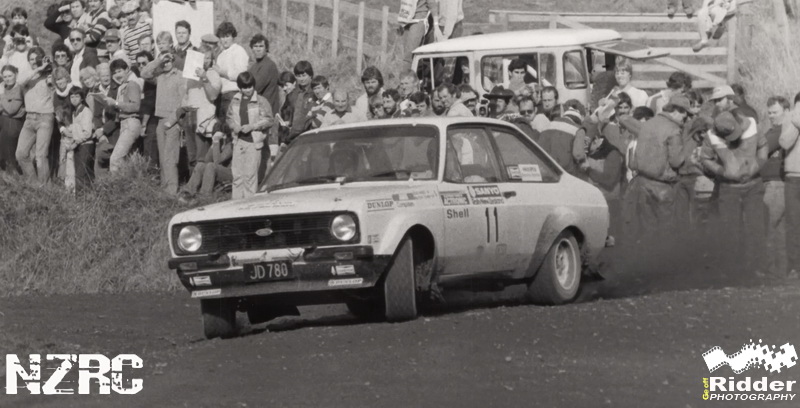 One of the true champions of New Zealand Rallying, Malcolm Stewart was most famous for his times in the ex-Hannu Mikkola Group B Audi Quattro A2 but his achievements in the sport are far reaching.
Not only has he started Rally New Zealand more than any other driver (25 times, Brian Stokes and Possum Bourne second equal on 21), Stewart was the 1983 New Zealand Rally Champion in a Ford Escort RS1800 and between that car and the fearsome Audi, took a total of six NZRC round wins.
The 1983 season was arguably Stewart's strongest, a podium finish at the Wanganui Rally and a first NZRC rally win at the Hamilton Rally meant Stewart was a close championship leader over Barry Robinson heading to the Hella Lights Rally in Auckland, the series finale. While Robinson's rally was a disaster, with engine failure, Stewart put in a drive worthy of a champion to take a two second victory over Inky Tulloch and with it, the title of New Zealand Rally Champion.
After another season with the Escort, Stewart would move to the exotic Audi Quattro for the 1985 season, finishing second that season to Brian Stokes with two victories, including a third consecutive Hella Lights rally win.
Stewart moved away from the championship after Group B was outlawed, but was a regular competitor in Rally New Zealand, then also Rally Australia, but did have one final crack at the championship in 2004, the last year his Group A Mitsubishi Evo 6.5 was eligible, regularly fighting for top 10 finishes. He would regularly compete until he succumbed to Motor Neurone Disease in 2009.
Grey Roots comment: A wily old fox that plied his craft so well.
NZRC's greatest – number 13 – Chris West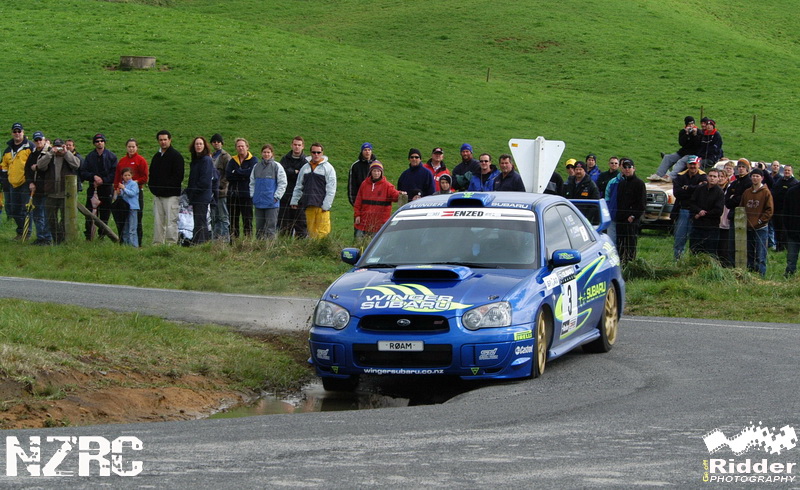 One of only two drivers to win the overall NZRC title in a Group N car before they became the premier class, West was a regular front runner in the NZRC from his debut in the late 90's, right up until his departure from the top level of the sport following a massive crash in 2014.
Having impressed at a local level, West's major step up was the Trendy's Mitsubishi Evo 3 that he would run for a Japanese businessman. That would lead to West moving to the Dynalink Modems team in 2000, running a Mitsubishi Evo 5 in Group N trim as team-mate to Bruce Herbert in the Group A Evo 6. That would net the first of four Group N championships.
Over the off-season, the Dynalink team would build two of the new 'Bug-eye' Subaru Imprezas, a car that would deliver another two Group N championships in three years. The Dynalink team then disbanded and West joined a new Subaru New Zealand-run team in an ex-Possum Bourne Impreza.
Up against the Group A cars, West would win the opening round and secure two further podiums, but importantly would also score points at every round, heading to the tarmac series finale needing only to finish 13th to take the title, eventually taking 8th place and the overall championship.
Two more years with Subaru saw some of the most intense battles in the history of the championship with Richard Mason, but both seasons went the way of Mason and in 2007, West moved backed to Mitsubishi with the Andrew Simms team. 2008 saw West take an outright win at the International Rally of Whangarei and plenty of podium finishes ensued at the wheel of a series of Mitsubishi Evo 8s and 9s.
An Evo 10 for the 2013 season bought three podium finishes including one last round win at Rally Canterbury, however a 2014 Rally Otago rollover absolutely destroyed the car and outside a couple of one-off appearances, ended West's NZRC career.
Grey Roots comment: Took over Reece's big shoes in Group N. Unfortunately Chris sometimes mis-read this as 'big shunts'.
NZRC's greatest – number 12 – Paul Adams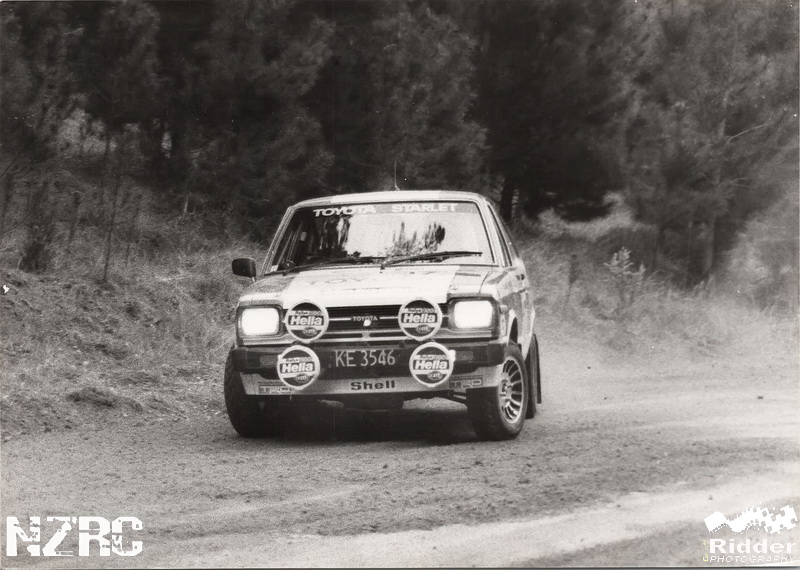 One of the true forefathers of New Zealand Rallying, Paul Adams' achievements in the New Zealand Rally Championship are numerous, but his results before the NZRC came to exist, most notably the 1970 Silver Fern Rally win, and in the small car classes with Toyota are equally as impressive.
After a lot of success with a pair of BMW 2002s, Adams moved to Ford Escorts and teamed up with brother in-law John Woolf in a pair of Nylex Vinyltop cars (Woolf was driving a Mazda RX3) turned to the newly formed national championship. In 1979, a win at the second round, the Marlborough Car Club Rally in Blenheim, set Adams up and then a second and third at the final two rounds, Northern Sports Car Club and Rotorua Car Club events, would see him crowned New Zealand Rally Champion.
General Motors became involved with the Vauxhall Chevette 2300HS in the 1979 season, hiring Steve Millen as their driver. When Millen suffered a frightening crash that badly broke his arm in a Formula Pacific Car over the summer series, Adams was moved into the factory seat for 1980. Victory at round two, the Wairarapa rally was backed up with second at Hamilton, but Jim Donald would prove untouchable, leaving Adams second for the year.
Returning to the Escort for 1981, Adams would take victories in the Mainfreight Rally (Christchurch) and Hobbs Jewellers Rally (Rotorua), but no scores in the other two rounds meant he would again take the runner-up spot behind Donald.
1982 would see a move to Toyota and the diminutive Starlet and although not an outright contender, Adams took the car to an outright podium in the Tokoroa rally. When the Starlet grew into a 1600cc Corolla in 1984, Adams would take an outright round win, his last at an NZRC level.
Adams still competes occasionally and is a regular around the NZRC service park with son Matt.
Grey Roots comment: Preacher, politician, purveyor of clotheslines and used cars; Paul had more strings to his bow than a symphony orchestra.
NZRC's greatest – number 11 – Jim Donald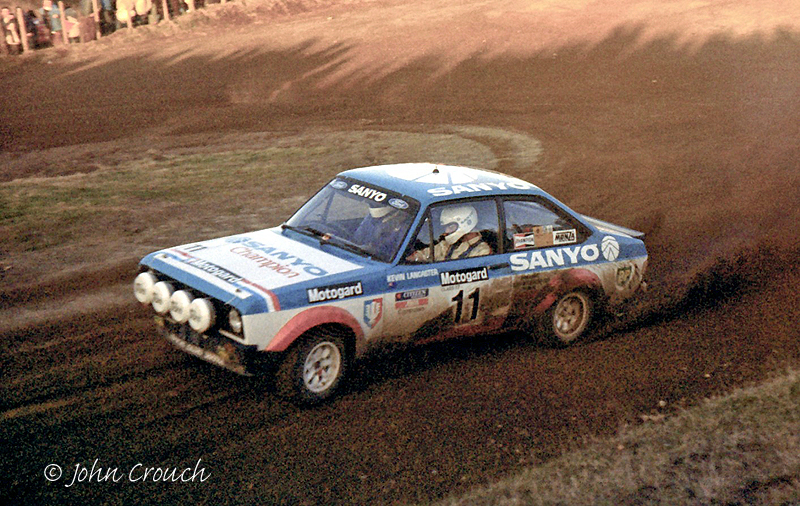 Jim Donald started out as a mechanic for the powerful Masport Escort team but would end up driving for them, not only winning multiple rallies, but also competing with success in the UK while also winning Rally New Zealand in 1981.
Donald's true success came when he returned from the UK in 1979, taking victories in the final two rounds of the NZRC, the Rotorua and Northern Sports Car Club rallies that pushed him to second place in the championship, despite only taking points from the final two rounds.
1980 would see Donald dominate, three wins in South Canterbury, Hamilton and the Hella Lights Rally finishing in Auckland coupled with a second place at the Wairarapa Rally saw a near perfect scorecard, still the closest one driver has come to clean sweeping an NZRC season. Such was his dominance, Donald's 75 points was more than double that of second placed Paul Adams.
The 1981 season opening Mainfreight Rally in Canterbury would see the first time in a year and a half Donald had missed the podium in an NZRC round, but he soon made up for it, winning the Foveaux Radio Rally in Invercargill and a second at the Hobbs Jewellers Rally in Rotorua meant Donald needed to beat Adams to take a second consecutive title. He did so in convincing fashion, his dominant win on the Hella Lights Rally surpassing Adams' non-scoring effort and a second title for Donald rounded out his time in NZRC in a season that would also see Donald win the International.
A couple of guest drives for Nissan New Zealand rounded out the career of one of the most successful drivers in the early era of the sport.
Grey Roots comment: Team mechanic made good.

NZRC's greatest – number 10 – Ben Hunt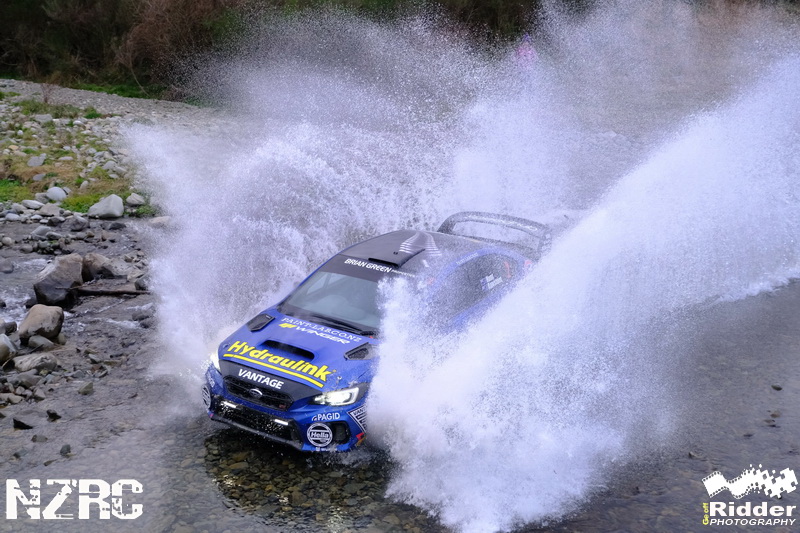 The recent master of the NZRC, Ben Hunt won a second career championship in 2019 and achieved it in dominant fashion.
Hunt won the first five events on the calendar – taking his career win total to 10 – and was cruising to victory in the sixth and final event before a mechanical failure on the penultimate stage curtailed his bid for the first ever perfect season.
Originally from Nelson, Hunt grew up on the forestry roads of the top part of the South Island before moving north to Auckland, where he's based now. He honed his skills first in 2WD and was one of the best drivers we've seen in a front wheel drive car.
Since moving to 4WD he has put up numbers that compare with the very best the sport has seen and he is only part-way through what has been a remarkable career to this point.
"You think of Possum, Hayden, Neil Allport and Richard Mason and the likes of that when you think of the best drivers New Zealand has had," Hunt said.
"I probably never really thought about putting myself on the pedestal with any of those guys because I go to work every day and do my own thing. At the rallies, Tony [co-driver Tony Rawstorn] and I go there and do our own thing and don't really get to wrapped up in any of that."
The Subaru driver grabbed his break-through NZRC win in 2013 in his rookie season in the open 4WD class and the first of his two New Zealand championships in 2015.
He could have added more had it not been for the presence of WRC star Hayden Paddon and seven-time champion Richard Mason.
"In the years we've been in a 4WD car we have been up against Hayden and Richard and they have definitely been right up the top of the field," Hunt said.
"Tony quite often looks into the stats when he is bored and the amount of time we have been second in the championships or even in rallies is a lot more than the amount we've won.
"I wouldn't change anything – I wouldn't change to a different era if I had the chance. Competing against Hayden and Richard has been awesome and it still is. They are the best two in New Zealand and it just pushes you to improve and get faster and faster.
"When Hayden hasn't entered the championship at times it has been a bit of a disappointment for us because we love having him there.
"I'd rather have real strong competition and finish second or third than just walk over it and have it easy."
Hunt remains a strong chance of climbing further up this list in the future.
Grey Roots comment: Ben Hunt is the answer to the question – was the Rally NZ Scholarship worth it?

NZRC's greatest – number 9 – Tony Teesdale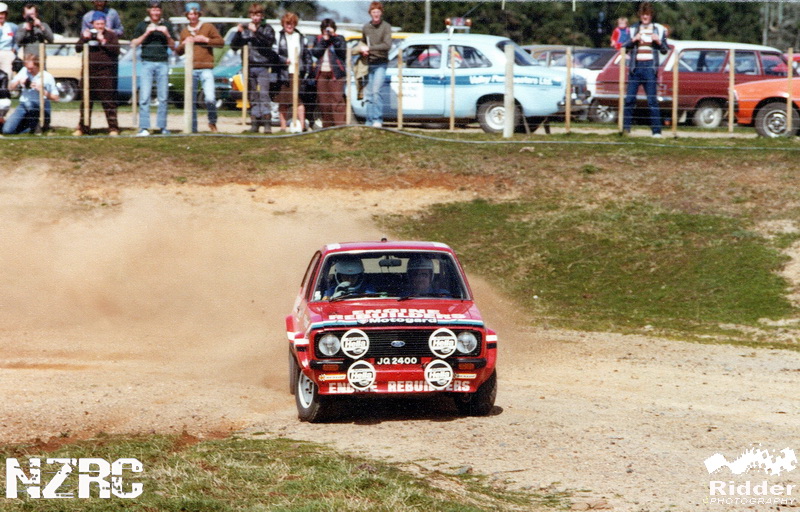 Still the only driver to have won three New Zealand championships for three different manufacturers, Tony Teesdale makes his way into the list at number nine.
After multiple strong campaigns in the Engine Rebuilders car, 1982 was the first season when everything came together for Teesdale. Victories in the Tokoroa, Rotorua and Nelson rallies meant Teesdale had the title wrapped up before the final round, the Hella Lights rally. That was fortunate, as he would unfortunately destroy the car.
For 1983, Teesdale would move away from the blue oval of Ford, as chief mechanic Ron McMillan explains.
"Datsun Corner had just been opened and Nissan were very keen to get Tony on board with Datsun Corner backing. Also Tony scored United Building Society, probably one of the up until then top rallying sponsorships. This was huge and Tony decided to go to Nissan," McMillan said.
"So Nissan "gave" us a pile of parts left behind from when Nissan ran the uncompetitive Silvias in Rally NZ. These things had a narrow valve 2 litre engine and I think we got one of them, three synchro boxes, three differentials and a selection of shocks and springs. Tony bought an automatic Silvia and we built a rally car using factory shocks and springs."
After several all-nighters, Teesdale debuted the car at the second round of the 1983 championship, the Wanaganui Rally, but would unfortunately suffer engine failure only a kilometre into the first stage. In fact, the car would turn out to be a 'bit of a dog' and the title defence would only net one podium finish at the Southland Rally.
Nissan Japan were keen to keep Teesdale on board and put a 240RS on the water, but whilst en route, it became the Reg Cook car, so the team decided to convert the Silvia to 240RS spec, although as McMillan says "except we rectified the terrible rear end these cars suffered from." Despite not being factory built, the car fell within the rules and was most certainly successful. The final preparation was a decal in the boot lid which read; this is not a works car….. this is a car that works.
With a now sorted car, the 1984 season was a vast step up. A near certain victory at Tokoroa was missed while the spares package was still being accumulated, but in one of the most competitive championships to date that saw seven round winners, Teesdale came out on top, heading home Cook's works 240RS for his second title. A second season with the 240RS saw Teesdale net fifth, but Teesdale had bigger plans and with the significant backing of United Building Society and Repco, headed to England with McMillan to go shopping.
"I guess you could say the choices of new Group B cars was wide. You had the Ford RS200 but that was in really early stages of development so was a little unknown. The 6R4 was available, a genuine 200 competition-based cars had been built and being English had an advantage for us. Also it was normally aspirated, it kind of fitted the NZ scene quite easily. Sure a Lancia or Peugeot or Audi was a financial possibility but I guess when you looked at availability, the spares situation and language difficulties, it wasn't really going to work," said McMillan.
"Funnily enough, now having run a 205 T16 and RS200 for PJ (Johnston) in the 2000's, certainly proved Tony's choice of the Metro was right as to run these other things you'd need 6 vans full of spares and 20 mechanics."
The car arrived in New Zealand and had a full, ground up preparation with McMillan, the late Pete Bruin and Shane Hone, who had worked with Austin Rover). As it turned out, the car certainly had it' challenges.
"These "clubman cars were a bit of a disaster. Throughout its existence in NZ the electronics would just shut down whilst hammering through a left hander, to this day I think it had a broken wire somewhere in the loom. Austin Rover were constantly upgrading or fixing production problems but in hindsight were great to deal with," McMillan comments.
"Some extra backing from Austin Rover NZ appeared on this car but for 86 Tony shipped the car to the UK to attempt the RAC. This was the turning point for us as we were fortunate to work out of David Richards automotive, later to become Prodrive. They were running Jimmy McRae and after noticing some of our preparation instantly assisted in upgrading our car to factory spec except we retained the clubman fuel injection. Rummaging through their jumbo bins, we even scored the carbon Kevlar sump shields."
The 1987 season was one of utter dominance, Teesdale only missing out on one round win when incorrect gearing meant he just couldn't keep up with the Mazda RX7's. The efforts were rewarded though with a third national title, making him the most successful at the time.
With the Group B cars becoming outlawed, Teesdale traded the Metro on a 323 BFMR from Alastair Sutherland in the UK and immediately fitted the car with the hallowed X-Trace 6 speed gearbox. The car was never as good as was suggested and after that, plus a couple of one off drives in Rally New Zealand, Teesdale retired from rallying to concentrate on business.
Grey Roots comment: Call him 'Threesdale' – three cars, three titles.

NZRC's greatest – number 8 – Geof Argyle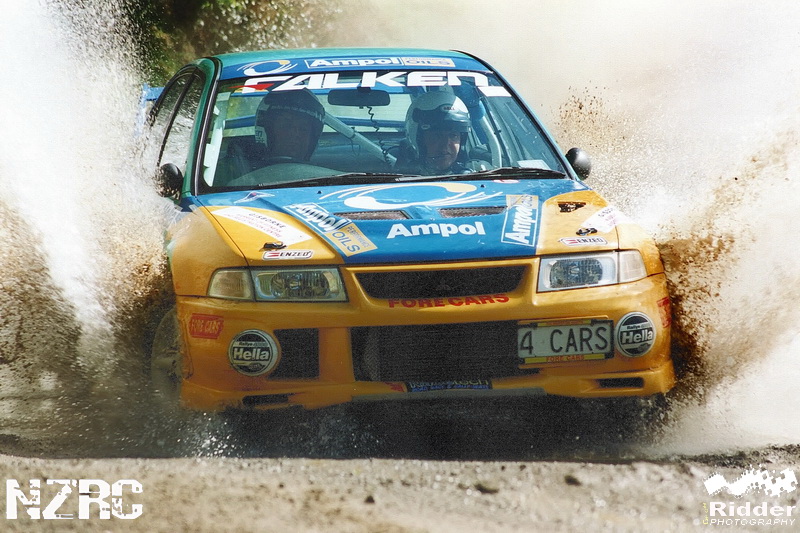 One of a series of fast men from the Manawatu in the 1990s, Geof Argyle's two outright titles coupleld with three Group A Championships and later three Open class four-wheel drive titles sees him make our list at number eight.
For Argyle, who would couple local success with campaigns in America and the Asia-Pacific Rally Championship, rallying was something that evolved from a bit of fun.
"When I first got in an old Datsun 1600 and the first event, probably it was the local Daybreaker and we got fourth overall in that so we thought this is something we could probably do quite well at, so it all went from there," Argyle said.
"From there we went to a Subaru Leone. We built it from scratch ourselves and got a few bits from Possum as we went along. We did two or three seasons in that and then got the first of the three Pulsars."
It was the third of those three Pulsars, the ex-David Thexton Rio Gold car, where Argyle really made a name for himself in the 1995 championship, coming off winning the Rothmans scholarship the year prior.
A podium finish in Southland was followed up by his first round win at Rally New Zealand. Another round win at the Auckland rally saw Argyle right in the title fight heading to the Hamilton rally, a mixed surface affair.
"That morning in Hamilton, on the tarseal we broke an axle and I think we lost two or two and a half minutes in the end. We came back in the afternoon and won the Whaanga Coast by 56 seconds. That's probably the hardest I've ever driven with a lot of risk, we spun twice and still took that time out of the field. That got us back up to third, which was enough to win the championship and then with two stages to go we broke the tailshaft."
That meant Argyle slipped to third for the season, behind Reece Jones and Greg Graham. He would take the Group A title however.
1997 saw the attack step up another gear, with the arrival of a brand new Mitsubishi Evo 4 in Group A trim.
"The car was so much more stable. I think the Pulsar was great training because it was such a hard car to drive fairly fast, the Evo was so much nicer. Unfortunately that year, we had the electrical issue that blew so many motors, we found that fault and the next year we went good as gold."
Argyle's words read as an understatement. Starting off the year with a win at the Division two round in Gisborne, Argyle took round wins at Rally New Zealand, Hawke's Bay and Rally Rotorua, the final three rounds of the series, to earn the title of New Zealand Rally Champion.
"It was really good to get that championship, it certainly took a lot of pressure off moving forward."
For 1999, Argyle and his team would appear with a brand new Evo 6 and a second title, this time consistency being the key, with Bruce Herbert winning four of the five rounds, but retiring early at Rally NZ, giving Argyle the opportunity to back up.
For 2000, Argyle would run dual campaigns in the NZRC and APRC, something he concedes with hindsight wasn't the best decision.
"Looking back on it now, that was probably a mistake, we got into it too early and divided up too many of our assets in terms of cars and things like that, trying to do too many things at once, but I was determined to try and make the jump to go out and do something else. I don't think we quite had the right backing behind us."
His title fight was not in vein however, finishing runner up to Herbert by the narrowest of margins, eventually a time penalty deciding the title and denying Argyle a hat-trick.
The 2001 season saw Argyle move to the Ralliart New Zealand team to debut the new Mitsubishi Evo 7. Ironically, after running the car for a season and moving away from the team, Argyle would end up with the car again in 2010 to run in the Open 4WD class after Group A was outlawed at the end of 2004.
After a season with Ralliart, Argyle decided to move back to his own show. The 2002 season was a disaster, the New Zealand-based Evo 6 giving a raft of problems and Argyle concedes concentrating on an APRC title challenge solely would've been better.
In 2003, Argyle would campaign Ian Easton's Evo 6 in New Zealand and it started well with a round win at Rally New Zealand after a huge battle with Herbert across the three days. But again spreading resources too thin would be costly, a blown turbo at Rally Rotorua due to refurbishing rather than replacing the unit not only cost Argyle the APRC title, but any realistic shot at the New Zealand title. He would again finish second to Herbert.
From there, he stepped away from the championship to focus entirely on APRC campaigns for the next two seasons before contesting the odd club event. In 2009, the introduction of the Open 4WD class gave Argyle the opportunity to return and after he was doing some work for Kerry Harvey, the pair came up with a plan for Argyle to campaign his Evo 8 that had been sitting for a while to aid in the sale of the car.
The plan worked perfectly, Argyle dominating the series and after Harvey's car sold and Argyle was able to obtain the Ralliart car from 2001 back from Andrew Hawkeswood, he continued to own the Open 4WD class in 2010 and 2011.
Some time away from the championship, including a rally win at the first Goldrush Rally Coromandel where he wasn't registered to score points, kept Argyle busy before a campaign in the Gull Rally Challenge in 2018, with a hard fought battle up against Grant Blackberry seeing Argyle claim second for the year following a nail biter on the Raglan Rally, the final round.
While Argyle skipped the 2019 season, the possibility of a return for 2020 is a possibility with Argyle's desire to compete in another WRC round still strong.
Grey Roots comment: Geof was capable of wringing the absolute best out of any piece of shit vehicle with bits falling off it.

NZRC's greatest – number 7 – Brian Stokes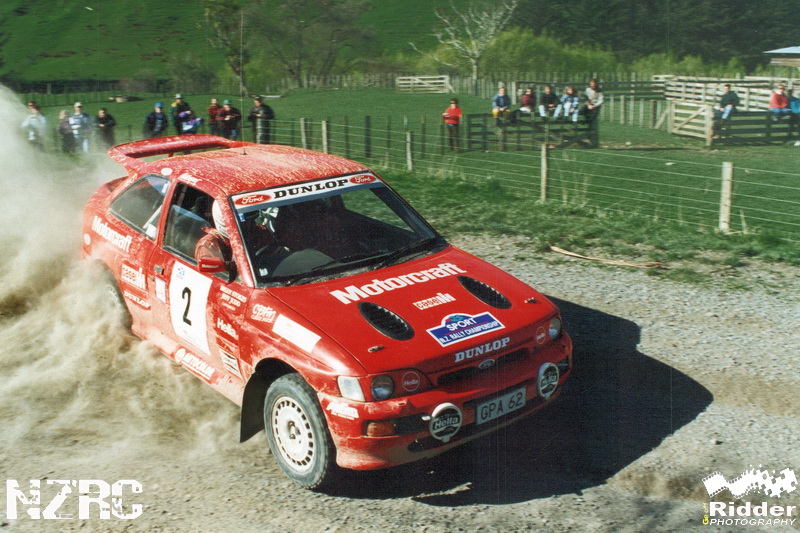 Canterbury's Brian Stokes makes the list at number seven, his two titles and 12 rally wins etching his name in the history books, while his battles in the late 80s and early 90s with Neil Allport and Joe McAndrew have themselves etched well into the minds of fans.
"It all molds into one really when you've done so much, sometimes I sit down and think I should've written it all down, it'd probably make a great story that's for sure. But you do remember a lot of it," commented Stokes, reflecting on a career at New Zealand's top level that spanned more than 30 years.
"Right from the start, I said to my mum I want to be New Zealand Rally Champion, so that was always the ideal. So we had to sit down and think about how we were going to do this with the resources we had and the pathway I wanted to be on. I was really lucky that I had massive support, mainly from my Mum and Dad and then from my two uncles who were just Burt Munro kind of people, building cars and that sort of thing with fairly small resources I suppose you could say.
"In the early 70's, I went up into Ashley Forest and saw Mike Marshall of all people in a BDA Escort and it was just instant really. So I never really veered away from Ford after that. Then I saw Hannu Mikkola when he won the 1973 Heatway in another Escort and it just blew my brains apart to be fair, I just couldn't believe it."
A first milestone in the pathway to a championship is that first round win, and Stokes still vividly remembers his home event, the Mainfreight Rally in 1983, heading home
"It was incredible really. We were in the 1600 Escort and there was the bigger cars there. The last stage was really long, we started third on the road and passed the two cars in front of us and came down the uphill of the (Ashley Forest) Rallysprint. All the team was there and there were spectators, just lots of people. My Uncle and I spoke about the win for about 30 seconds and then we were straight on to the next thing, it was just so focused, but it was amazing."
Success for the next two seasons on the North Otago rally would continue to add to Stokes' statistics tally, but that 1985 win at the penultimate round ultimately sent Stokes to the final round well in contention for the title.
"In 1985 when we won the championship, it was up against Malcolm (Stewart) and Neil (Allport) and Reg Cook, (Tony) Teesdale and those guys which was really good. I remember Reg coming up to me with a few stages to go and saying 'Don't you 'F' this up Stokes cos I don't want any of those other bastards to win!', it was bloody funny."
The final round was the Auckland-based Hella Lights rally, but in true 1980's rallying fashion encompassed large areas.
"It was amazing because it was between me and Possum pretty much and on the gravel in the Coromandel and a friend who came with me had bought two new 'Sucker' tyres which were really expensive, about $300 each or something and he said to me at the start, I reckon we should buy four! On the day we just picked the right spot to run them on the gravel, we were quicker than Possum and I think he was a bit stunned by that, that was an amazing feeling. The feeling was incredible, I was still grinning six months later I think!"
With a championship in the bag, the 1986 season saw Stokes run one of the very few seasons away from the Blue Oval of Ford, moving to a Toyota Corolla GT.
"I was still hooked on the rear wheel drive, 16 valve thing and Toyota were brilliant really, they really supported us with a serious amount of resource for the time I suppose. After that season, we wanted to go to four-wheel drive and went back to Ford and they were just as good after that, so we ended up with the Sierra."
"We ended up with a reasonable amount of support from Ford Motorsport in the UK, meeting with Peter Ashcroft who ran the world team and we got some amazing things, given parts and that sort of thing, it was pretty special. I made quite a few trips to the UK and would always try put the best Kiwi slant on it. He'd end up saying 'here's a $60,000 gearbox, try this'. It was pretty cool."
The first trip into four-wheel drive saw Stokes build a V6-powered Sierra XR4x4.
"It was in the really early stages of development so they hadn't done a lot of work on the transmission and it was so high-geared, it basically only had two or two and a half gears, it was a bit hopeless like that. Once we got that sorted, it didn't have a heap of power but I just skidded around like I was driving the other cars (rear wheel drive), it wasn't that sophisticated in the diff department so that's what we did."
While 1987 saw Tony Teesdale untouchable in the Metro 6R4, the 1988 season was a complete turnaround, and would deliver Stokes a second national title.
"We really got on top of the engine side of it and Gary Smith, he had a much better V6 engine that Ford in Boreham had built him, so I got that off him and that kicked the performance up a wee bit, we had a good run and clicked together a few results. We had a few oil pressure problems through the year, but the late Andrew Grundy did a few events co-driving with me and he'd done the math and worked it all out and we won the championship, so that was pretty special."
From there, Stokes moved to a Sierra Sapphire Cosworth, although homologation issues meant it would initially run as a two-wheel drive car.
"That was another trip to the UK, we bought a body shell and built it up ourselves, we got an engine from Mountune in England and it was fast, but it was only two-wheel drive. The plan was always to go to the four-wheel drive when it was homologated so we did that, converted it to four-wheel drive and it was really fast and a lot of fun. It had an open front diff in it, so it drove like an Escort pretty much, just with a lot of grunt!"
That car would deliver more success, another victory at the Northern Sports Car Club (Formerly Hella Lights) Rally in 1991, but a real return to the top would come with Ford's WRC contender, the Escort Cosworth, which like all of Stokes' cars, was built in his shed.
"We just didn't have the capital to just buy one and to be fair with the help of Ford, they gave us some bits and we'd create some pretty amazing bits in the shed. We'd look at photos in the homologation papers and just make it kind of thing."
1994 would see a ding-dong battle with Joe McAndrew. Stokes started the season with a win in the Division 2 Rally Otago, then the opening all in round at Southland. Second to McAndrew at Rally New Zealand and Waikato meant there was plenty to play for heading to the final round, the Daybreaker. Trailing McAndrew but closing the gap, Stokes pushed hard and eventually too hard, firing off the side of a bank and rolling into retirement. Conveniently, he did so right in front of the TV cameras, and can be seen in the event highlights. https://youtu.be/uDvT9zNfdO8?t=898
The car was rebuilt, then eventually replaced with another Escort Cosworth, but only in limited campaigns. 2005 would see Stokes prepare for another championship campaign, this time with a brand new Mitsubishi Evo 8. Unfortunately the opening round, Rally New Zealand, saw Stokes crash heavily and the damaged car would be sold to Hayden Paddon, becoming the car that kick-started his NZRC career.
Stokes also dabbled in classic rallying, twice winning the Otago Classic Rally and dragging the original Escort Cosworth out to win the 2006 Silver Fern, before building himself a 'hot-rod' Mk2 Escort with modern running gear and eventually a Mk 2 RS1800 also, both cars making NZRC appearances in appropriate classes. Then with the implementation of AP4 regulations, he built a Ford Fiesta, a car which will be used by son Robbie with daughter Amy co-driving when rallying resumes. He rules out any further returns to the championship driving, but is still actively involved around the service park with the kids.
"I've always enjoyed building cars and seeing if we can get some kind world class kind of car with the resources available and I still carry on with that theme, plus we've now get Ian (Mason) building them with us. You get clever people and it's amazing what you can do."
"The pace note thing, that's for the young people now, I'm an old sort of rally driver really to be honest. We're getting a hell of a lot of fun from what we're doing."
Grey Roots comment: Ford man Blue & through.

NZRC's greatest – number 6 – Rod Millen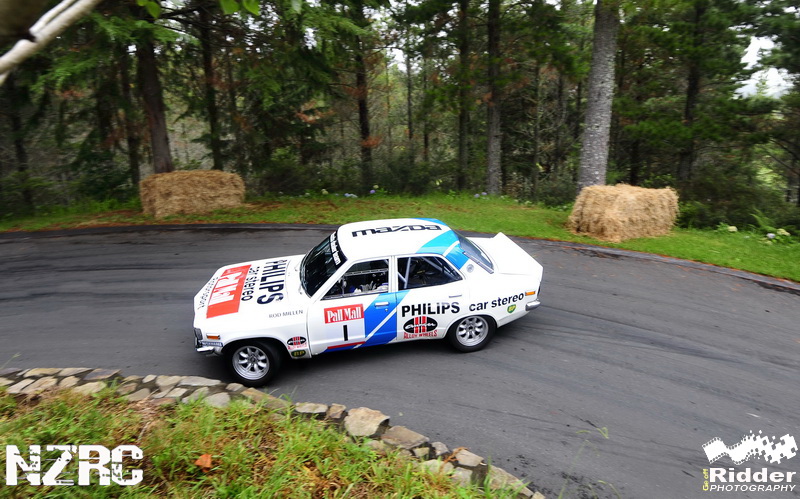 Rod Millen is another legendary Kiwi rally driver that achieved a massive amount on the international stage. His career spanned the globe and traversed various types of motorsport showcasing his immense talent and incredible versatility.
But the man behind the Leadfoot Festival on the Coromandel Peninsula began his career in the New Zealand Rally Championship – winning the first three championships from 1975 to 1977 in the iconic Mazda RX3.
"It was an interesting time for the sport in its very early days," Millen said from his home in Hahei. "I elected to drive a Mazda RX3 that was certainly by no means a well-known competitive rally car but it was a car for me because the cost to run that car was fraction compared to the Fords and other vehicles racing in that era.
"In the first year I competed the car was essentially stock and I was able to get a lot of seat time. As the years progressed – in 1975 when I won the championship – I wasn't the fastest driver but I was consistent.
"I won the championship by being in the top three or four at every rally.
"I made some improvements to the car in 1976 and the car was certainly faster but I still don't think I was the fastest driver out there. But once again, by being consistent and finishing each round I ended up winning the championship again.
"In 1977 I made some more improvements to the car and along with that I was doing a lot of other motorsport events so I was getting a lot of seat time. All in all that helped me immensely.
"Competing against some of the factory Ford Escorts there was no doubt that by 1977 I was faster than them on a stage by stage basis and scored up a third round of the championship."
The rotary Mazda was a very different car to drive than other cars of its era and Millen needed to adapt a certain style to his driving to make it work with the car.
"I was putting a couple of cars in the barn today and I looked over at the RX3," he explained. "In the early days we used to compete with that car with stock brakes, which included disc brakes on the front and drum brakes on the rear and every stage we would have to adjust the drum brakes and every second stage we would have to replace the brake shoes so for a major rally I think my order was like 75 sets of brake shoes that I would have to order.
"Once you got that thing up to speed there wasn't a lot of chance of slowing it down so you threw it into the corners a lot."
Having completed a trifecta of championship victories in the mid-late 1970s Millen looked to head offshore to further his rallying. He eventually settled in the United States and won the North American Race and Rally Championship in 1979 and 1980. There were WRC appearances, including a second-place finish at Rally New Zealand in 1989, and an Asia Pacific title in the same season. He then moved into sports car racing and hill climbs – winning at Pikes Peak in 1989. Millen moved into the popuar stadium truck racing in the 1990s while also beginning to design vehicles for a successful business that supplied military with bespoke equipment.
The decision to leave New Zealand, where he was a big fish in a small pond could easily have been daunting but Millen has always loved a challenge.
"I wouldn't say it was difficult it was a challenge that I relished. I knew it wasn't going to be easy. Like the sport of rally as it was back in the 1970s we raced on all of these back country roads throughout New Zealand and I went to Australia a number of times and it really was an adventure.
"My move to England first to do a couple of rallies over there and then to finally settle in the United States was an adventure. I was following my passion for motorsport.
"Initially it was all about rally but I went on to get involved with different types of motorsport from off-road racing, stadium racing, desert racing, hill climbs, Daytona 24 hours etc. The rally side was the initial start of my career but then it changed when there were other forms of motorsport that came along."
Millen's brother Steve and two sons Rhys and Ryan have both excelled in various motorsport genres as well.
The judging criteria of this list is based on what each competitor achieved in the NZRC alone so while Millen went on to reach new heights overseas his contributions in the local championship have earned him the sixth spot.
Millen is very proud of his achievements and acknowledges the importance it played in launching his career internationally.
"It was a really important time of my career. It gave me the stepping-stone to take lessons learned from winning the New Zealand Rally Championship to other motorsport activities around the world.
"I will never forget that and how important that was.
"Not just in terms of winning events but ensuring you kept your sponsors happy and all your backers so you could take that next step in your career. Those were some of the really basic, fundamental things that I learned.
"It is one thing to swing on the steering wheel and push the pedal but you have to sell yourself and have some confidence and perhaps moving onto the US it was extremely important that I came across that."
Grey Roots comment: His sideburns would've been considered a fire hazard these days.

NZRC's greatest – number 5 – Bruce Herbert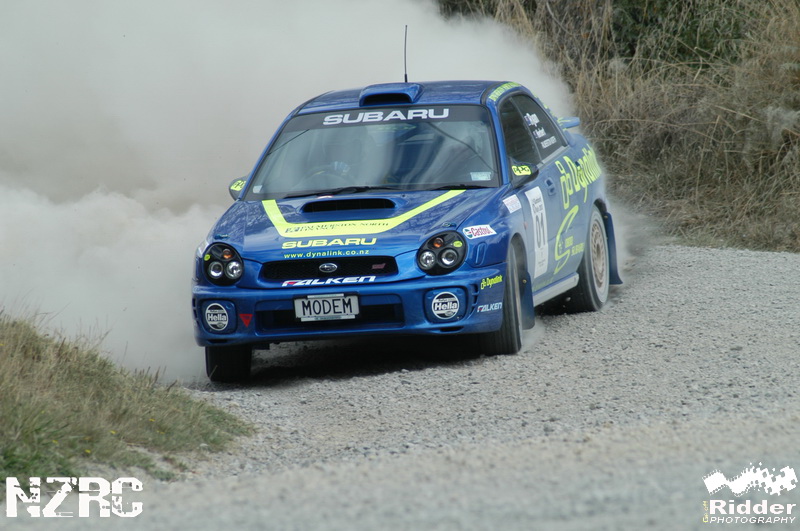 Now, we're into the big hitters. No driver has won more than two Gold Stars on the trot. Except Bruce Herbert, he won four. In a row. And if not for a little bit of finger trouble, it probably would've been five. Put simply, Herbert dominated at the turn of the millennium. But his success at national championship level goes back a long way.
"I just loved the sport and I guess one thing led to another. I don't know how far back records go, but at the office I've got a trophy from the early eighties where we were second or third for the year in the up to 1600cc class," said Herbert. "I think the second or third rally I did was the Tokoroa Rally, a part of the NZRC, I guess they still called it that back then. We started 118 or 117 or something like that and I think we finished seventh."
That trophy would come in 1982, at the wheel of a 1600cc Mitsubishi Lancer, but it would be a few years before Herbert would take an NZRC round win, eventually coming on the 1996 Hawke's Bay Rally at the wheel of the ex-Brian Watkin Subaru WRX. That win was as much a surprise to Herbert as anyone.
"I probably didn't believe in myself and always thought about the flash guys and all the flash gear that they had, so I rated myself as a bit of an underdog I guess. At a Sprint in Wanganui I remember Neil Allport saying to me 'your first win will always be your hardest one, once you get that you'll be away'. I always thought I'd be in the top 10, but not a rally winner."
But it was business dealings turning to more that really propelled Herbert's career.
"He bought a couple of cars off us," sais Herbert, referring to Ian Ferry, the man behind Dynalink Modems, who would back Herbert from 1998-2003. "I didn't know who he was but he came back a bit later and bought another one, we got talking and he said he spent I think 25 grand a month on print advertising and I don't know what that does for me, so I'll help you a bit. Both he and us got a bit overwhelmed and away we went, we spent a lot of his money," laughed Herbert.
Herbert started out with a Mitsubishi Evo 5, the latest and greatest at the time. The car was never overly successful.
"The car was a disaster, but there was a worse disaster before that because the car wasn't ready, so we leased a brand new Evo 4 off Neil Allport, which wasn't a cheap exercise, but it was even worse when I tipped upside down. It played up in the first stage, it was completely brand new, so I decided I was going to make it all up in the next stage and I put it on its lid. I don't remember how much the bill was, but it was big. It was one of the crashes I probably remember the best, because I knew it was going to happen for a long time, I thought it was just going to whip the bank and turn around but it whipped the bank and fell on its head!
"We then managed to finish the Evo 5 and that car and I didn't gel well at all. We took it for it's maiden run at Wanganui and I smacked its arse against the bank there going down a bit of a hill into a right hander, and then of course we had the big accident at Rally New Zealand in it. That car ended up going to Reece Jones, he leased it for the following year and someone crashed it, then he leased it again the following year and it got totaled. It was a Jonah that car."
Things would turn around from there and the construction of a Group A Mitsubishi Evo 6 for 1999.
"We went to Dunedin and the first day we were very shy of it, having crashed two brand new Evos the season before! We had a very timid start to day one, day two we got onto it and to be fair that day was a bit more open and flowing, so we managed to win there on debut for the car which was pretty cool. It was a very good car, that car."
He would go on to win Rally Southland, but the third round, the international, wouldn't go his way.
"I was going to say you could count on one hand but you could count on two fingers the times that we were let down by something that wasn't quite right. The starter motor wire wasn't done up right and it dropped off half-way through the first stage out the middle of nowhere. That was the end of our rally. That was a big disappointment to be fair, we had high hopes for that international with that car that year."
The format of the year meant Herbert won every other Division one round, including the first of five Rotorua Rally wins, but would come up four points short of Geof Argyle at the end of the season.
"We could've pounced Geoffrey (Argyle) with a time penalty at Rotorua if I was an arsehole, but I thought we were better to win it on the road. It was just one of those things."
Some good Karma would come Herbert's way the following year, with the end of blind rallying and introduction of safety notes something the Palmerston North car dealer would pick up quicker than most. It would deliver him a first New Zealand Rally Championship title.
"I remember Ian was very much a 'whiteboard' style person, this is what we're going to do, this is how we're going to do it kind of thing and it turned out we were probably one of the first to have a full time mechanic (Tony McConachy), plus we probably had more faith in Neil's notes than a lot of people did. We grabbed them and they were a whole lot better than using none. I still use them and I still believe in them.
"I was 42 years old when I won that first championship, everybody goes on that by the time you're 35 you're over it but I don't think that's true at all. It was a surreal feeling."
Another new car would come for 2001, the brand new 'Bug-eye' Subaru Impreza. So brand new was the car, that for the first two rounds, homologation issues meant the defending champion was unable to score points.
"I was grumpy. I was more grumpy more about not being able to start at the front of the field where we deserved to be and in the sport I think it would've made it more interesting. That probably made me a bit more determined to go harder in that car."
Another big supporter to come on board was Subaru although it took some persuasion from Herbert, it was an invaluable tie-up.
"We had Wally Dumper, he was the head of Subaru New Zealand, sitting in our office when we were going from the Evo to the Subaru. He said I don't care what you run but when we started to win, his cheque book came open and away we went. They helped hugely."
Starting from round three without a single point on the board, it was the meticulous planning of Ferry that spelled out the plan.
"Ian did the math on the whiteboard and said it's simple. You've just got to get every point that's available from here on in and we can still win. Of course I thought that was an impossibility but as luck would have it we did and we won that title as well."
It was a close-run thing though. At the final round, the Daybreaker, on roads he literally grew up on, Herbert nearly threw the championship away when he hit a bridge, leaving the car parked 90 degrees to the road with no room to turn around. Thankfully plenty of spectators were on hand to point him in the right direction.
"That stage started five k's from mum and dad's farm and is about 10ks from where my gran lived. I vividly remember at age twelve on Christmas eve driving everyone home on that road the next morning because everyone else was feeling unwell and dad growling at me for dodging a rabbit. It was a bit like the crash in the Evo 4, I was pretty well stunned. It caught the lip of the bridge on the wheel and just flicked it up, right around and wedged it in the bridge. I thought, that's the end of that, this is pretty disappointing on very much a home rally and a stage that I knew very well. But the helpers got us out before the next car turned up, we crabbed off down the road, then put a jack under it and jumped up and down on the bottom arm to get it straight enough to do the next stage and it got replaced at the next service. We may have lost half or three quarters of a minute total."
The 2002 season saw a third consecutive title, the first time since Rod Millen in the pre-gold star days such a feat was achieved, but Herbert refused to get complacent.
"We never got complacent, shit no. There were a lot of people that won a lot of stages back then, it wasn't dominated by me or anybody else really. You could never pick who was going to win a stage, it really depended on what driver suited what stage."
Before the start of the 2003 season, Herbert knew it would be his last.
"At the start of that season, Wally (Dumper) said this will be the last one we help out and then before the last event, he came back to us and said you can do one more if you want and we'll help, but we had already made the announcement and to be fair, everyone was really on our heels and it was a big old effort to win it."
It would be a successful season, a fourth title more than any driver had ever achieved, let alone consecutively. But stats didn't motivate Herbert.
"Never ever, just the same as now really, I just like chucking stones."
After 15 years away from the championship, Herbert returned in 2018, this time in an Open 2WD EX Turbo Lancer, a car he continues to compete in to this day.
"It's probably as enjoyable as any rallying I've done. I'd enjoy it more if we could catch the German (Marcus van Klink, think colonel, Klinky is actually of Dutch heritage) now and again, he's just got a little bit on us, but we've had a bit of a play with the car so if we can get quarter of a second a k, we'll be there or thereabouts.
"When I got back into it, I told Christine (Bruce's wife) I was just doing it for fun, but then you get competitive….."
Grey Roots comment: Make him an honorary member of the Te Arawa iwi – he owned the Rotorua forests for years.

NZRC's greatest – number 4 – Joe McAndrew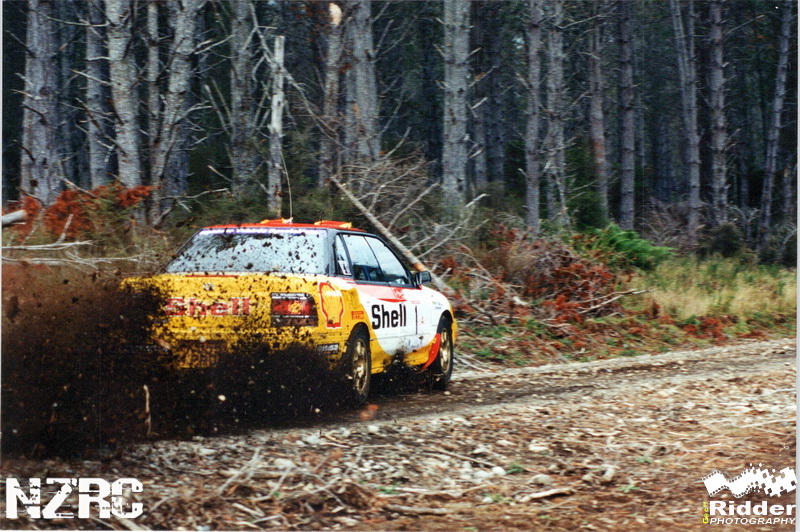 Coming in at number four is 'Smokin Joe' McAndrew, a three-time champion and winner of 18 New Zealand Rally Championship rounds. McAndrew's near domination through the mid 1990's was almost as memorable as his spectacular driving style.
It was initially a love of rotaries that introduced McAndrew to rallying, starting with a Mazda RX-3 before moving into the RX-7. After contesting a couple of national rounds, it was a desire to contest Rally New Zealand that saw McAndrew change tack, moving from the powerful rotary into a 1300cc Toyota Starlet.
"I had an RX-7 because I was a rotary man basically, had an RX-3 and then went to the RX-7," McAndrew said. "We thought we had quite a flash car and we entered Rally New Zealand and they told us it was too old! We'd decided that's what we wanted to do, the championship, so we did a couple of national rounds but to try and do Rally New Zealand, we couldn't go in it. That pissed us off a bit, so we had to back track and go other ways, so that's when I tried my variety of cars, starting with the Starlet. We bought that off Toyota New Zealand, they said that's a pretty good sort of machine and it qualified, so that's probably where we started the serious side of national championship really," recalled McAndrew.
When things got really serious, McAndrew headed for Japan to source a new car, but it wasn't all it was cracked up to be.
"I went over to Japan and bought a Mazda (323) and ended up breaking it at Rally New Zealand. I thought far out, it's a brand new car and it still breaks, I don't want one of them."
With the Mazda not up to standard, it opened the pathway for McAndrew to start a new partnership with Subaru he would maintain for the remainder of his time in the NZRC.
"We had a few breakages with the Mazda, so that's where we talked to Possum and bought the ex-Kenya car after he got his Prodrive car. We gave that a big tender love and care and it made a big difference, the speed of that car was night and day compared to the Mazda."
It was also around this period when Shell came aboard as a major backer of McAndrew.
"It actually goes back to the RX-7 days. We made contact with the lubrications side, we were doing some promo for one of our other sponsors at the time, Bowlarama, and they wanted to try and promote that so we were in malls and things like that. One of the Shell guys was quite impressed with the setup we had in the mall so he left his card under the windscreen and said you look like you're busy talking to people, give me a call. So I rung him and he said we'd like to supply you with the oil and that's kind of how you start the ball rolling really. He introduced me to other people, his successors and it went year after year until we were top dog at Shell which was pretty exciting."
With a serious sponsor on board and a serious car to go with it, plus a new co-driver, McAndrew was immediately on the pace and took victories at both Southland and Canterbury that year.
"To get that first win was pretty good, the car I felt was fast and it felt like it had another gear on top of the other cars I had, when you got really going on the fast stuff it really clicked and the confidence was there. That was also the year we teamed up with Bob Haldane, so that was another big part of the team put together, along with Shell and the Legacy."
The next year would reap further rewards, another two rally wins, this time on the Auckland rally and his first win at the prestigious Daybreaker rally. Those results along with the remainder of the season meant McAndrew would be crowned the 1993 New Zealand Rally Champion.
"We lost the championship in 1992 which we should have won, so that made us really hungry. The next year we came out firing on all cylinders, the prep over the summer time was better, I had a good team behind me as well, a lot of good guys that put the car together and gives you confidence that they've done the right stuff.
"To win the championship was bloody great, it was something I'd wanted for a long time, I'd said to my friends that I wanted to be champion, you think you'd be able to do it way earlier but it took us a fair while to get a hold of it and then you realise the work and commitment that goes into doing that."
As the defending champion with what seemed like the perfect team set-up, you'd excuse McAndrew for staying with the tried and trusted set up, but instead he embarked on a project to secure a Prodrive built ex-works Legacy for the 1994 season.
"Bob was pretty keen on getting into a Prodrive as well as me so that's when we just put our heads together and said let's bloody do it. We went and had meetings with Shell to advance next year's sponsorship and all those things you've got to do to put a deposit down on it. We spoke to the guys from Prodrive at Rally New Zealand and said we want to put our name down and have a car out here, it took a lot of communication with their customer department but we ended up flying over there and having a good look at the car, working out the goings of it and how it works with Al McLennan and a couple of the top guys at the time. Then they made it so we could control how the car worked and were confident with the workings of it, we test drove it over there at an airfield and then it only arrived days before Ohakune.
"The car was still blue and we threw some stickers on it on the way up there and we came out the gate flying. Luckily I'd had a drive of it and I knew what I was going to get out of it, Bob was a bit skeptical in the first couple of stages. I remember him saying in the first couple of stages, geez you're close to my side, he was a bit unsure and said the mirror was bent in. I said, nah, nah it's ok Bob and then on the next stage both mirrors were folded back in so I said now we're close Bob, look!
"The gearbox was really fantastic, it was the heart and soul of the whole car really, it had a gear for everything. We did have a few hiccups with gearboxes on the old Legacy, so it just meant we could have less problems, we could control everything. The feeling and the sound was exciting, it was a really adrenaline rushing thing to drive. Plus we had the big restrictor in the thing the first year, 38mm or something, so on the rev limiter at 8 grand or something down the forest out the back of Waiouru, I remember doing about 150 miles per hour. The guys had said if you hit the rev limiter, just keep your foot flat because it leans the motor out so you've just got to keep it flat, which is a really hard thing to do. The sound was amazing and we got to the end of the stage, Bob was shaking is head, turned to me and said 'what the f*ck was that?' It was a wild ride!"
That 1994 season went seamlessly, four round wins from the five division one rounds plus a victory at the division two Auckland Rally in Maramarua meant McAndrew was now a two-time champion.
After two consecutive titles, McAndrew's good fortune would run out in 1995 with an accident at the opening round causing untold grief across the season.
"I had an off at Dunedin driving blind and not knowing the roads, there was a corner there that had caught out previous people (now known as Joe's Corner) and we ended up bending the car, having quite a spectacular accident. (https://youtu.be/8eNWaPngDWs?t=653) We came over a crest, the road fell away really sharply and we went off on the outside. It effected the whole car really, it took a lot of catching up, it just put us behind and it was just a frustrating time looking back. There didn't need to be many cautions back then but they didn't caution that and it really annoyed the shit out of me. Brian Stokes was watching at the time and he said later as soon as he heard me pluck sixth gear the crest before, he knew we'd never make it. The car was strong enough to be able to drag it out on three wheels and the guys got us going again, but it bent the car quite severely and effected quite a few things really."
McAndrew would finally return to the top of the podium at the final round, the Waikato Rally, but started 1996 determined to regain his crown. Round wins at Otago and Southland were backed up with another at Rally New Zealand and Waikato, meaning a retirement at the final round in Hawke's Bay couldn't stop him claiming a third title, at the time equal at the top with Tony Teesdale and Neil Allport for the most titles.
"I was pretty happy with three (time champion) but you always wanted to try and think you could win more."
1997 would see McAndrew step away from the Legacy and into a Prodrive Impreza and a new sponsor in Fleetlink.
"That car was a little bit different basically in how it was set-up. We bought the shell off Possum after he'd used it for a season or something, it was an ex-Burns Prodrive car and we decided we could build one out of all the parts and stuff that we had so that was our challenge over the summer break. It didn't quite go as sweet as you were hoping but you had to keep up with the Jones' as the saying goes to go forward, the Legacy was getting left behind a bit. But we had to change engines and quite a few other bits and pieces so it wasn't quite as satisfying with the settling into the car I suppose. We still got some good results, but we never pulled it all together. The Group N cars were becoming quite clever and every time we had a little hiccup, they had the reliability so it was quite surprising with Group N cars winning rallies.
"We went from Shell to Telecom (under the Fleetlink brand). They were another good sponsor, it was really encouraging to pick up Fleetlink and run with it, they were good advocates as sponsors in terms of looking the part and being a part of the team-work."
The Impreza was a good car and offered McAndrew another three round wins before his national championship rallying would stop at the end of 2000.
"We just didn't get the results we might have expected from the Impreza. We tried upgrading the gearbox to different computer systems and they just didn't quite come together the way we'd hoped because we were still learning."
In the end, the decision to stop was a tough one.
"It's a bit of a hard thing, it's like a drug, you spent your whole time eating and sleeping it, I just had to slow down a bit, the results weren't coming and money was harder to get, the wife had had enough of it so it was just a whole lot of things that came together really."
McAndrew would stay active within the sport, winning overseas marathon rallies in the early 2000's then encountering success in Targa events. Nowadays he contests the odd club event, but is still an active spectator and supporter of the sport.
Grey Roots comment: Forget Targa, the London to Sydney marathon and his NZRC wins. You know you've made it when they name a corner after you.

NZRC's greatest – number 3 – Neil Allport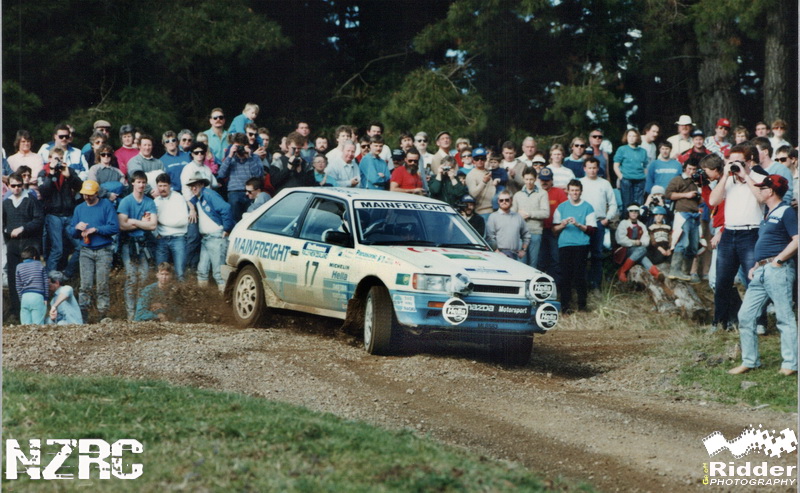 In terms of natural ability, outright speed, longevity and the overall impact on the sport of rallying in New Zealand few people could come close to Neil Allport.
He was fast and was a ruthless, determined competitor to boot, which made him in many ways the man to beat whenever he turned up at a start line.
Allport won three national championships and sits third on the all-time NZRC rally win list with 22 although he secured a number of other event wins when he wasn't registered as part of the championship.
He enjoyed success on the international stage as well and spent the majority of his career battling fellow Pukekohe driver Possum Bourne in what was one of the sport's greatest rivalries.
Allport came to prominence in the early-mid 1980s at national championship level but was part of a stellar group of drivers to come out of the South Auckland region in the late 1970s.
The championship has seen clusters of drivers come out of one region in the same era – think South Canterbury in the 1970s and 80s, Manawatu in the mid-90s to early 2000s and South Auckland in the late 70s and early 80s.
Allport believes the reason for this is purely competition – guys that would push each other hard and essentially get the best out of themselves to beat the other guys.
"If I think back to when I started – Possum and I started on the same day at West Rd in Clevedon," Allport said. "In those days when you turned up in that one day there was Paul Adams, Mike Marshall, Jim Donald, Possum, myself, Max Irwin – some really good drivers and the competition was absolutely fierce.
"Everyone that was there wanted to win.
"You want to beat the guy behind you – to win you had to want it more than the next guy and that was what it was like back then."
Allport collected national championship victories in the 1986, 1989 and 1992 seasons while he figured prominently in the years in between – coming wafer-thin close to adding further titles on at least two other occasions.
While all his rally wins are special and it is hard to separate the titles from year to year, Allport said one does stand out.
"It is always your first one," he explained. "1986 was my year – 1984 should have been my year but we were still a little bit greenhorn then and were just starting to put stuff together and never had the budget to run it as hard as we did until I started with Mazda in 1985.
"I didn't register for the championship in 1985 because we only got the car ready at the end of the season but I did manage to win the last two events although not as a registered NZRC competitor.
"That was really the start but 1986 was the start of my good years in terms of doing a good job of it."
Like most competitors success is measured not just in wins and losses but against who you competed and how you matched up against them. He beat great drivers on – many that also feature prominently on this list – in his championship years. Allport all but won the 1990 championship that ultimately went to David Ayling and he saw the 1991 championship fall through his fingertips when he gave Bourne a free kick.
"The year with Possum – him and I were at it all year. He had a really good budget and I had an OK budget.
"He won every rally that year but not the final round. All I had to do was finish top 10 that day and I would have won the championship but I parked it on the side of the road.
"I stuffed the thing off the road – I have a few stories like that unfortunately but that is just the way it goes.
"1986 was a reasonably tough year – we had Malcolm [Stewart] in the Quattro, [Reg] Cook was there.
"Once we got into Group A cars and the years that Possum was there – they were hard-fought years.
"We all have our good and our bad years. That is what history will tell you.
"I've always turned up and done my best on any given day. If it was good enough then it was good enough. It is no secret that I've binned more shit than anyone else but then I have probably won more rallies than anyone else."
Allport continues to be heavily involved in the sport from a car preparation business, parts supplier and provides pace notes for all events in the championship.
He demonstrated that speed to the current generation when he found himself in a podium position late on the final day of the Raglan Rally of the Coast in 2018 in his Ford Fiesta R5.
Grey Roots comment: "Let's see – it's 4am, middle of winter, and you want to drive 300km to watch a rally? Who's in it?" "Neil Allport. "Pick me up – I'll be waiting at the bottom of the drive."
NZRC's greatest – number 2 – Hayden Paddon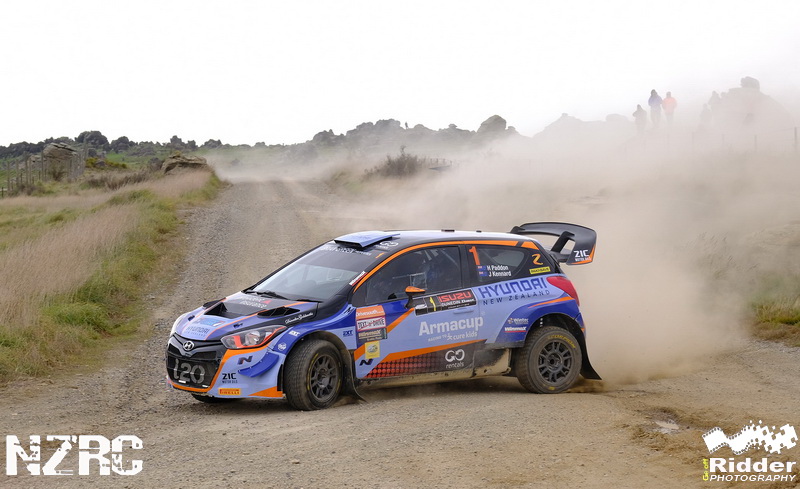 Hayden Paddon is without question New Zealand's most successful rally driver having won the Production Class World Championship in 2011 and serving as a full-time factory driver in the World Rally Championship with Hyundai in recent years.
He remains the only driver from the southern hemisphere to have won a round of the WRC, when he triumphed over Sebastien Ogier at Rally Argentina in 2016.
But despite Paddon's phenomenal worldwide success he reaches only number two on our list given that it is based purely on the impact had on the New Zealand Rally Championship – something that has been a secondary focus for the Geraldine product over the past decade.
Paddon has amassed four championships since a break-through title in 2008 but he has managed those triumphs while also spending the majority of his time in Europe and concentrating on his WRC career.
Always intensely driven, Paddon got the grounding to go onto international stardom in his formative years back in New Zealand. His father Chris was a successful driver himself and proved a role model for a young Paddon.
He entered his first rally at the age of 15 and went on to debut in the national championship four years later.
Those early years competing against more experienced local drivers and learning the basics of rallying were extremely influential on his career.
"It was a massive part of it – that is why it was the one step we spent the longest time on the way up," Paddon said. "I think we spent four years in the New Zealand Championship crafting our work from getting used to pace notes, then writing pace notes, setting up a car and preparing myself as a driver and just going through all the processes so that by the time we went overseas in 2010 we were as ready as we could be.
"[The New Zealand Championship] was the perfect learning for that with good competition and great roads and all the things we needed to shape things to be ready."
Paddon won the rookie and junior titles in a Mitsubishi EVO VIII in 2006 and would go on to challenge for the overall title in 2007 – ultimately missing out to Sam Murray by a single point.
He went one better in 2008, picking up his first championship at the age of 21 and repeated a year later before heading off to Europe.
From very early on Paddon had set himself the goal of getting a full-time drive in the World Championship and everything he did he saw as taking steps to achieve that goal.
"The biggest thing from my side throughout my career has been patience – I haven't gone out and tried to set the world on fire from the very first rally or the first stage of a rally," he explained. "I have always backed myself in knowing that I can get where I want to get but it is like anything – the more time you spend in the seat and the more rallies you do you just naturally get faster.
"We had a plan in place and we knew what was coming up in the next year or two it meant we could trust the process."
Paddon made his WRC debut in late 2013 for a one-off drive before linking with the Hyundai World Rally Team for the 2014 season.
He managed to compete in enough events back home in New Zealand to win the 2013 national championship.
He returned to New Zealand in 2018 when his future at Hyundai became murky and won a fourth title to move into a share of second place on the all-time list.
Paddon did so while competing for his Hyundai New Zealand-backed Paddon Rallysport Team while driving an AP4 i20. He is working on an electric project with his New Zealand team and had planned on competing in the 2020 national championship before the Covid-19 disruption.
His 23 national championship rally wins eclipses all but one driver in history and he has added a host of other rally wins while not entered into the championship.
At just 33 years of age, Paddon has plenty of time left to try and reach number one all-time in terms of championships and rally wins and that is something that drives him.
"I have never taken a lot of notice in stats and things. You are only as good as your last result and I try to look forwards rather than backwards but in saying that my aim was always to go overseas.
"I remember having a conversation early on about while the NZRC was great and I wanted to win it as much as possible we always said it was something I could come back and do when I was older while you only had one shot at going overseas.
"That is the philosophy we took and whether we are at the stage now where we can come back and focus a lot more on New Zealand – there are obviously a fair few unanswered questions now for the next year or two – but for sure I would like to come back."
Perhaps a scary prospect for rivals, in typical Paddon fashion he has set himself a rather big goal over the next decade or so but one that you wouldn't bet against him achieving.
"I've always had a number in my head of 10 – I think it would be great to win 10 championships in New Zealand. To go to that double digits number is a big commitment and it is obviously a long way a way yet but it is something that I have always had in my head and I think I have still got quite a bit of time on my side so that is something we will try to aim for over the next decade."
Grey Roots comment: In 50 years rallying, only 3 drivers have seized the imagination of the Kiwi public – Mike Marshall, Possum Bourne, and now Hayden Paddon.
NZRC's greatest – number 1 – Richard Mason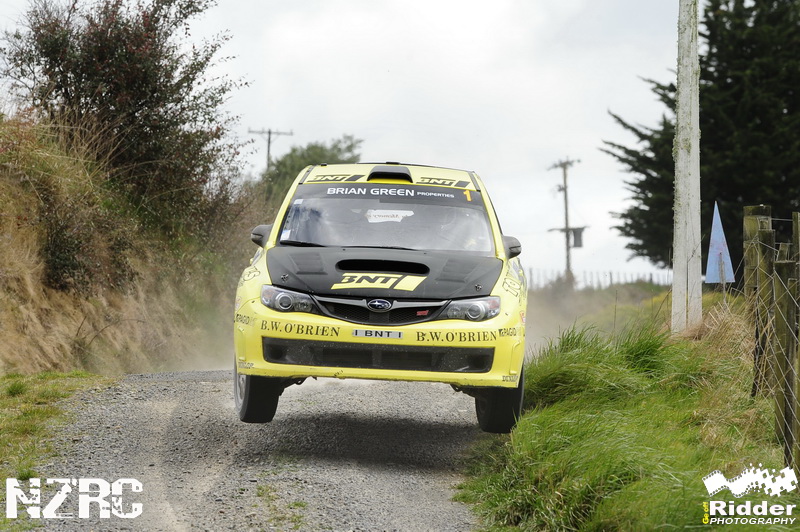 With an unprecedented five New Zealand Rally Championship titles under his belt, Masterton's Richard Mason heads our list of NZRC's Greatest 25 drivers.
Growing up watching his father compete with mum riding shotgun, it seemed Mason was destined to go rallying.
"My parents had done rallying in the 80's so I was mad keen on it from there, right from a little kid. I remember saying to my teacher, I was about six and they were asking everyone if they knew what they wanted to do and I said I wanted to be a rally driver and she laughed at me. I think she was probably a little bit right because back then I thought I was going to get paid out of it," recalled Mason.
Mason initially rippled a few waves in an older Mitsubishi Evo 3 initially built by Chris Ramsay, coming home as third Kiwi at Rally New Zealand in 2001. From there, the opportunity to build a compliant car for the national championship became available in the form of a Mitsubishi Evo 5.
"I actually bought the car from Deane Buist, he had bought it in from Japan I think for himself, it had been a semi-rally car over there and it was crashed, so he came to me at the end of Rally New Zealand and said did you think you might want an Evo 5 and did a deal on that."
With a new car, Mason headed south for his championship debut at Rally Otago and much to the surprise of the rallying community, the new kid on the block was straight on the pace.
"We got second at Otago which was a bit of a surprise, I think to be fair there was a bit of luck if I go back and look at the results, on the last day a few things sort of fell into place for us. So I promptly got a bit of a big head and went off at the next rally in Invercargill! You do have to be a bit careful, don't you?"
It would not take long for that first national championship rally win to come, close to home soil at Rally Hawke's Bay, one that Mason would score multiple victories on.
"I think an NZRC round win does not really have a lot bigger feeling than a normal rally win, I remember people say that you need to relax and let it happen and that is typically how most rally wins do happen, you need to calm down and let it come to you. The guys that over try typically let themselves down when they're there. They could be capable of winning a rally plenty of times and let themselves down, so in that sense any rally win is kind of the same.
"Obviously as you move up the ranks a bit, you can go a bit harder and get away with a bit more than what you could in your early days, but the big one for me was really that first championship, that was a really special feeling for me."
With that win at Hawke's Bay, that first title was closer than imagined and he headed to the final round, Rally New Zealand, in second place and hunting down Bruce Herbert who was gunning for a third consecutive championship.
"No, we didn't think that (could be fighting for the championship in his first season), I was very surprised to be at that end of the field and that early on. Bruce was certainly the man to beat back then, he was so consistent and he was fast almost everywhere, especially at Rotorua. Probably Rally New Zealand suits me and my driving style, I can make more of the swept roads with my driving style than some people can so that typically has helped Rally New Zealand come into play for me where others have struggled."
It was not to be however. A strong start put Mason on the pace through day one, but it was the monster 59 kilometre Parahi-Ararua stage that opened day two that would be his undoing.
"I remember that, it was funny. It was one of those times where we tried a bit hard, we were always mindful of the thought that we could do some motorsport overseas and the place to show yourself to works teams is at your home WRC rally, we were looking at the results at the end of the first day and the discussion was had that maybe we could try a bit harder on the second day. It turned out we couldn't!"
He was still able to secure second in his debut championship campaign and the following season with another Hawke's Bay Rally win netted third, both years also wrapping up the junior championship.
"From memory, the junior title was exactly what we were chasing, Chris West was also eligible as a junior in that first year and he'd already become established very quickly. So we were fighting against Chris and to be fair to him we were in a Group A car and he was in a Group N car. His advantage was the knowledge and our advantage was probably a bit more horsepower and a bit of a lighter car."
After the opportunity to contest an event in Melbourne, it was then ironic Mason would end up with West's car for the 2004 season in preparation for the Group A cars being outlawed at the end of that season.
"Those were interesting times. How that really came about was we finished the New Zealand season at Hawke's Bay in the Evo 5 and I had Laurie Brenssell with me. We did a deal with Grant Barber to take his Evo 8, which was a brand new car then, to Australia and do a round in Melbourne. I went there and we went pretty terribly really, probably a bit of lack of preparation and a bit of lack of knowledge on the car, but it put me off the Evo 8 at the time. Chris' car came available, Dynalink were selling it so we did a deal to buy that and have a go at it. It turned out to be a really good car and one I have in my shed now."
The year started well, Mason recording podium finishes at the opening two rounds, Otago and a snowy Southland, but two offs at Rotorua, fifth at Hawke's Bay and eighth and seventh at Nelson and the Waikato Tarmac rally left Mason fifth for the year.
"I suppose you've got to expect to have your ups and downs and because we'd gone to Group N that year we didn't have particularly high expectations for ourselves in an overall sense, we were taking it as a bit of a learning year, but we probably went a couple of steps backwards that year. I remember in particular we did quite a bit of work with the engine for the next year and we got Murray Coote out from Australia, he got the suspension sorted and it really was a different feeling in the car."
2005 would ultimately go down in the history books with Mason's name on it, but it so nearly wasn't the case and in fact, he would only start the season at the second round, Rally Otago, having missed the season opening Rally New Zealand.
"Initially because we were a bit short of cash and we weren't sure where to head, we followed the Rally Xtreme series (at the time, the second tier Motorsport NZ series and now a home for the Group A cars). We did the first round of that series instead, which was the first rally where Sara (Randall at the time, now Mrs Mason) sat with me and we won that first round at Gisborne."
"When we looked at the results from Rally New Zealand and did the math because of the terrible results that most of our strong competitors had had, we felt it was almost like a clean slate, that we could probably have a decent go at winning the championship from that point if we effectively went flat out the whole year."
Now graduated from the junior championship, the battle between Mason and West was anything but junior in scale.
"I think that season was just incredible, from memory there were two round wins, one that went to us and one that went to Chris that were separated by .2 of a second of it on both of those occasions, so it doesn't get any better than that. Those battles were awesome, some of the best rallying we ever did, Chris was driving very well and we were going very well. There was some heart stopping moments that were happening in the car, but because we'd done that work on the car it was a different car to drive."
That season also saw Mason's home rally, the Wairarapa Rally, return to the NZRC. Mason would taste success there in 2005, for the first of eight times.
"It was particularly nice (to win) there, I had watched Wairarapa rallies as a kid and as a teenager and certainly we were hoping there would be a Wairarapa rally and were pretty happy when it came onto the calendar."
The series would go to a winner-takes-all shootout at Nelson between Mason and West. Mason's title shot almost disappeared before the rally started.
"That was actually really big for us, we tested before the rally and we had a great test, the car was feeling better than ever but as we were driving back into town the light was flashing on the dash and we determined that we'd actually burnt out the computer for the centre diff on the car. There was nothing we could do for it, there was no replacement computer and there was no replacement magnet for the centre diff which was ultimately the problem. So the whole rally we ran with an open centre diff and at the start of the rally we were pretty down in the jaw, it wasn't looking very good. It probably meant I upped my game a lot, stepped up another level and that worked."
That championship was crucial in securing the long term backing of BNT, who would support Mason through the remainder of his career.
"I had rung Greg (Horne) on the eve of the Nelson rally and he said I haven't got any money to help you with but go and win that championship and then give me a call. We did that, and that's where it all began. He said, you did as I said, we'll help you."
With a championship under his belt, Mason would move into the ex-Cameron Bates bugeye Subaru for the following season.
"We did a deal with Todd Bawden to rent a car off me and a deal to buy Cameron's old car, I gave him a choice of the two cars and Todd said he wanted the championship winning car, so I gave him that one."
Again the battle with West would resume into 2006, this time Mason won the opening two rounds, leading West home at Otago and an international rally win at Rotorua.
After the win at Rotorua, running for the final time as a round of the Asia-Pacific Rally Championship, Mason attracted some international attention and when a clash of dates saw Cody Crocker unable to contest a round of the Chinese Rally Championship, then littered with overseas stars, Mason got the call up. It would mean he would miss the series finale at Nelson, so needed as many points as possible. But engine failure for West at Rotorua would have bigger consequences as his team broke the engine seal without prior permission, seeing him excluded from the previous events also.
The next round saw Rally Whangarei added to the calendar, an event that Mason never really clicked with.
"Certainly those North Island roads all the way up to Auckland have worked well for us. The roads north of Auckland are a different story."
Third in 2006 would be Mason's best result on the event for a long time and a win at the penultimate round on home soil meant he could pack his bags for China with the championship safely tucked away.
"You can't beat that first championship win and possibly after the second win, we got a bit complacent after that because the speed was so good, the next couple of years we were probably a bit complacent and fell back a bit again."
There were changes aplenty for Mason in 2007. A new 'Hawk-eye' Impreza was built, the first of the yellow cars Mason would run. He would also start the season on Silverstone tyres after success with Dunlop and started the season with a Chinese deal that would see him miss Rally Hawke's Bay.
"The yellow was because that's what our Chinese team was running and we liked it really. That (Silverstone tyres) was a mistake."
The season started well, Mason taking victory in Otago, but the tyre mistake really became apparent at Whangarei.
"Because we didn't have enough experience with the tyre, we made a really poor tyre choice at the start of the day, so much so that we actually destroyed six tyres, because we had two spares, and punctured four of them, so we couldn't get back to the service park."
By the time Mason arrived at round three, Wairarapa, Dunlop tyres were back on the car but the points lost at Whangarei, combined with missing Hawke's Bay, meant third was the result for the championship.
"Obviously we needed to have a clean year considering we were dropping a round and the points system wasn't very favourable to just winning, it was more around reliability and finishing each round at that point. I think after that year, they changed the system so there was more to fight for because the competition side was falling back a little bit, people were going for finishing rather than a show of pace."
After leasing the car for a non-championship round over the off-season and that car being rolled into a creek, Mason would again move to an ex-Chris West car for 2008. Things started well in 2008 with two wins at Wairarapa and Otago, before the curse of Whangarei would continue, this time rolling out. A broken gearbox on day one at Hawke's Bay left a struggle to fight back on points, made harder when the second day was cancelled due to extreme flooding. Round wins at Rally New Zealand and Nelson saw Mason come home second to Hayden Paddon. Although the speed was there, it was consistency that would rob Mason.
"When we started doing the rallies in China, we started to find things a bit easier in New Zealand. Because you were racing against a lot of talented drivers over there, they had fields of 150 drivers or more with a lot of import drivers, Scandinavians and a lot of ex-PWRC and WRC drivers. The competition level was so high and the roads were so difficult that coming when we came back to New Zealand it was a bit of a breeze. The car was better and our roads were so much more familiar and enjoyable to drive that we found another gear over the other competitors, it really started coming together at that point."
The 2009 season saw a huge battle with Paddon, the level of speed stepping up further and further each year.
"We'd been watching Hayden, he was getting faster and faster and clearly he's a smart guy, they started out doing things they thought were the way to go and when they figure out we and others were going a different way they started buying into that with suspension and tyres and all that stuff. Clearly we could see Hayden getting faster and faster and he was very driven so it did mean we were having to drive flat out and a lot of the time he was still topping us on that so it was quite challenging and really exciting."
A round win a piece would see the pair level pegging heading to Whangarei. Mason won the first day, but a turbo failure on the second put him out. The following round, on Mason's home turf, he was determined to get one back. Paddon took the first day by 15 seconds and Mason wasn't keen to give up the event he'd had a mortgage on since its championship inception.
"That was really intense, we didn't want to go down to Hayden on our home event and we were really on the limit driving there. Hayden was getting quicker and quicker and we were struggling to stay in the hunt."
After swapping a handful of seconds in the first two stages of day two, a landing from a small jump broke a wheel on Mason's car, putting the car on its side and out of the rally.
"Unfortunately we broke a wheel, we were certainly on the limit, if we'd been back a few notches we possibly would've got away without that crash. I think the telemetry showed it was 187 km/h we went off the road at, so it was pretty good. It only just rolled but we couldn't get it back on its wheels because the broken wheel prevented us being able to pivot the car back onto its wheels."
Having repaired the car in two days to send to Rally Australia, Mason borrowed another car for Nelson, finishing second and second again in the championship.
The 2010 off-season saw a large amount of change again, with son Khalid joining older twin daughters, while a new prodrive-built hatchback Impreza also arrived, although it took a bit of work.
"We bought that car from one of our mates in China, Liu Ciao Dong, who was actually competing in New Zealand a bit. He had bought it a year earlier, sent it to China, drove it for about 10 kilometres and decided he didn't like it, so he parked it up, bought something else and when we bought it from him we were looking for the next step up in Subaru, we were enjoying the brand and we felt that because it was a Prodrive car it would be the way to go. We also still hoped to do some more overseas stuff at that point, so felt the left-hand drive thing was a good choice."
"Unfortunately when Prodrive built the cars, they initially missed the boat on things. They didn't get the cam control working at all with the Pectel (Engine Management) so the engine was really down on power and the suspension, they actually made the rear shocks to long and a lot of guys were having trouble where they were bottoming out and bending the rear arms regularly, so they had a bit of work to do. We got the car and spent a bit of time in it, we went to that first rally, Otago and Hamish (Fenemor) came with me because Sara couldn't and the first day it was a real handful. On the second day we started getting it on the pace but ultimately by the end of that rally we'd decided we would have to do something about suspension."
Things got worse at Rally New Zealand.
"In my head I was just in the wrong place, it was a corner that a lot of WRC guys had gone off on and we suddenly found out why that was. In the previous years when we'd arrived at that corner, we'd been on a different line and obviously I hadn't made enough mention of it in our notes to drive it accordingly.
From there, it took some time to get the car competitive.
"Mentally there was no problem, we just had a car that was no doing what it was meant to do. It was slow, we had to spend the next year or so getting it right."
"The other thing we missed that year was we made some mistakes on fuel. Motorsport NZ had said we could use these Ethanol enhanced fuels, we started out with E10, then we used E30 and then E50. Others went straight to E85, we were a bit afraid of it, there was talk it would wreck our engines."
The final round, Wairarapa saw Mason finally getting close and would round out the season with a win.
The 2011 season saw Mason on top of his game, the Subaru now working well and even switching to an Evo 10, driving for a Chinese team at Whangarei to come home second. With two round wins, Mason would claim a third title.
"It was probably a bit of relief. It was fair to say that we'd had some amazing backing from BNT and Greg Horne, who was their General Manager, had been exceptional with us the whole way, so I think everybody was pretty happy with how that came together."
The 2012 season would start at Whangarei and true to form on that event, Mason wouldn't finish, suffering rear diff failure. But from there, the season picked up, wins at each of the next three rallies meant Mason went to the Gisborne series finale needing with little pressure, securing the title on the opening day before retiring from one of the most bizzare events in championship history, which saw Brian Green win from Ben Hunt's two-wheel drive Fiesta, with Ron Davey's classic Escort the third championship finisher.
The 2013 season saw a change in regulations, moving away from Group N to an Open four-wheel drive formula. It was a season that, on paper, Mason was favourite for, up against Hayden Paddon who would miss two rounds due to international commitments.
"We went to the first rally a bit unprepared, I think we'd done a bit of engine work we didn't do very much and Hayden arrived very well organised. He'd taken a lot of weight out of his Evo 9 and he meant business. He just cleaned us up and we had no answer for him whatsoever. I went back and analysed where it was all happening and I went back to Greg at BNT and said we're going to have to take a pile of weight out of this car, we need to get 150kg out of it and get ourselves sorted. We did that between Otago and Whangarei and we went to Whangarei and were two kilo's over the weight limit, so we were pretty happy with that."
Paddon took the win but Mason was a lot closer and with Paddon missing the next two rounds, Mason was in the box seat. What happened next could not have been scripted.
At the Daybreaker Rally, Mason won each of the first eight stages and was cruising to a comfortable win in the final stage, only to have issue with the newly fitted sequential gearbox.
"That was a bit interesting, we'd decided amongst the lightening of the car to get a sequential gearbox which we thought was pretty cool, but with the teething problems you get with new things, on the last stage I changed gear and it got stuck between two gears and jammed up. The gearbox was fine, it just was in neutral. I even tried kicking the gear lever but could not get it to drop back into its slot, so that was frustrating.
It was a similar situation at Canterbury, when a puncture on the final stage cost dearly, dropping him to seventh.
"We got a puncture on the left front in there and foolishly I decided to drive on with it to the end of the stage. It wore through the tyre, then through the wheel and tore the calliper off the brakes so that wasn't very good."
Paddon returned for the 10th anniversary Possum Bourne Memorial Rally and Mason still trailed in the championship. Both drivers would suffer problems, but Mason would come out on top.
"That was an important rally win for us, we'd felt that Hayden had had the measure of us for a while really and we'd been trying hard to sort out our way and get our pace up. It was nice to beat him on that one, I won't lie. It made me feel that the effort we'd put in was worthwhile and the results were showing it."
That lead to another winner-takes-all shootout at Wairarapa, but Mason would come up short of a fifth title.
The lead up to the 2014 season was a tough one. Although the car was as good as ever, the passing of mentor Greg Horne charged the emotions.
Some extra motivation saw the opening round at Whangarei finally play nicely, with a win to open accounts for the year.
"There was probably a lot of relief in that win too, we'd been trying for a long time to sort out Whangarei. I still don't feel that we're that at ease with Whangarei, it doesn't seem to come that easily there."
Utter domination was all that could describe that season and when Mason wrapped up a record breaking fifth title at round four on home soil, it was about as sweet as it got.
"The car was well sorted by then and it was a real joy to drive. We were back to not having to work that hard, the car was feeling so good."
"We were certainly wanting to get a fifth title. I dare say it will be in danger of getting sorted out, there's always the next person that wants to come and top that off."
"To win the championship at home was pretty cool. I think we had a pretty good party that night, I remember getting home about four in the morning and Westy came round for one last drink, we all fell asleep on the couch."
A piece of broken spring flicking up and breaking a suspension arm at Coromandel stopped a clean sweep of the season, which finished with a fifth win at the Daybreaker rally. But it would turn out to be his last season at an NZRC level.
"We were actually in talks with Tony Lentino who was running his V8 Supercar Team (Super Black Racing) and we were talking about doing some big stuff with him for the next year, there was talk about getting an R5 car or something like that but we couldn't get it to come together by the time the season started so at that point we realised there's no money in the tin."
"BNT had mentioned they'd need to scale down their sponsorship side of things with us and these things run their course, we'd had nine years of amazing sponsorship with them, we wouldn't have been able to do what we'd done without them."
While not ruling out a return to the championship, it is not in the immediate pipeline.
"I think I'm still paying the mortgages for the damages we've done over the previous rallies! Never say never, Sara and I still enjoy getting out and doing the odd skid.
"A bit of a special mention too, without the fabulous support of a wife, it wouldn't be the same. Whenever I said to Sara I think we should spend $50,000 on the car, she'd say I don't think that's enough, I think we should spend $60,000. It's something you can get from rallying, you can have your wife in the car with you enjoying what you do on the weekends. You can't do that in circuit racing, you can't do that at speedway, you can only do that in a rally car."
Grey Roots comment: For many seasons the moment Richard Mason crossed the start ramp, the rest of the field knew they were fighting for second place.