Paddon holds off SVG for BOP win, seventh title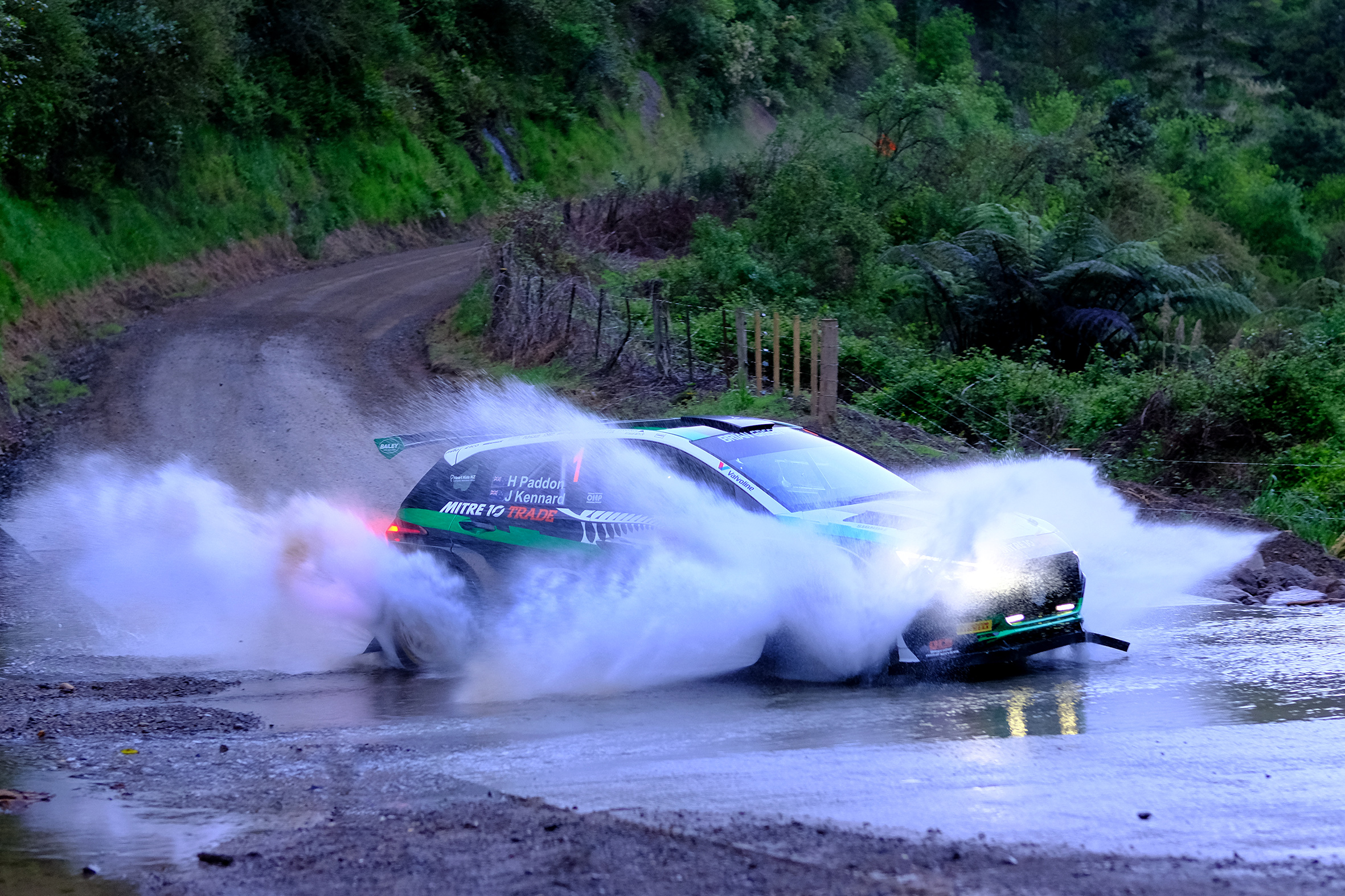 Hayden Paddon has won Battery Town Rally Bay of Plenty to secure an unprecedented seventh national title in the process, edging Supercars star Shane van Gisbergen by 29.6 seconds.
Paddon was battling Raana Horan for the Brian Green Property Group 2023 championship, but an early Horan mishap saw any chance of an upset evaporate.
It wasn't all smooth sailing for the Hyundai New Zealand i20 Rally 2 driver, who was beaten by Van Gisbergen on two stages including the second run through the iconic Manawahe test.
Van Gisbergen ultimately finished just under 30 seconds behind the WRC rally winner in the Giltrap/LJ Hooker Audi.
Ben Hunt had a lonely drive for third in the Skoda New Zealand Fabia Rally 2 and survived an afternoon excursion down an escape road to complete the podium – two and a half minutes behind Van Gisbergen.
Horan did enough to hold second in the championship by getting his Generator Rental Services Skoda Fabia Rally 2 home to bank enough points to hold off Hunt on the season.
Todd Bawden produced another quality drive in the Online Contractors Ford Fiesta Rally 2 to finish fourth.
Dylan Thomson Ford Fiesta bounced back after an unfamiliar mistake at Daybreaker Rally to win the NZRC 2WD class and be first overall 2WD and to secure both championships in the process.
Tim Mackersy (Ford Fiesta) was second with Bryn Jones (Ford Fiesta) third.
Local driver JP van der Meys (Ford Fiesta) won the Open 2WD class after Dan Haines (Ford Escort) succumbed to a mechanical failure. Haines was still able to win the championship for the second successive season, however.
Mike Cameron (Mitsubishi Lancer) claimed a class win in the Historic 2WD class in a reward for his perseverance. John Silcock had secured the title at Daybreaker and didn't travel north for the final round.
Youngster Zeal Jones edged Jeff Ward – both in Subaru WRXs – to win the Rally Challenge class and the championship in what has been an edge-of-your-seat battle all season between the pair.
Whakatane local Jono Shapley (Toyota Vitz) beat home his good mate and fellow Bay of Plenty driver Sam Byrne (Mitsubishi Lancer) in the Rally Challenge 2WD class. Jared Parker (Toyota Corolla) pipped Brett Maddren (Toyota Starlet) for third in a back-and-forth Rally Challenge 2WD battle.
The pair entered the rally tied on championship points, meaning Parker does the double.
Amy Keighley took out the Group A Challenge in her Subaru H6.