Paddon in control as Turner pips Stokes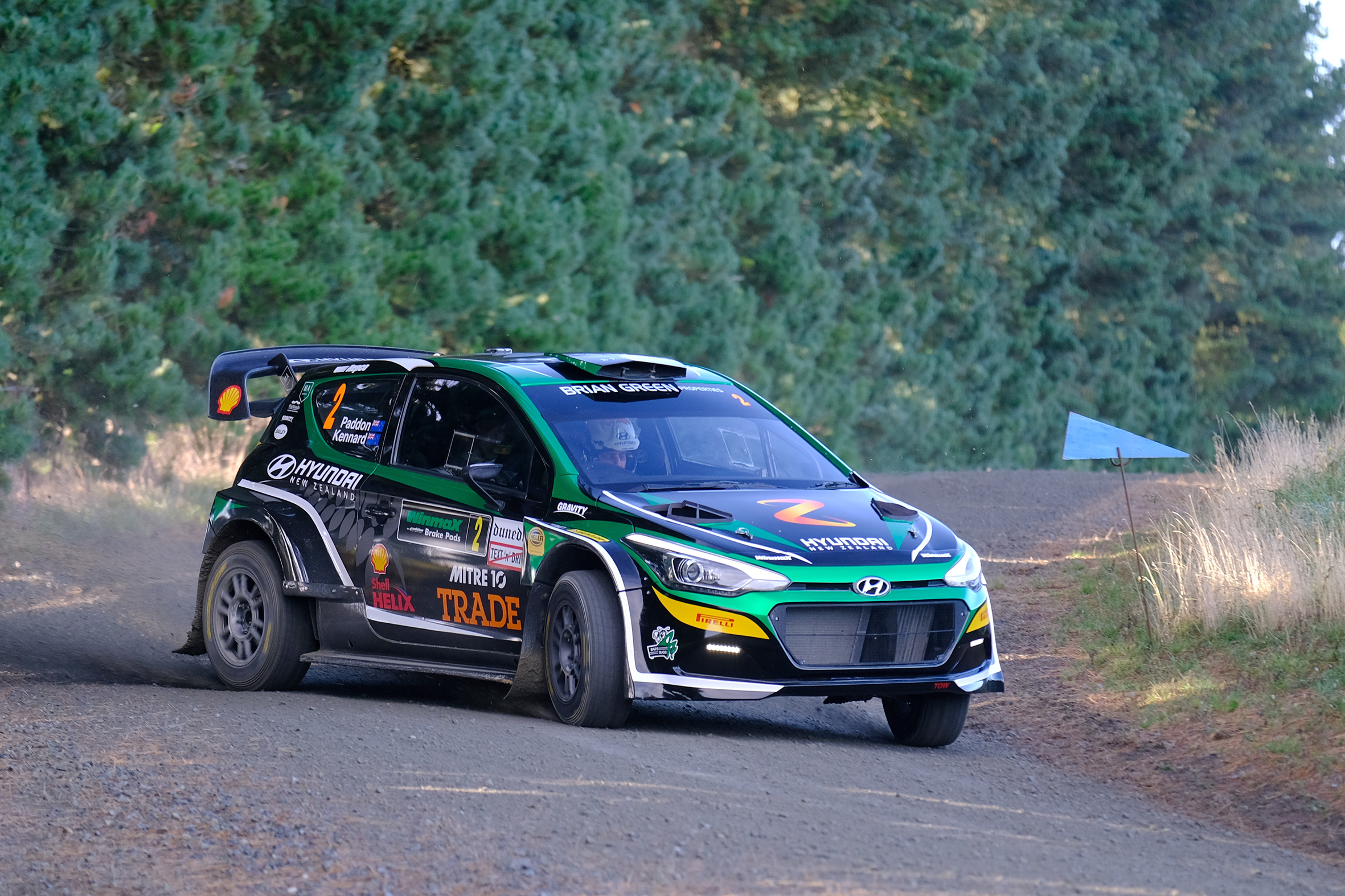 Former WRC star Hayden Paddon has opened a lead of 3 minutes 27.4 seconds at the end of the opening day of the Brian Green Property Group New Zealand Rally Championship opener at the Winmax Otago Rally.
Paddon took opening day honours in the Hyundai NZ i20 AP4 ahead of Dylan Turner in the LJ Hooker Audi and surprise packet Robbie Stokes in the Stokes Motorsport Ford Fiesta AP4.
In his first event in the top class, Stokes showed phenomenal speed and commitment on the lightning-fast Otago roads to claim a memorable third place in a tight battle with reigning national champion Ben Hunt, Turner and Matt Summerfield.
Turner snatched second from Stokes, who had a costly spin on the short tarmac stage in central Dunedin, to edge the youngster by 2.6 seconds.
"You could throw a tablecloth over the top few guys behind Hayden," Turner said.
"I was actually a little bit disappointed for Robbie but at the end of the day that is rallying. It comes down to how you take each corner and we will gladly accept the extra points but we do feel sorry for him.
"It was a great day and there is nothing between all of us, which makes for great competition and great spectating."
Hunt was fourth in the Hydraulink Subaru – 2.1 seconds behind Stokes while Summerfield was fifth; a further 13 seconds adrift.
Jack Hawkeswood was sixth in the Force Motorsport Mazda 2, Josh Marston seventh in the RDL Holden and Regan Ross eighth in the Virgin White Ford Fiesta.
Earlier local driver Emma Gilmour was the best of the rest behind Paddon on the day's opening two stages before an electrical drama curtailed her charge in the Vantage Suzuki.
Ari Pettigrew produced a stunning drive to be first overall in 2WD and took out the open 2WD class as well.
He was one minute 42 seconds clear of second-placed Marcus van Klink (Mazda RX8) and Shane Murland in third.
Murland also took out the Historic 2WD category in his Ford Escort.
Dylan Thomson took a dominant win in the FIA Group N 2WD class in his Ford Fiesta.
Andy Martin triumphed in the one-day Rally Challenge category in his Subaru. He edged Matthew Wright (Subaru) and Wayne Muckle (Mitsubishi).
The event continues with seven special stages south of Dunedin.
Brian Green Property Group New Zealand Rally Championship Results – Day 1 Winmax Otago Rally 2021
Overall
Hayden Paddon and John Kennard (Hyundai NZ i20 AP4)
Dylan Turner and Malcolm Read (LJ Hooker Audi S1)
Robbie Stokes and Amy Stokes (Stokes Motorsport Ford Fiesta AP4)
2WD (Overall)
Ari Pettigrew and Samantha Grey (BMW 318ti)
Marcus van Klink and Dave Neill (Mazda RX8)
Shane Murland and Kane Seymour (Ford Escort)
Rally Championship (Overall)
Andy Martin and Matt Hayward (Subaru Impreza)
Matthew Wright and Stephen Lloyd (Subaru Impreza)
Wayne Muckle and Tania Cresswell (Mitsubishi EVO X)