Paddon leaves rivals in his dust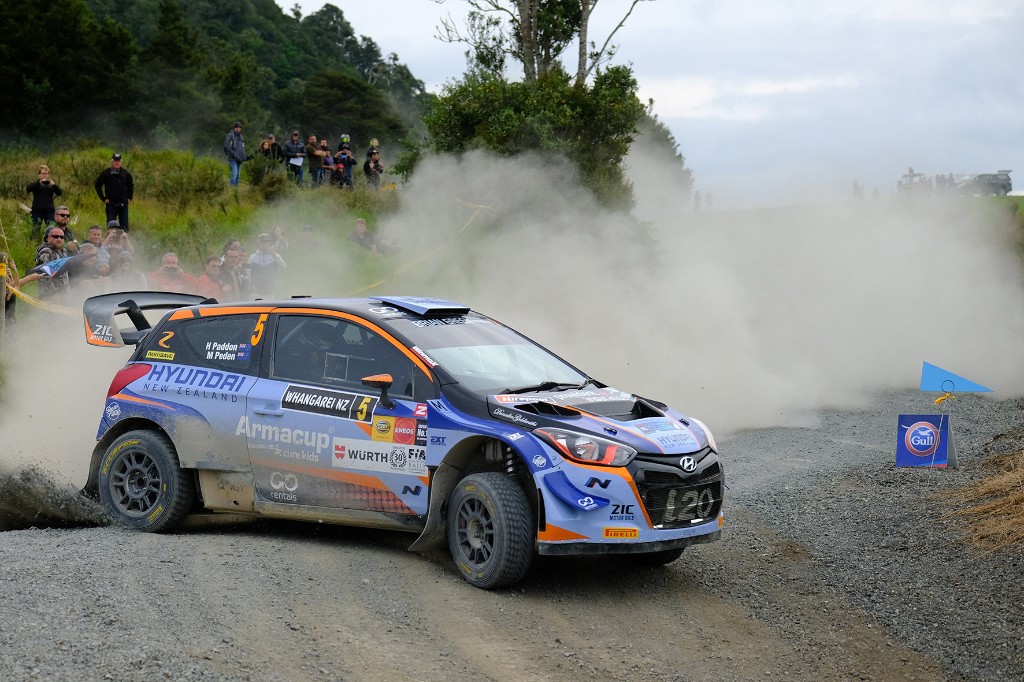 WRC star Hayden Paddon has complete control of ENEOS International Rally of Whangarei taking a lead of over four minutes at the end of leg one.
Paddon, who had a dominant victory in the opening round of the Brian Green Property Group New Zealand Rally Championship in Otago three weeks ago, won every stage in his Hyundai i20 AP4+ on Saturday to head off Ben Hunt's Subaru.
"I am really happy with the day," the 31-year-old said. "The first stage of the afternoon was actually the best the car has ever felt. Everything was dialed in and working well.
"We chose to take four tryes this afternoon even though six [with two spares] was the better option. Overseas we struggle with managing tyres and driving with worn tyres so we just wanted to practice that.
"I was pretty pleased with how it went and some good lessons for our return to WRC."
Hunt, who was second to Paddon in Otago, completed a trouble-free drive to be over a minute clear of third-placed Emma Gilmour in the Suzuki.
Australian Nathan Quinn was fourth in the Neil Allport-prepared Ford Fiesta R5 having made some ground on Gilmour late in the day.
Dylan Turner was fifth in the Audi after a solid day while the ever-reliable Graham Featherstone overcame some mechanical difficulties to finish the day sixth.
The big casualty on day one was 2017 championship runner-up Matt Summerfield, who damaged a front strut and was forced to retire before re-starting later in the day in his Mitsubishi Mirage.
Dylan Thomson and Amy Hudson powered to the lead of the class two 2WD category in their Ford Fiesta carrying on their strong form from Otago. David Taylor and Jared Hudson were second overnight in their Honda.
Tony Gosling and Blair Read grabbed the open 2WD lead in their Ford Escort – taking an advantage of over two minutes from Otago winner Wayne Pittams and Chris Davison.
Regan Ross and Sam Gray were the dominant force in the class 4 2WD category in their Ford Escort, leading home the Mazda RX7 of John Silcock and Grant Marra by just under two minutes.
Grant Blackberry and Ric Chalmers topped the Gull Rally Challenge class 5A 4WD standings on Saturday, holding off two-time national champion Geof Argyle and co-drive Joelle Eyre by 33 seconds while Matthew Jensen and Kieran Anstis were third.
In the Gull Rally Challenge class 5B open 2WD category Marcus van Klink and Dave Neill continued their strong form from Otago by powering their Mazda RX8 to victory over Anthony Jones and Tanya Gwynne in their Ford Escort by 18 seconds. Brent Taylor and Chris Ramsay were third in their Toyota.
Kian Scherer and David Hoffman won the Stadium Finance Group A Challenge from Matt and Karl Adams in their Mitsubishi VR4.
Eight more special stages await teams on Sunday with the route taking them south of Whangarei.
The 2018 New Zealand Rally Championship is proudly supported by Brian Green Property Group, Gull New Zealand, Dunlop New Zealand, Hella New Zealand and Stadium Finance
For further information please contact:
info@rallynz.org.nz
www.nzrallychampionship.co.nz