Pittams aiming to bounce back from bad luck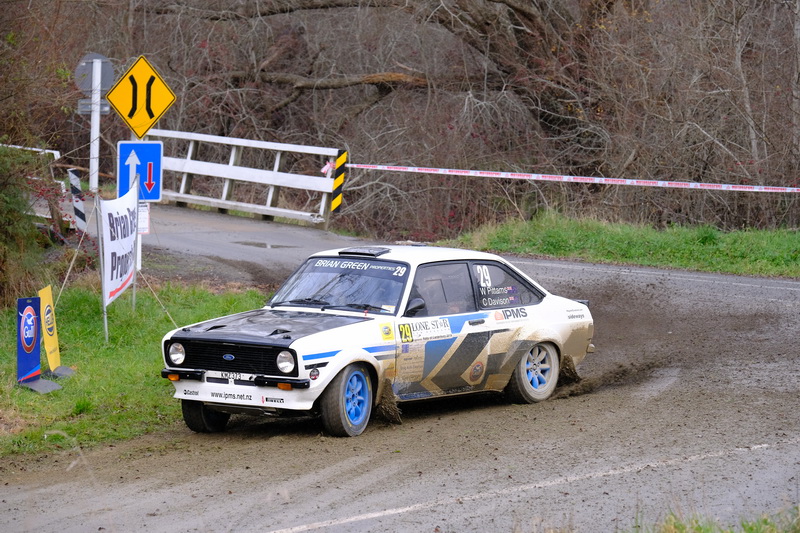 In proof that rallying can be cruel Wayne Pittams barely made a mistake but saw a podium finish go begging at the last round of the Brian Green Property Group New Zealand Rally Championship in Canterbury.
The Tauranga-based Ford Escort driver was locked in for third place and had an outside chance of moving another step up the podium as he attacked the final stage in the dark at Ashley Forest.
But with rain falling the edge of the road became softer and the same line he used on the previous run through an hour or two earlier was no longer safe to drive on. His front tyres got into the soft stuff and it dragged his Escort off the road and into some blackberry.
While it didn't cause damage to the car it put him out of the rally and a well-deserved podium slipped through his fingers.
"The car is a bit of handful whenever it gets slippery," Pittams explained. "I didn't feel like I was over-driving. I was absolutely gutted really, especially when we found out the details of where we were and how much of a buffer we had back to fourth."
It blew what would have been a result that would see Pittams climb to third in the championship standings and good reward for a weekend of good speed.
"We have been a bit frustrated with our pace to be fair in the championship so far and so we made some changes [going to Canterbury] and they worked really well," Pittams said.
"We were well placed and were second in the overall 2WD after the first stage. We beat Jonesy [Anthony Jones] and were only just behind Klinky [Marcus van Klink].
"In stage two we struggled – I underestimated how slippery it was and probably over-drove it a little bit. We changed tyres from stage one.
"On stage three onwards we went back to the set up that worked for us in one and we spent the day inside the top three."
As he and co-driver Chris Davison prepare for Stadium Finance Rally South Canterbury in a couple of weeks, Pittams can at least take confidence in his pure speed on the Canterbury roads albeit without the result to show for it.
"It is certainly encouraging and we will just want to get past the first couple of stages where it could be icy and once that starts to disappear have a bit of a crack again," he said.
"We are confident and want to keep building."
The 2019 New Zealand Rally Championship is proudly supported by Brian Green Property Group, Gull New Zealand, Dunlop New Zealand, HELLA New Zealand, Stadium Finance, Omega Rental Cars and Suzuki New Zealand.