Rally Otago | Virtual Rally by the Grey Roots Group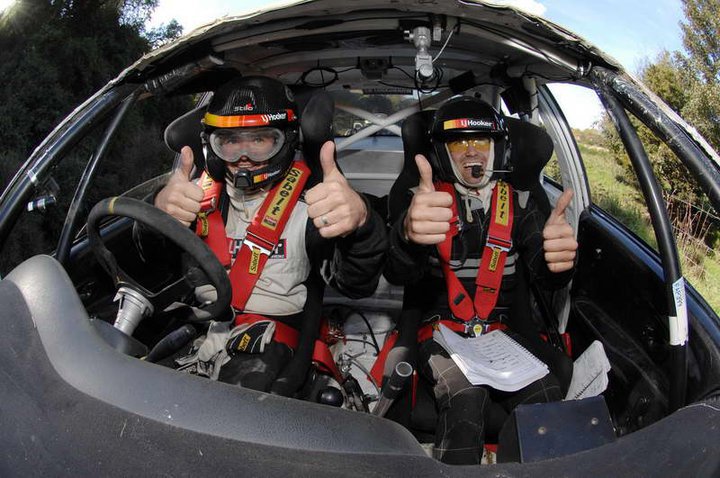 Source | Grey Roots Group Facebook page. This review is not real and any characters or actions depicted in this release are FICTIONAL only.
The Roots Group has had some uncanny success predicting the outcome of previous NZRC rounds, and we applaud Otago's efforts of keeping our interest up with updates from their 'phantom' rally.
We'd like to extend their initiative and offer our diary on the Rally That Never Was…
Friday Night: Huge throngs filled the centre city but the main buzz was the absence of star Hayden Paddon. A rumoured engine failure at Shakedown was set to throw the entire event open – until the Hyundai's last-minute arrival with a standard engine fitted. "He'll probably only beat us by five minutes instead of ten now," remarked Ben Hunt.
On a similar theme, Dave Strong has the bonnet up on his rear-engined Jazz. "How on earth does it go?" asked one pundit, looking at the empty engine space. "Like the clappers," says Dave truthfully.
The crowd was bolstered by a large contingent of Aussie spectators, who enthused, " Otago is wonderful – you can get up close and personal plus there's unrestricted views out on the stages, unlike Coffs Harbour." Rallysport News subsequently reports this as 'Aussies brave lax crowd control'.
Dylan Turner is observed asking random bystanders in the Octagon if they'll join his service crew.
Saturday: The unusually fine weather has created an unexpected issue – dust. First car on the road Ray Wilson wins his first NZRC stage since the 323 days while havoc ensues behind him. The first two stages take a significant toll, particularly on those who have not had a decent practice run at either the West Coast or North Island rallysprints.
A particularly nasty jump at the end of Adams Flat swiftly becomes a graveyard for wrecked rally cars, including a gaggle of Fiestas – Quinn, Cunningham, Stokes, Thomson. Emerging from the wreckage, Crunch Bennett was heard to remark, "I feel like I've been here before".
An award-winning photo taken at the site graces the front page of the next issue of the Otago Daily Times, captioned 'Fiesta? More Like Carnivore Atmosphere As Stage Eats Fords'.
Struggling to match the early pace was Phil Campbell, when it was discovered that Jared Hudson was unable to see over the dashboard. His seat height was later rectified at the Lawrence Service, but the time loss was significant.
The 48km Manuka Hill power stage proved to be a flat-out blast, and surprisingly gentle on tyres that had already done 30+ km competition mileage. Paddon wins the stage by 1 minute; "I told you so," says Hunt. Big news is Sean Haggerty, who has a high speed roll (without marking his roof), and still snares a top 10 time. "That was @#% awesome," remarked the Scotsman, "Can we do it again?"
It remains Situation Normal on the Saturday afternoon stages with times only evening up on those tests less afflicted by dust. Paddon holds a commanding lead from Hunt, Gilmour, Marston, Turner, Horan and Blackberry, with Mike Young and the Summerfields openly admitting they were struggling with the unfamiliarity of their new cars. Brian Green is having such a good time in the R5 that he toys with buying it; decides it is probably cheaper in the long run to just buy Allport Motorsport instead.
Glenn Inkster joins the ranks of stage winners (after Wilson and Paddon) by cleaning up on the tarmac publicity stage. Jack Hawkeswood's Pacific Cup dreams come to an end when he removes a wheel against a curb. "Dad told me that corner was flat," he said ruefully.
Slowest car through the stage was Steve Cox, whose nervous navigator wanted to keep stopping at each junction to count the laps correctly.
Sunday: No-one is caught out by the clock change for Daylight Saving but there is an unexpected delay as the large contingent from the Wellington MSNZ office decide to do fuel testing on the entire field. "Who is paying for all these people?" is the question on many peoples' lips.
An unexpected overnight penalty to Marcus Van Klink has seen his 2wd lead evaporate. While he stuck strictly to the speed limit in the touring Quiet Zones, he was unaware that he exceeded the noise rating for those areas. Another surprise is the withdrawal of Quentin Palmer, when codriver Noel did not return from 'a quiet drink' the previous evening.
A ding-dong battle between the Brenssell and Smith Starlets comes to an abrupt end when Tim leaves the road on Siberia 1, bringing down a tree. The stage is cancelled while the organizers seek a chainsaw, and the field tours to the remote refuel prior to McLaren Gully. Jonty is momentarily buoyed at the thought of being the fastest Starlet, until someone shows him Justin Glavish's times. Katrina Renshaw is later overheard innocently asking Justin if he has any plans for the future – "Don't even think about it," warned Michele Brunt.
A large crowd waiting at Joe's Corner (shrewdly sponsored this year by Joe's Garage) were treated to some hair-raising 'almost-crashes' but no serious incidents. The only injury suffered was to Rocky Hudson, who had his livestream microphone forcibly inserted into an orifice. "I didn't come here for the Rocky Show," complained the assailant, to the cheers of the masses.
An unexpected extra hour at the Waihola service (while they removed the tree in Berwick Forest) was joyfully accepted by Mikko Hirvonen, who took the opportunity to go jet-skiing on the lake. "There is no rally like this in the world," he enthused. Geoff Ridder takes a photo that goes around the the world – ten Escorts with a solo VW sandwiched in the middle, with Waihola sparkling in the background. Meirion Evans, enjoying an excellent run (with a decent codriver at Otago for once) is overcome by the moment – "I should move here permanently."
The field appears to have settled for a holding pattern for the afternoon stages , with little change in positions in the main field, but Regen Ross slipping ahead of Alister McRae through Waipori Gorge, then dropping back into 3rd placed Classic after Siberia 2. Lisa Hudson was showing some of the strain – "Rooter says he's going to take the McIntosh crest flat if it means beating one of the McRaes".
Heavy dust on Kuri Bush again threatened to give Ray Wilson his second stage win, until the event was hit by controversy. Determined to secure Pacific Cup points, Malcolm Read deliberately books in early and takes Paddon's dust-free gap. An ashen-faced Hayden emerges from the stage with 20 metres of fencing dragging behind the Hyundai, but the ruse works – Mike Young wins the stage and climbs back up the APRC placings. Clerk of Course Norm Oakley comments, "It's the most underhanded thing I've seen outside of a Gold Star Trial, but there's nothing we can do about it."
The 2020 Otago Rally finishes pretty much as expected – a 4 minute win to Paddon from Hunt and a delighted Emma Gilmour in third place. The Classic win goes to Hirvonen from McRae and Anthony Jones, with Regen's hard charge ending with suspension failure after a heavy landing on McIntosh Road.
A commanding victory for Ben Thomasen in the Allcomers is matched by another win for Klinky in the 2wds. A good event for the Australians, too – Richie Dalton secures 3rd NZRC 2wd behind Herby, and Darryn Snooks and Grant Walker finish 9th and 10th in the Classics. "Three Australian crews in Otago Top Ten" trumpets the Rallysport News press release.
Post event celebrations are marred by one odd occurrence – the absence of the lovely Emma Gilmour. Em was randomly selected for drug testing and rumours suggested she was having difficulty providing a urine sample due to dehydration. We can now reveal this was not the issue – Em returned unexpectedly early from the testing to find codriver Mal trying on her underwear.
And so finished a rally that no-one will ever forget, except for the Chinese spectator that had to be rushed to Otago Hospital with a particularly nasty cough…