Silcock on top of fierce 2WD classic battle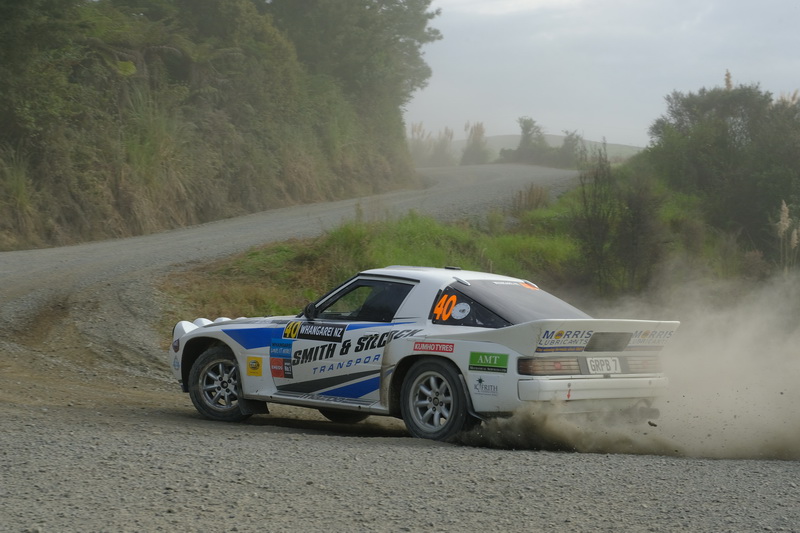 A fierce battle in the 2WD Classic class will continue this weekend at Stadium Finance Rally South Canterbury with John Silcock leading Regan Ross by 14 points.
Ross and co-driver Samantha Gray had control of the championship heading into round three of the Brian Green Property Group New Zealand Rally Championship having won the opening two rounds in Otago and Whangarei.
While he led for the majority of Canterbury as well, the extremely challenging conditions caught out the Kaikoura local and Silcock was able to pounce.
The Mazda RX7 driver has finished on the podium in all three rounds so far and holds a stunning sixth spot overall heading into the weekend.
"I guess it is a season of consistency," Silcock said of his strong showing thus far. "We have been very competitive in some stages.
"Having to run the hard tyres in Whangarei just to get through the 85km loops was a real tester for us. It is just unfortunate we can't get two spare tyres in the boot of the RX7 and I was rather frustrated after Whangarei to be honest but we still collected good points.
"To succeed in the national championship you just can't afford to drop a round at this stage."
The 2WD battle has been extremely fierce and Silcock admits the quality of driving is pulling all of the drivers to the next level.
"I am quite tough on myself really. You analyse the situation and you think it would be nice to go faster but when you look at the calibre of 2WD drivers down here – Marcus van Klink, Deane Buist, Regan Ross – the pace is absolutely immense," he explained.
"When you look at your overall positions and all the 4WD guys that are behind you, especially in a situation like Canterbury where the roads were treacherous, when you analyse it at end of the rally it was a pretty stunning performance by all of those 2WD guys.
"It just shows those older model cars are still very fast cars. It is nearly as intense as the front boys in the AP4 and class one."
So now with a small advantage in points Silcock has to think about how to attack the rest of the championship.
"Looking at the stages they have selected for South Canterbury will be a bit of a leveler because they haven't been used for a very long time," he said.
"The speed of those roads will suit the RX7 as well – it is going to be very fast.
"Regan and those boys will be fast too.
"At the moment I think the pressure is on him because he can't afford to drop another round at this stage of the game.
"It will be interesting to see how he attacks this round.
"He's a great guy; a fierce competitor and it is a great battle really."
Silcock takes great pride in the fact that the competition is as strong as it is and knows he is giving rally fans a real entertaining battle.
"Spectators love these cars, the noise they make and the fact they get sideways.
"They are very expensive cars so the last thing we need is to do some damage at this stage of the year as well though."
The 2018 New Zealand Rally Championship is proudly supported by Brian Green Property Group, Gull New Zealand, Dunlop New Zealand, Hella New Zealand and Stadium Finance