Special moment for the Hudson family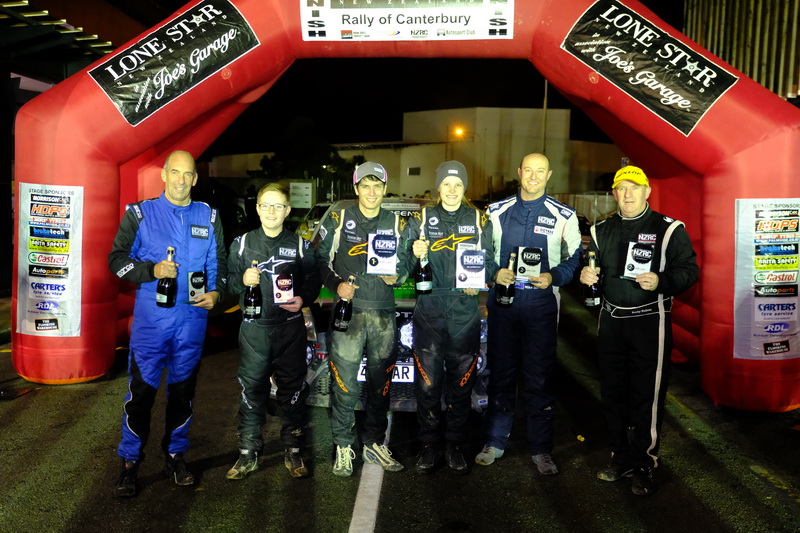 Proving once again how rallying is a family sport three different Hudson co-drivers stood on the podium at Lone Star Rally Canterbury on Sunday.
Amy Hudson took her third successive Brian Green Property Group New Zealand Rally Championship win in the class two 2WD category alongside Dylan Thomson but she was joined on the same podium by father Rocky and brother Jared in a special family moment.
Rocky partnered Mike Sheehan to runner-up spot while Jared was co-driver for third-placed David Taylor.
Rocky's wife (and Amy and Jared's mother) Lisa is also an experienced co-driver and the four have competed against each other in the same rally before.
But Sunday was the first time three had appeared together on the podium.
"It is pretty special," Amy Hudson said of the achievement. "There might be a few more hopefully too."
While the family is close and is always there to support one another Amy admits there is a fair bit of banter about who is winning.
"Definitely there is a bit of joking between Dad and I but we do support each other as well," she said.
But there is a serious element to it all as well. At the season-opening event in Otago, Rocky had a big crash while co-driving for Darren Galbraith. While he was uninjured in the accident the car looked pretty bad and his wife and kids were due to drive past shortly after.
"We always try to let each other know through texts or whatever that we are OK," Rocky explained. "I made sure down there that everybody saw me before they saw the car because the car was a bit of a mess.
"It is just a part of it."
And Rocky isn't too fazed by his children competing in a high-speed and sometimes dangerous sport like motorsport can be.
It helps that he understands the precautions that are taken and that cars these days make rallying a lot safer than many other things in life.
"I'm more worried about Jared riding to school and getting knocked off his bike," Rocky said.
While Rocky is approaching the twilight of his career his kids are on the up.
Amy looks odds-on to win another title in 2018 and is working with Thomson on what their next step will be in 2019, which will almost certainly be a more powerful car.
"Last year we ended up being a year ahead of our goals so there wasn't a lot to tick off this year," Amy explained. "Obviously we want to continue what we've been doing but we are also thinking ahead to next year and working on that."
The 2018 New Zealand Rally Championship is proudly supported by Brian Green Property Group, Gull New Zealand, Dunlop New Zealand, Hella New Zealand and Stadium Finance