Stokes nearly gave it away before South Canterbury success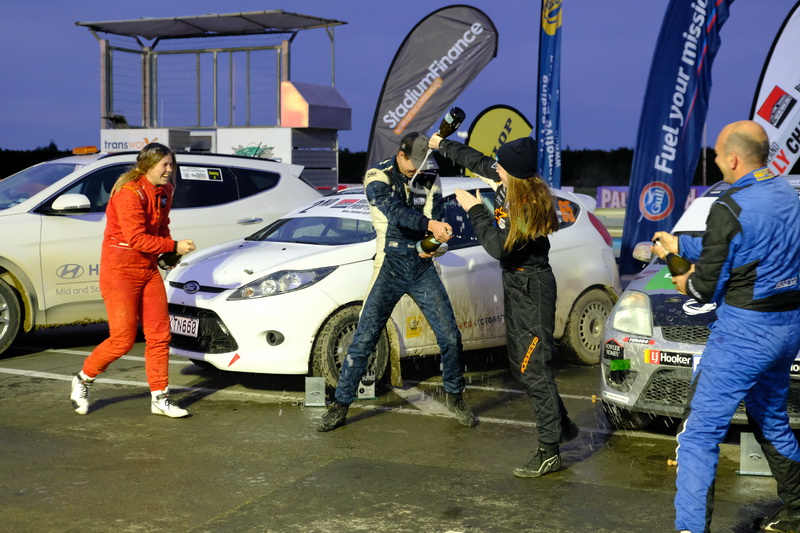 Robbie and Amy Stokes finished second in the 2WD front wheel drive category at Stadium Finance Rally South Canterbury and that was a major win for the pair.
Just getting to the finish line was a big achievement given the struggles the pair have faced so far in 2018.
"It was a huge weight off our shoulders," Robbie Stokes said. "I thought I was going to give up after Whangarei to be honest. I was about ready.
"Everyone said not to so I went and did that one.
"Dad [former national champion Brian Stokes] said to drive at 80 percent and 80 percent was kind of like the new 100."
On a challenging event where many drivers ran into problems Stokes managed to put together a tidy performance and brought their Ford Fiesta home without incident in an encouraging display.
"It was unlucky about the gear box – second gear going in stage five. Other than that I was happy with the stage times and I know where we can gain speed and maybe slow down a bit.
"There are new things on the car that we have found out about so it is good."
Stokes feels better about things now having demonstrated to himself as much as anyone that he has the talent to succeed in the Brian Green Property Group New Zealand Rally Championship.
"The big thing is I am just lucky to be able to keep going with the support I have, which is incredible. A lot of the other guys wouldn't be able to keep going and be at the next one if they crashed their car."
With a good result under his belt Stokes is looking forward to the two remaining rallies on the calendar – Goldrush Rally Coromandel in August and Raglan Rally of the Coast in October.
Dylan Thomson and Amy Hudson are in complete control of the championship at the moment but that combination will make a step up in class for 2019.
Stokes has set some immediate goals for this season but hasn't focused too far ahead of himself.
"I haven't really looked at next year just yet. This year we are hoping to win one of the rounds – that is our goal.
"I would like to do that just to build the confidence up.
"Next year I guess winning the championship would be the goal."
Father Brian has recently built a Ford Fiesta AP4 that he will run in the NZRC. The idea behind investing in the car was for the older Stokes to eventually hand it over to the younger one.
"That is the long-term plan it is just whether I commit to it as much as I should because I have a lot of other stuff going on and don't have all my time to go rallying.
"I would really love to get into that car but I have to deserve to get into it – I can't just be given it."
The 2018 New Zealand Rally Championship is proudly supported by Brian Green Property Group, Gull New Zealand, Dunlop New Zealand, Hella New Zealand and Stadium Finance