Suzuki driver Amy Keighley | Hella Moment of the Rally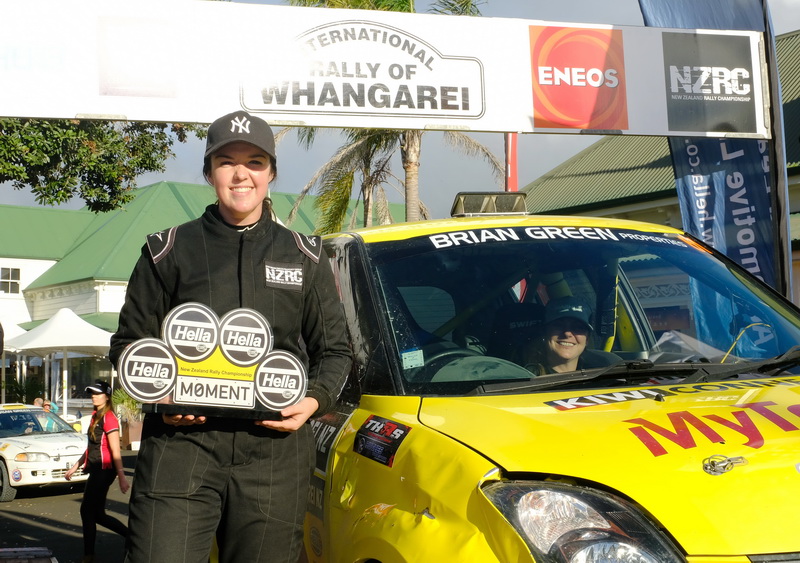 Suzuki driver Amy Keighley was given the Hella Moment of the Rally at ENEOS International Rally of Whangarei for a small crash on Saturday that she managed to overcome.
The youngster went off the road during the first pass through the Helena Bay stage on Saturday and reconfigured the look of her Suzuki Swift before managing to soldier on.
"I practiced a bit of panel beating up on a bank," Keighley laughed. "Our side mirror snapped back and smashed our window and we managed to do a bit of damage to the front guard.
"We just kept it up down the bank. I wasn't really thinking about doing anything too heroic, I just didn't want to get stuck there.
"We built up a bit of confidence in the afternoon and then got back into it on [Sunday]."
Keighley is making her full debut in the Brian Green Property Group New Zealand Rally Championship this season and comes with a certain amount of pedigree.
Her grandfather is legendary FIA, WRC and Rally NZ administrator Morrie Chandler. Mum Suzanne competed in a few rallies while father Andrew famously drove a Honda CRX going back a few years.
"This is my first time contesting the championship as a whole," she explained.
"I did a couple of rallies last year in conjunction with some rally sprints, brought on by a really great mentor could Andrew Smith and I am now moving on to a new co-driver called Zoe Jones, who is the daughter of Anthony Jones.
"I think it will be great to put an all-girl team into the championship."
She has put together back to back third place finishes in the class two 2WD championship and has some modest goals in what is clearly an experience-gaining year in 2018.
"Obviously Dylan Thomson is a benchmark within 2WD so to get closer to him throughout the championship is our goal," Keighley said.
"Then we will look to stick in 2WD for the next couple of years and look to clean up a little more."
The 2018 New Zealand Rally Championship is proudly supported by Brian Green Property Group, Gull New Zealand, Dunlop New Zealand, Hella New Zealand and Stadium Finance